May 10, 2009
Duckies!
See those brown things in the grass next to the hen? That's her ducklings.
It's odd to see the drake with them; I thought that once the eggs were laid the drakes stayed clear.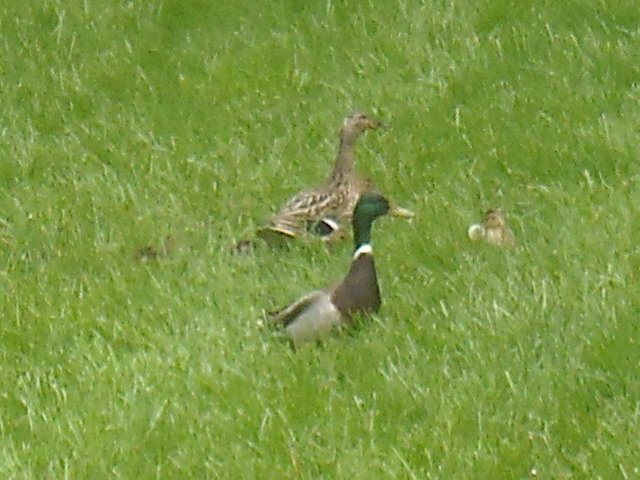 UPDATE: They like bread: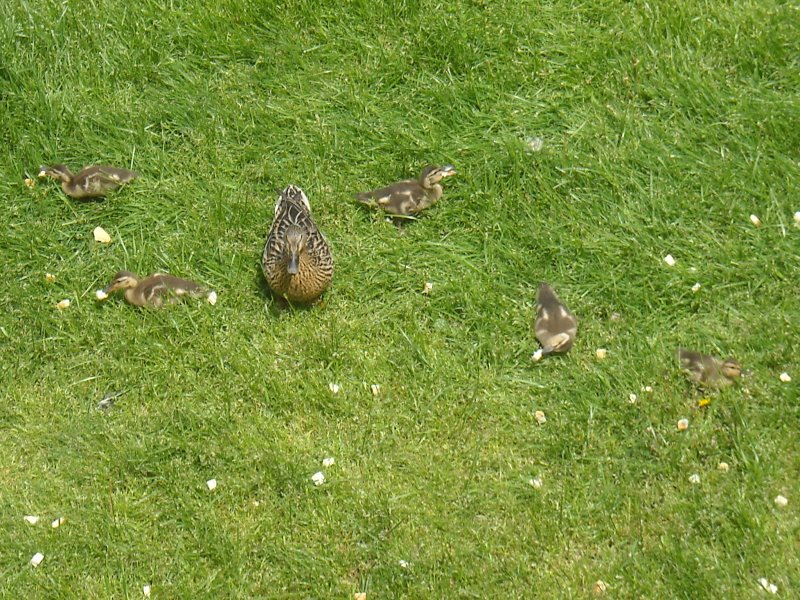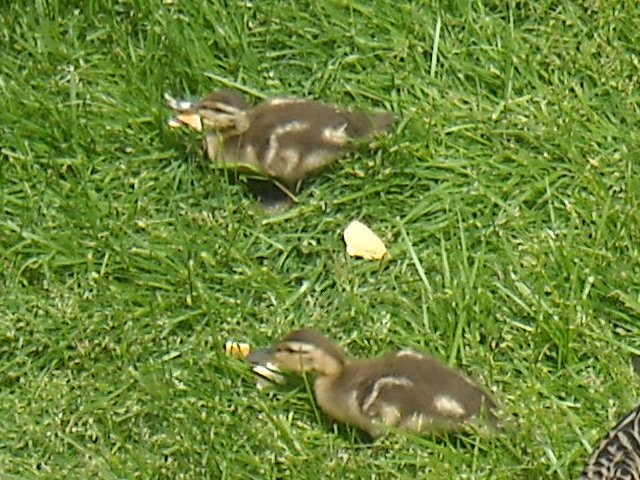 Posted by: Steven Den Beste in Daily Life at 10:02 AM | Comments (3) | Add Comment
Post contains 39 words, total size 1 kb.
1
Bread is okay for duckies, as long as it isn't raining or very damp... if it is, it's better for them that you don't feed them. The more you know.
Exception: rye bread. Rye bread is like crack for us ducks. Mmmmmm... rye bread.
Posted by: Wonderduck at May 10, 2009 01:37 PM (rvJXE)
2
"It's odd to see the drake with them; I thought that once the eggs were laid the drakes stayed clear." My wife and I were just out at the pond at the end of our subdivision. There was a hen in the pond with a gaggle of ducklings following behind; the drake was keeping his distance, but he was on the edge of the lake, watching the proceedings.
Posted by: RickC at May 10, 2009 01:51 PM (9+N7h)
3
After that hen and her five ducklings finished all my bread, and headed over to the creek, I saw another hen with a drake and just one duckling. Kind of sad to think of what might have happened to all her others. Either the eggs were taken, or the ducklings were.
But that's how it is in nature with nearly all young. The mortality rate is huge; that's why they have lots of them.
Around here I suspect their greatest source of peril is raccoons. I know there are some around. I saw one once. Usually they're nocturnal, especially in towns, but this one waltzed through our yard casual as anything in broad daylight, and didn't seem to be in a hurry to get anywhere.
Posted by: Steven Den Beste at May 10, 2009 02:33 PM (+rSRq)
Enclose all spoilers in spoiler tags:
[spoiler]your spoiler here[/spoiler]
Spoilers which are not properly tagged will be ruthlessly deleted on sight.
Also, I hate unsolicited suggestions and advice. (Even when you think you're being funny.)
At Chizumatic, we take pride in being incomplete, incorrect, inconsistent, and unfair. We do all of them deliberately.
How to put links in your comment
Comments are disabled. Post is locked.
6kb generated in CPU 0.01, elapsed 0.0243 seconds.
28 queries taking 0.0178 seconds, 20 records returned.
Powered by Minx 1.1.6c-pink.