July 28, 2012
Dog Days ep 4 -- frame grabs
Yuki takes Shinku, Eclair, and Noir out to a cabin beside a river for some intense training, and fan service. NSFW below the fold.
---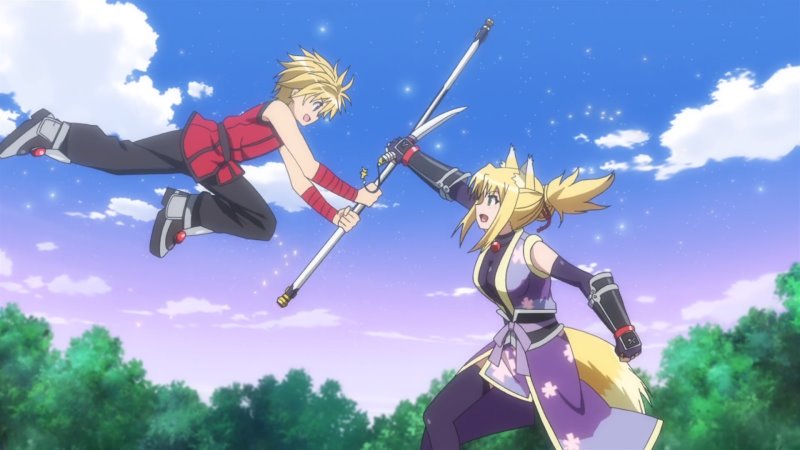 Yuki and Shinku fight to a draw.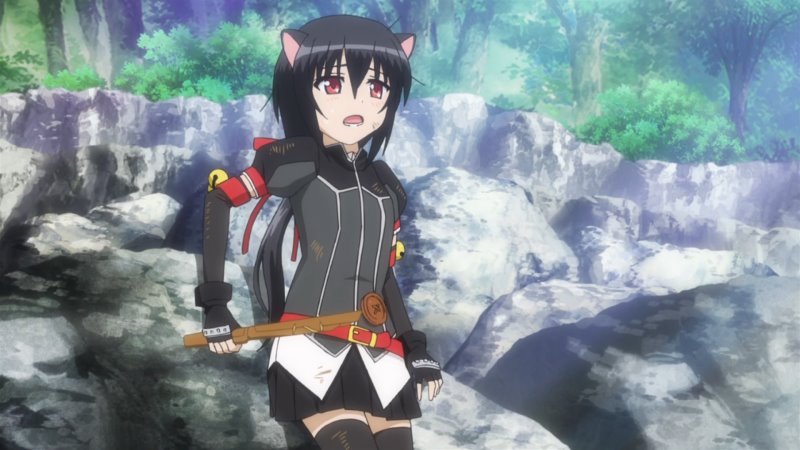 Noir and Eclair fight to an exhaustive draw. So it's time for a swim. The girls are in the cabin changing, and Noir looks at Yuki's boobs.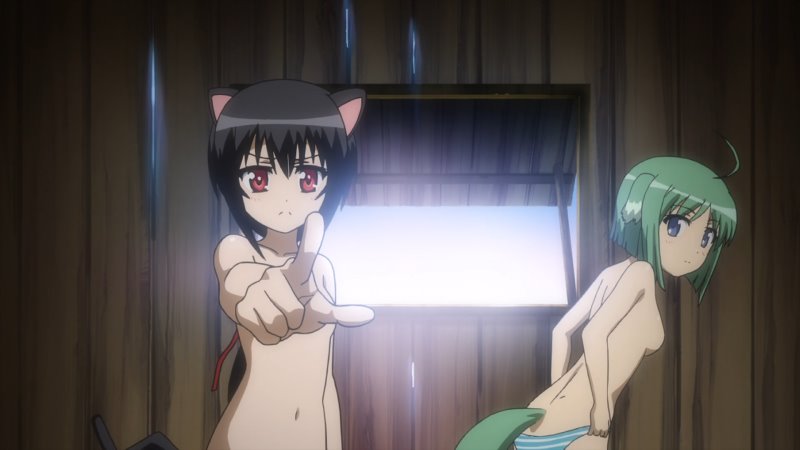 "I won't lose to you!" A nice ambition, I suppose, but if Noir had boobs as big as Yuki's, she'd look strange.
Noir says, "I won't lose to you, either. Hey, you're growing." Eclair goes violent, and Noir goes flying.
She seems to have switched sides...
Odd that with all that, Noir didn't turn into a catball. But I guess that wouldn't have been as much fun.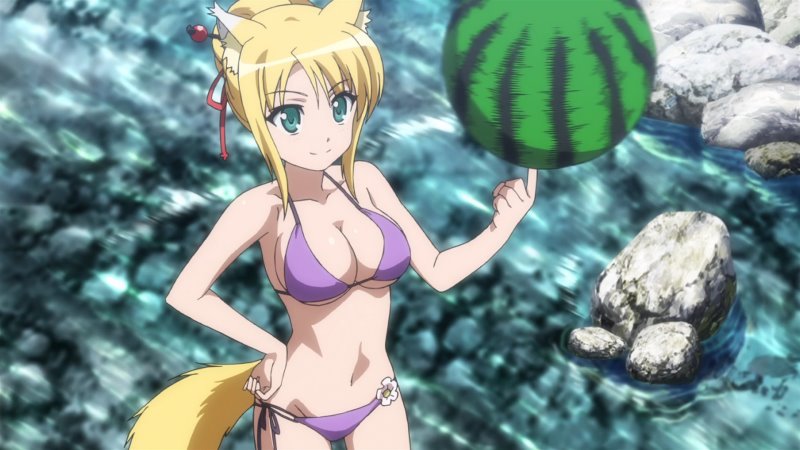 OK, we're in our swimsuits now. And Eclair is going violent again.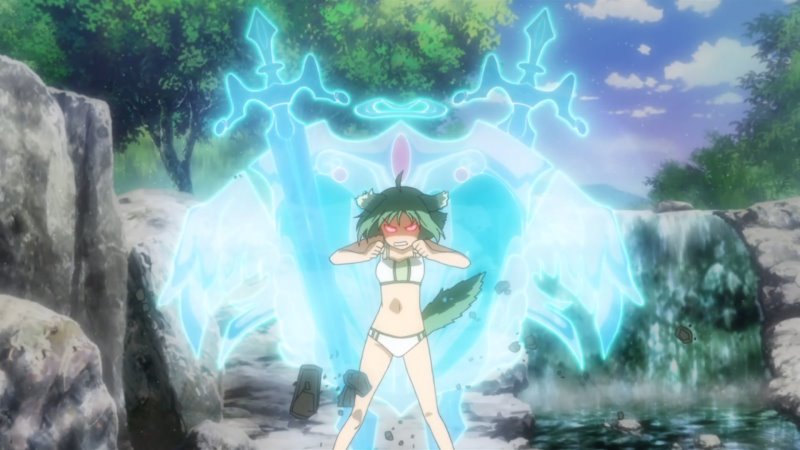 Eclair summons up her new technique. But Noir has a new Seven Tails technique.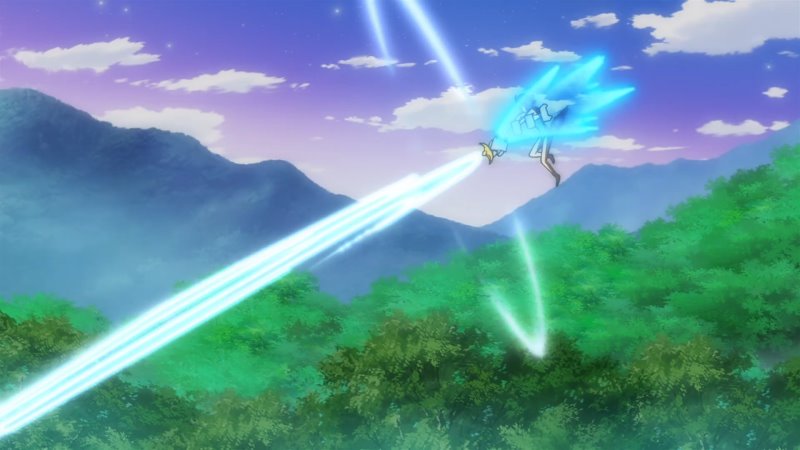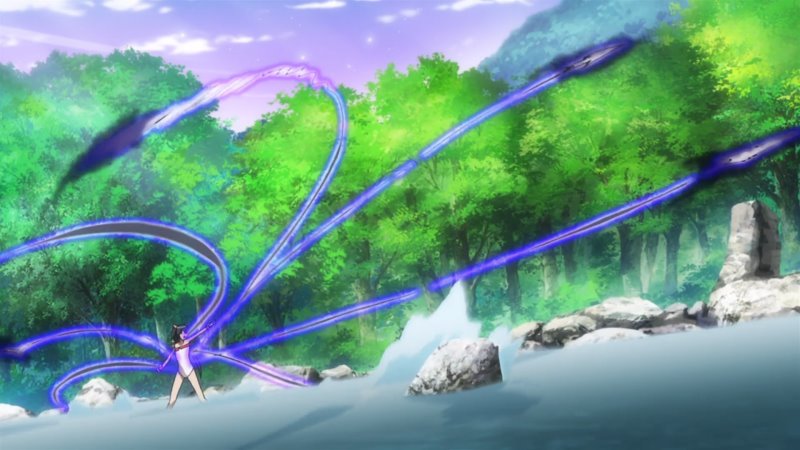 And the result is another mutual knockout.
I've saved the best for last: Noir wears kitty-cat jammies to bed: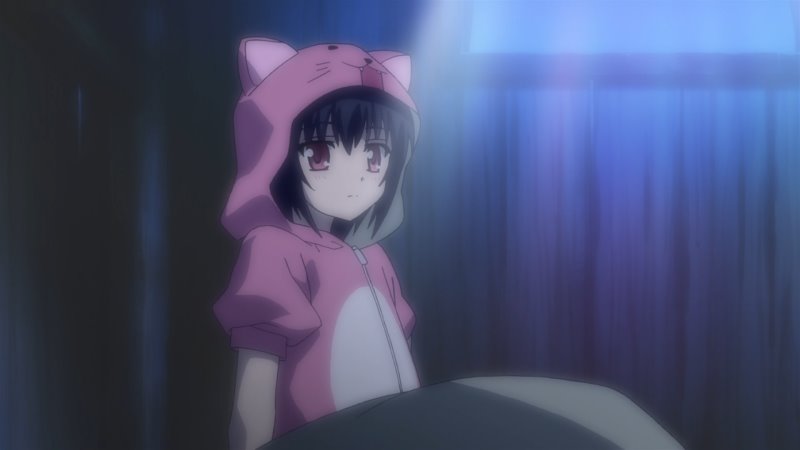 Posted by: Steven Den Beste in Cheesecake at 03:11 PM | Comments (2) | Add Comment
Post contains 177 words, total size 2 kb.
1
This is a weird choice of trainees, but I'm not asking. The excuse is in my backlog somewhere.
Posted by: Pete Zaitcev at July 28, 2012 03:23 PM (5OBKC)
2
Actually, they explain it. First, Shinku is there because he's Biscotti's hero, honored guest, and because Yuki wants to spend some time with him. Eclair is there because she and Shinku usually fought together during his last visit. Besides which, she's the head of the Princess's guard knights, and can use the training, and Yuki likes her too. (I think Yuki likes everyone and everything except for demon swords, which she hates with a passion.)

Noir is there because... Galette doesn't have any equivalent of the anti-monster ninja corps that Brioche and Yuki lead. What with the terrible thing that happened at the end of the first series, it's a significant weakness and both Leo and Gaul want to be better prepared the next time something like that happens, if it ever does.

So they've asked Noir to create, and lead, such a formation (presumably based on felines instead of canines). Noir will continue to be part of Genoise, but this will be additional duty for her. Leo asked Millefiore for help in this, and Millefiore has directed Brioche and Yuki to help train Noir to carry this out. That's why Noir was there. It looks like the plan is for Brioche eventually to teach all three of them her special demon-destroying-and-sealing attack.

I wonder if it will turn out that Noir recruits Jaune and Vert for this, too, and make it into a Genoise job.
Posted by: Steven Den Beste at July 28, 2012 04:27 PM (+rSRq)
Enclose all spoilers in spoiler tags:
[spoiler]your spoiler here[/spoiler]
Spoilers which are not properly tagged will be ruthlessly deleted on sight.
Also, I hate unsolicited suggestions and advice. (Even when you think you're being funny.)
At Chizumatic, we take pride in being incomplete, incorrect, inconsistent, and unfair. We do all of them deliberately.
How to put links in your comment
11kb generated in 0.0141 seconds; 23 queries returned 21 records.
Powered by Minx 1.1.4-pink.