July 14, 2012
Dog Days 2 -- frame grabs
Below the fold. (Borderline NSFW.)
---
The Genoise at the Galette aid station after getting MCSA'ed last week by Rico and Yukki.
Nanami posing and showing off after her partial MCSA. (Of course, the most exotic thing about her, from the point off view of the audience in Biscotti and Galette, is that this ape-girl doesn't have a tail.)
Lunch break at Millefiore's pavilion.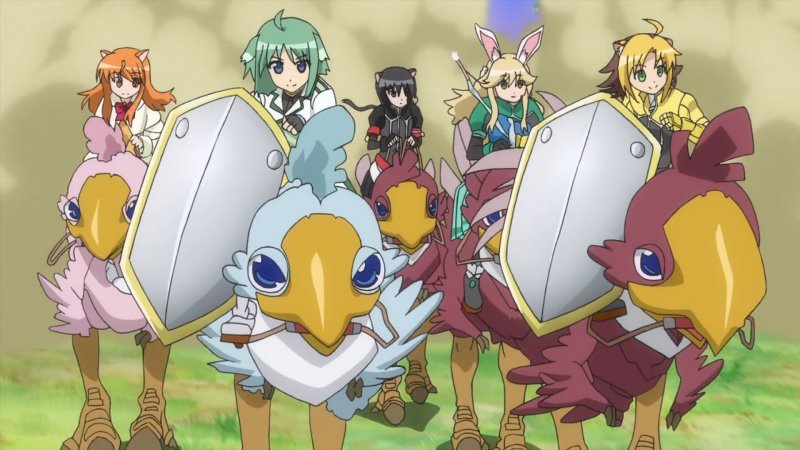 With the Genoise once again equipped, Rico and Eclair join them for an assault.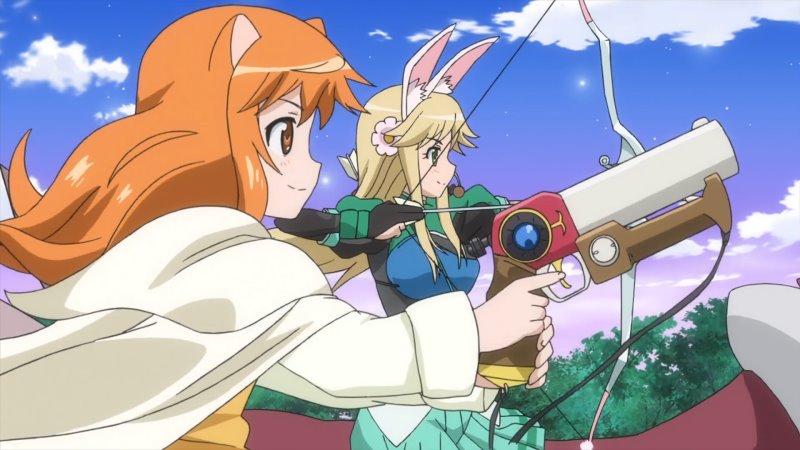 Ready, Rico-chan? Ready, Vert-nee!
They included Nanami showing off in the final cartoon panel.
Posted by: Steven Den Beste in General Anime at 12:29 PM | Comments (5) | Add Comment
Post contains 97 words, total size 1 kb.
1
And Nanami is sort of correct about her underclothing. It is a form of performance workout wear, but it doesn't leave much to the imagination, haha.
Posted by: sqa at July 14, 2012 02:47 PM (5/dUV)
2
Nanami seems pretty carefree. And she'd already seen the Genoise getting MCSA'ed, and in their case they were completely nekkid afterwards.
Leo seems to have done a rapid but thorough briefing after Nanami agreed to wear the ring. Among other things, Leo showed her how to do the monshouhou, and she may have mentioned the fact that cute girls often lose some or all of their clothing.
Anyway, it's long been noted that a girl will get scandalized if someone sees them in bra-and-panties but won't be in a bikini, which exposes exactly the same skin if not even more. This may have been a joke about that, given Nanami saying "It's OK because it isn't my underwear."
Posted by: Steven Den Beste at July 14, 2012 03:02 PM (+rSRq)
3
About everyone being easy going, that's another aspect of the fact that this battle is "normal" and all the other ones we saw were not. This is how it's supposed to be.
The battles in the first series each had a prize associated with it, amounting to territorial advances by the winner. Had the campaign gone to its logical conclusion (before Shinku showed up) Galette would have conquered Biscotti.
But in this battle there isn't anything on the line except bragging rights.
Posted by: Steven Den Beste at July 14, 2012 05:34 PM (+rSRq)
4
Are they riding chocobos?
Posted by: RickC at July 14, 2012 07:19 PM (WQ6Vb)
5
They call them "Cellkulls".
Posted by: Steven Den Beste at July 14, 2012 08:18 PM (+rSRq)
Enclose all spoilers in spoiler tags:
[spoiler]your spoiler here[/spoiler]
Spoilers which are not properly tagged will be ruthlessly deleted on sight.
Also, I hate unsolicited suggestions and advice. (Even when you think you're being funny.)
At Chizumatic, we take pride in being incomplete, incorrect, inconsistent, and unfair. We do all of them deliberately.
How to put links in your comment
10kb generated in 0.014 seconds; 23 queries returned 24 records.
Powered by Minx 1.1.4-pink.