August 27, 2008
Divergence Eve -- books and covers
Omo (via) laments that people are rejecting Maria-sama ga miteru (aka "Marimite") based on rather surface judgments, and thus are missing the quality beneath.
Well, I'm one of the people who have indicated I'm not interested in the show. And nothing I'm reading in any of the recent defense of it have changed my mind any. Even if everything they say about it is true, it's still not my kind of show.
But in reading his lament, it occurred to me that Divergence Eve is the ultimate series for being-a-book-that-is-completely-misjudged-because-of-its-cover. Only in this case it's a self-inflicted wound. When people see a framegrab like this: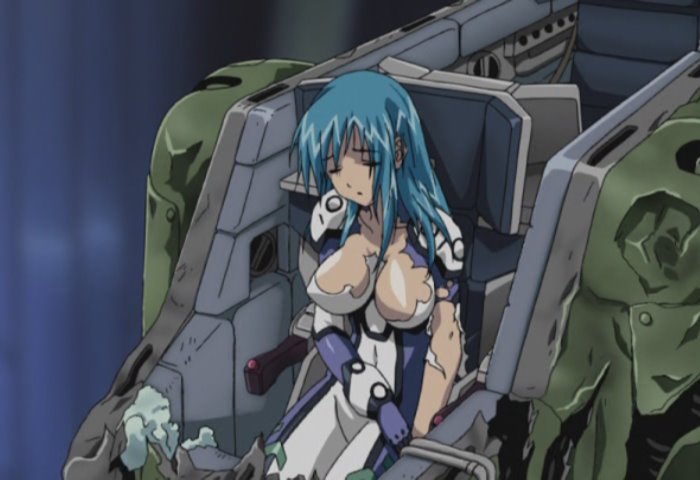 what are they supposed to think, after all? The only thing missing is tentacles.
The publicity art for the series is utterly deceptive, things like pictures of the girls lolling around on the beach in unreasonably skimpy swimsuits. (They'd be unreasonably skimpy even if the girls didn't have unreasonably huge boobs.)
So it's easy to come away with the idea that the series is braindead fluff about girls with titanic tits who constantly lose their clothing. And, well, some of that does happen. Quite a lot of it, in fact, at least in the early episodes.
But there's a lot more to the story than that. Everyone I know who finishes the series loves it, and laments that the character designs and the fan service distracted from a really good story about really engaging characters.
These days the entire series, both halves, is out as a thinpack for $45. That's a really good price for a series which is a lot better than the cover art would suggest.
UPDATE: One time Ubu Roi took his three DVDs of Divergence Eve with him to visit his friend Dr. Heinous.
I brought plenty of anime with me, and Dr.Heinous and I stayed up to watch Divergence Eve last night. It was supposed to be "just one disk" before we sacked out, but of course he got hooked by it, and "just one" became "just one more" which became "ok, let's finish it tonight, I've got to know the answers…." (The heinous doctor pronounced it a damn good show, but the breasts were really distracting and unnecessary.)
And the second half is even better than the first.
Posted by: Steven Den Beste in General Anime at 11:03 AM | Comments (3) | Add Comment
Post contains 386 words, total size 3 kb.
1
What Steven said is true. As good as the first half is, the second is even better. I have yet to run into another animé that affected me so much. Hell, I'm not sure I want to. (Yes, Hainbane Renmei is still in it's wrapper. I'm afraid to open it.)
But let me warn you, DE is not an easy show to watch. People die. Badly. Not "oh, she was stupid walking down into the dark basement with the boogie monster loose," where you hold them in contempt and supress the urge to laugh because they were so dumb. It's "oh, no, no, No, NOOOOOOO!!! F*CK!!!" The only other show that had characters as vivid and "real" as this would be Shingu.
There's a few things they don't explain, plus some red herrings, and you've got to pay attention to catch them, especially the exact origin of the little girl.
Posted by: ubu at August 27, 2008 02:41 PM (dhRpo)
2
Could we consider
Strike Witches
to be another case where people don't see that there's more under the surface than they think from first glance?
Posted by: TheBigN at August 29, 2008 06:07 AM (2DxSX)
3
We don't really know yet. There's a story, and they're really trying to tell that story, but it isn't yet clear whether it's as good a story as DE/MC tells. I doubt it will come even close.
Najica Blitz Tactics is also like that: huge amounts of fan service, but more of a story than you'd think. So is Popotan. But they're not in the same league with DE/MC, and I don't expect Strike Witches to be either.
Posted by: Steven Den Beste at August 29, 2008 06:25 PM (+rSRq)
Enclose all spoilers in spoiler tags:
[spoiler]your spoiler here[/spoiler]
Spoilers which are not properly tagged will be ruthlessly deleted on sight.
Also, I hate unsolicited suggestions and advice. (Even when you think you're being funny.)
At Chizumatic, we take pride in being incomplete, incorrect, inconsistent, and unfair. We do all of them deliberately.
How to put links in your comment
Comments are disabled. Post is locked.
9kb generated in CPU 0.57, elapsed 0.4162 seconds.
21 queries taking 0.345 seconds, 20 records returned.
Powered by Minx 1.1.6c-pink.