February 11, 2014
Well, it was fun while it lasted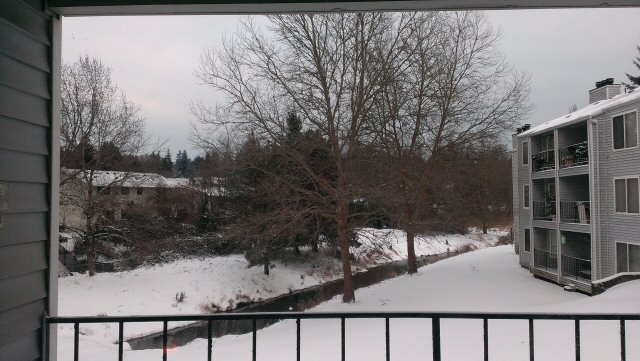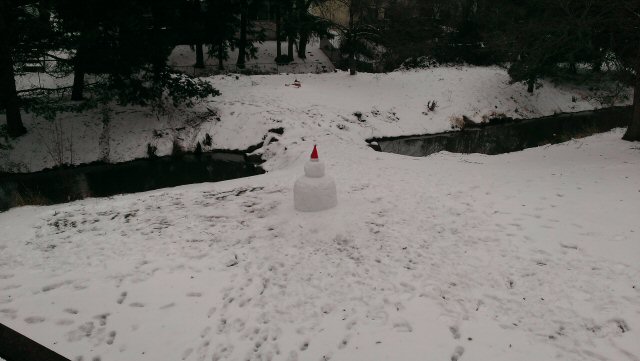 I'm glad it's taking it's time melting. When we get snow and a snap-thaw, then we get flooding. And that isn't fun at all.
Posted by: Steven Den Beste in Daily Life at 05:18 PM | Comments (5) | Add Comment
Post contains 31 words, total size 1 kb.
1
Nothing left but a lonely snowman...
Posted by: Steven Den Beste at February 12, 2014 10:30 AM (+rSRq)
2
I think the snow that left you is heading for Brickmuppet....
Posted by: Siergen at February 12, 2014 02:11 PM (c2+vA)
3
The snowman made me think of an Elmer's Glue bottle. At least at lower resolution.
Posted by: Mauser at February 13, 2014 01:32 AM (TJ7ih)
4
Interesting that someone made a Japanese-style two-snowball snowman (yukidaruma), rather than an American-style three-snowball one, right in front of the anime-blogger's residence.
Posted by: Mikeski at February 13, 2014 09:50 PM (Zlc1W)
5
I think he just ran out of snow. There wasn't actually all that much.
Posted by: Steven Den Beste at February 13, 2014 11:23 PM (+rSRq)
Enclose all spoilers in spoiler tags:
[spoiler]your spoiler here[/spoiler]
Spoilers which are not properly tagged will be ruthlessly deleted on sight.
Also, I hate unsolicited suggestions and advice. (Even when you think you're being funny.)
At Chizumatic, we take pride in being incomplete, incorrect, inconsistent, and unfair. We do all of them deliberately.
How to put links in your comment
Comments are disabled. Post is locked.
6kb generated in CPU 0.02, elapsed 0.0228 seconds.
20 queries taking 0.0161 seconds, 22 records returned.
Powered by Minx 1.1.6c-pink.