November 23, 2014
Thunderstorm!
We just had a thunderstorm, and the creek has gone from a trickle to a flood.
The part the beavers built, on the far right, is standing up to the challenge. The part left over from the now-failed culvert on the near left isn't doing so well; I'm expecting a failure there. It's just soil, with only grass roots for structure, and I expect it eventually to wash away.
The water flow in this creek varies enormously with the weather. Not as much so as some of the dry washes in Arizona, which can be bone-dry for years and then suddenly fill completely with water in just a few minutes, but still rather amazing.
Our creek isn't alive, of course, but watching it is like watching a living being.
Posted by: Steven Den Beste in Daily Life at 02:31 PM | Comments (1) | Add Comment
Post contains 130 words, total size 1 kb.
1
And today the complex brought in a couple of guys who spent the day tearing out all the improvements the beavers had put in place.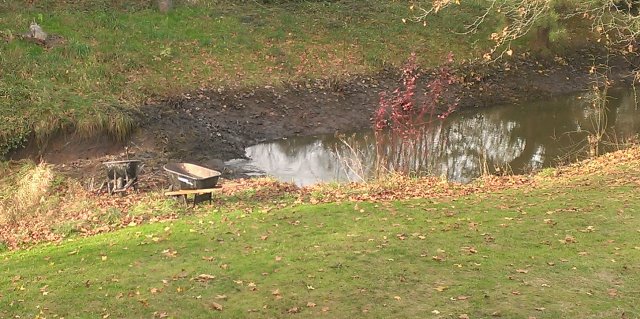 As a result the whole pond which had backed up behind the dam drained out. Now it looks ugly.
Spoilsports!
Posted by: Steven Den Beste at November 25, 2014 08:30 PM (+rSRq)
Enclose all spoilers in spoiler tags:
[spoiler]your spoiler here[/spoiler]
Spoilers which are not properly tagged will be ruthlessly deleted on sight.
Also, I hate unsolicited suggestions and advice. (Even when you think you're being funny.)
At Chizumatic, we take pride in being incomplete, incorrect, inconsistent, and unfair. We do all of them deliberately.
How to put links in your comment
Comments are disabled.
5kb generated in CPU 0.02, elapsed 0.026 seconds.
20 queries taking 0.0187 seconds, 18 records returned.
Powered by Minx 1.1.6c-pink.