June 30, 2013
Safeway -- good service!
Safeway just called me about my two orders, because in fact they weren't going to have any block ice for the first delivery (Monday). I told them to give me bags of loose ice instead, which will serve nearly as well.
It was nice of them, very, to call me and let me change the order.
Posted by: Steven Den Beste in Daily Life at 07:56 AM | Comments (3) | Add Comment
Post contains 60 words, total size 1 kb.
1
Accuweather just dropped their prediction for Monday and Tuesday. Now they match the weather bureau. So it's gonna be hot, but not blazing.
That's OK; the ice won't go to waste.
Posted by: Steven Den Beste at June 30, 2013 12:46 PM (+rSRq)
2
I was in a hurry and skimmed the headlines of your recent posts, looking for something that sounded interesting. On first pass, I misread this headline as "Safeway - good fan service!"
In my own defense, "fan service" is a not an uncommon phrase here...
Posted by: Siergen at July 01, 2013 01:25 PM (Ao4Kw)
3
Someone asked what my cooling solution looked like: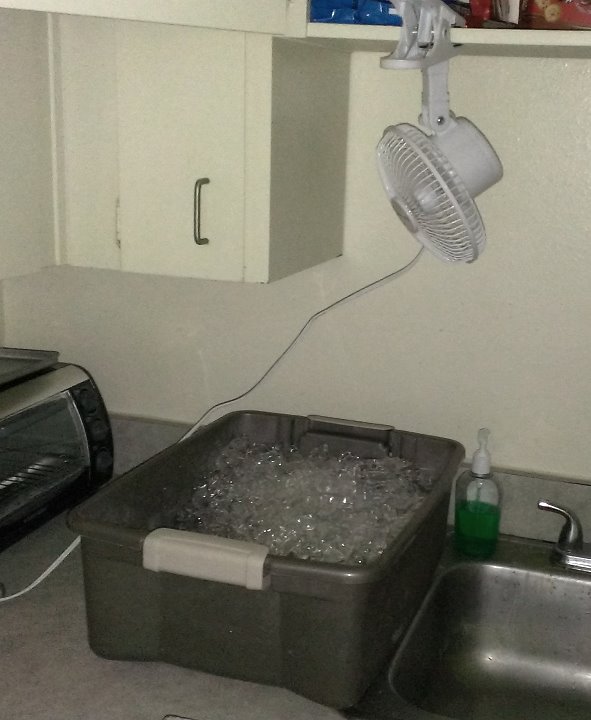 It works better with block ice, but cubes are what they delivered today, and that's still better than nothing.
Posted by: Steven Den Beste at July 01, 2013 02:06 PM (+rSRq)
Enclose all spoilers in spoiler tags:
[spoiler]your spoiler here[/spoiler]
Spoilers which are not properly tagged will be ruthlessly deleted on sight.
Also, I hate unsolicited suggestions and advice. (Even when you think you're being funny.)
At Chizumatic, we take pride in being incomplete, incorrect, inconsistent, and unfair. We do all of them deliberately.
How to put links in your comment
Comments are disabled. Post is locked.
5kb generated in CPU 0.0, elapsed 0.0229 seconds.
20 queries taking 0.0162 seconds, 20 records returned.
Powered by Minx 1.1.6c-pink.