January 03, 2016
I woke up this morning and looked out my window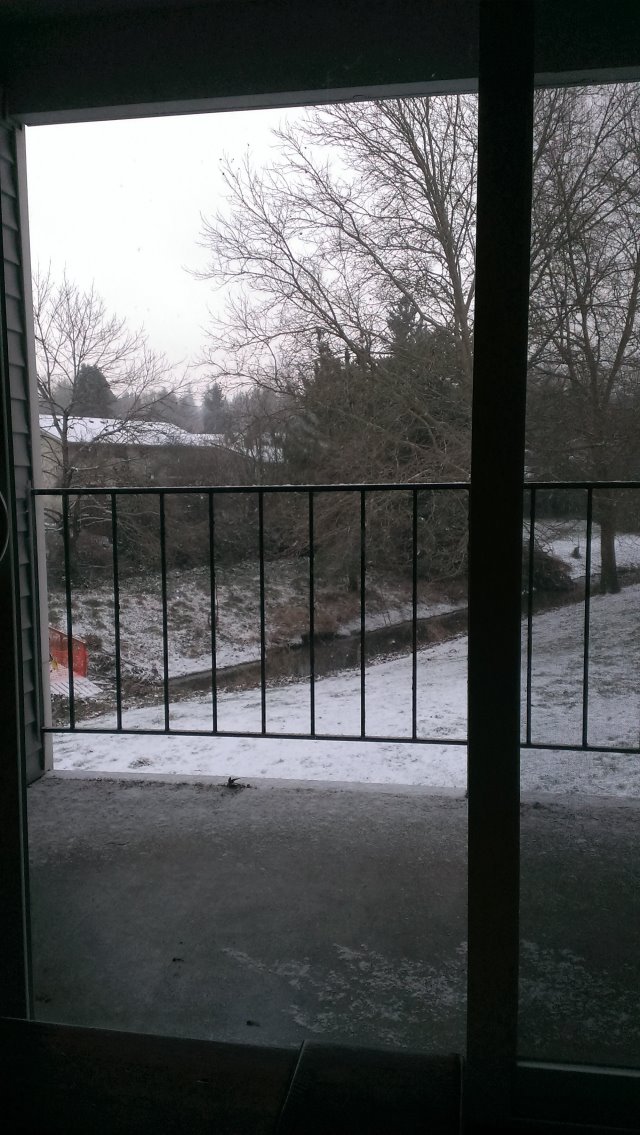 Posted by: Steven Den Beste in Daily Life at 11:05 AM | Comments (4) | Add Comment
Post contains 10 words, total size 1 kb.
1
Is that a lot or a little, for where you live?
Posted by: Boviate at January 03, 2016 02:20 PM (XRvFv)
2
That's about all we ever get, when we do. We get about that much snow maybe every two years (if not three). And since it's above freezing out, it isn't going to last.
I remember when I was a kid we would sometimes get real snow, maybe a foot deep. But that didn't happen very often either, which is part of why it's memorable to me.
Probably the worst was in 1964. We got a whole lot of snow, and then a warm front came through, the temperature went up 40 degrees, and it all melted in one day. It's known in these parts as the "Christmas Flood" because all the rivers went out of their banks.
But that was a hundred-year-flood. Hasn't been anything like that since I moved back here.
Posted by: Steven Den Beste at January 03, 2016 03:56 PM (+rSRq)
3
What we get instead is freezing rain. That happens a lot, and sometimes it's pretty spectacular.
The Cascades act as a kind of climatic curtain. Between the Cascades and the coast, the whole are is warmed by ocean effect. East of the Cascades the weather is much more like you'd expect for this lattitude. Sometimes there's a wind that blows really cold air down the Columbia Gorge (which is a hole in the curtain) and meanwhile we get warm wet air off the Pacific -- and they meet in Portland. The warm air makes rain but when it reaches the ground the air is below freezing.
I remember one ice storm where I stood next to a big forested are and listened to branches falling. Every few seconds there would be a crash. When it gets REALLY bad it also brings down power lines, which is a pain for everyone not to mention really dangerous.
Here in Beaverton we mostly miss that. The "West Hills" act as another curtain, so the cold air from Eastern Oregon doesn't make it here. It pools in the Willamette valley instead. So if Beaverton gets freezing rain at all, it usually melts off rapidly. But sometimes over in Portland it stays cold and icy for days after an ice storm.
Posted by: Steven Den Beste at January 03, 2016 04:05 PM (+rSRq)
4
On the monday after Xmas, we had something strange occur here in Duckford: 3.5" inches of sleet, followed by 1/4" of freezing rain, followed by an inch of snow.
To say the drive home from work was ugly is something of an understatement.
Posted by: Wonderduck at January 03, 2016 07:27 PM (zAcee)
Enclose all spoilers in spoiler tags:
[spoiler]your spoiler here[/spoiler]
Spoilers which are not properly tagged will be ruthlessly deleted on sight.
Also, I hate unsolicited suggestions and advice. (Even when you think you're being funny.)
At Chizumatic, we take pride in being incomplete, incorrect, inconsistent, and unfair. We do all of them deliberately.
How to put links in your comment
Comments are disabled.
7kb generated in CPU 0.03, elapsed 0.038 seconds.
20 queries taking 0.0233 seconds, 21 records returned.
Powered by Minx 1.1.6c-pink.