August 17, 2016
I take it back!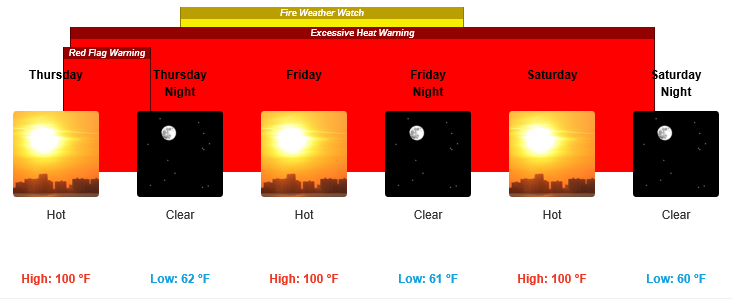 Yowch!
UPDATE: Think Snow!
(Somehow I don't think this will work.)
UPDATE: I ordered 100 pounds of ice to be delivered tomorrow morning. That will probably work a lot better.

Posted by: Steven Den Beste in Daily Life at 12:39 PM | Comments (3) | Add Comment
Post contains 34 words, total size 1 kb.
Posted by: Brett Bellmore at August 17, 2016 02:07 PM (l55xw)
2
Meanwhile here we've got a whole week of rainy weather with the high below 90. Maybe we got your weather and you got ours by mistake?
Posted by: Avatar_exADV at August 17, 2016 06:19 PM (/lg1c)
3
Nah, this usually happens for a few days in August. It's not like other places (Texas) where it goes on for weeks; usually it's 2-5 days, once or maybe twice each summer.
It's rare enough so that it isn't worth it to get air conditioning, even if there were anywhere in this apartment to mount it, which there isn't. A hundred pounds of ice delivered is about $35; I can afford it. The only reason it's a hassle is that Safeway has a $49 minimum for orders, so I ordered a couple of other things to bring it up to that. (And the delivery fee this time is $13. )
I'm probably going to do the same for the other two days before the heat breaks.
Posted by: Steven Den Beste at August 17, 2016 08:09 PM (+rSRq)
Enclose all spoilers in spoiler tags:
[spoiler]your spoiler here[/spoiler]
Spoilers which are not properly tagged will be ruthlessly deleted on sight.
Also, I hate unsolicited suggestions and advice. (Even when you think you're being funny.)
At Chizumatic, we take pride in being incomplete, incorrect, inconsistent, and unfair. We do all of them deliberately.
How to put links in your comment
Comments are disabled.
6kb generated in CPU 0.0032, elapsed 0.0103 seconds.
20 queries taking 0.0076 seconds, 20 records returned.
Powered by Minx 1.1.6c-pink.