October 27, 2014
Happy Birthday to me!
My brother came over today and took me on a shopping mission. It's the first time I've been out of this apartment since last Spring. My problem was that my feet have swelled up, and my shoes didn't fit any more, so I was stuck here.
We went to Beaverton Pharmacy, and I bought a wheel chair: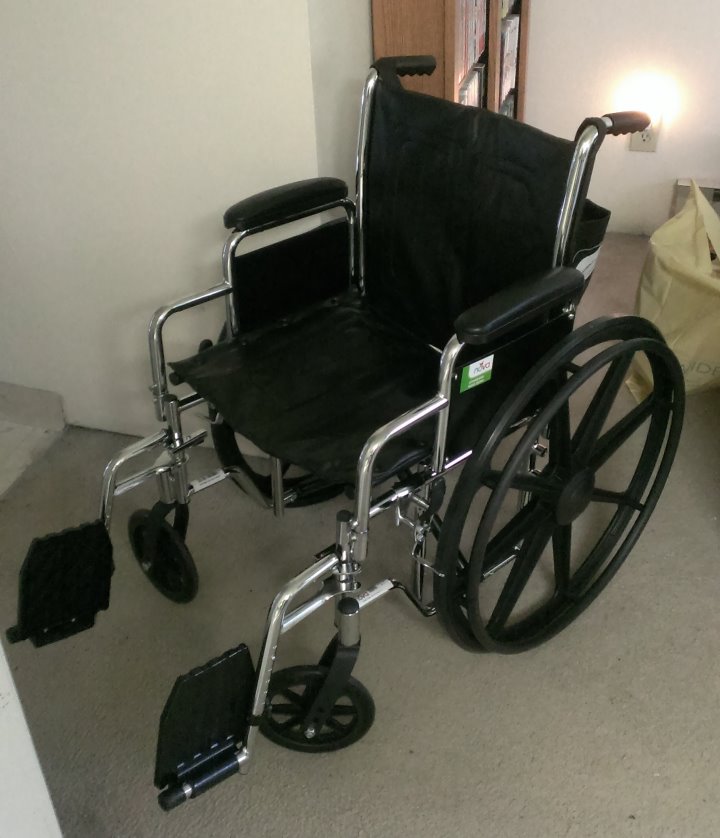 We also went to a shoe store and I bought a pair of slippers which were big enough to fit my feet.
Coincidentally, it's my birthday this week, and this is a really good gift. To me it represents freedom. I can now get out of this place, at least once in a while, and go further than the corner of the parking lot (which is about as far as I can walk anymore). I can go to restaurants. I can go to the transit mall and catch the train to my doctor's office. I can make it across Canyon to the Fred Meyer pharmacy for my prescriptions.
He also let me get a treat:
At my request we went through the drive-through lane at McDonalds. I've been dreaming about the taste of a Big Mac for a long time, and just now I got to taste it again, for real. It was just as good as I remembered. (It's the first time in about three years that I've had one.)
So today has been a good day.
UPDATE: No advice, please.
Posted by: Steven Den Beste in Daily Life at 04:00 PM | Comments (4) | Add Comment
Post contains 243 words, total size 1 kb.
Posted by: Pete Zaitcev at October 27, 2014 05:35 PM (RqRa5)
Posted by: Steven Den Beste at October 27, 2014 06:09 PM (+rSRq)
Posted by: sqa at October 27, 2014 10:08 PM (YB89l)
Posted by: haphazard1 at October 28, 2014 07:35 AM (Fr488)
Enclose all spoilers in spoiler tags:
[spoiler]your spoiler here[/spoiler]
Spoilers which are not properly tagged will be ruthlessly deleted on sight.
Also, I hate unsolicited suggestions and advice. (Even when you think you're being funny.)
At Chizumatic, we take pride in being incomplete, incorrect, inconsistent, and unfair. We do all of them deliberately.
How to put links in your comment
Comments are disabled.
6kb generated in CPU 0.02, elapsed 0.0375 seconds.
20 queries taking 0.0278 seconds, 21 records returned.
Powered by Minx 1.1.6c-pink.