July 11, 2015
Bachelor Chef -- Quesadilla
I make taco meat in batches, using premade store-bought taco sauce. I just tried this particular brand ("Frontera") and it was really good. (The Bachelor Chef never makes anything if it can be bought premade!) Anyway, I used 1½ pounds of hamburger and two packages of the sauce.
Once it's done I cool it my refrigerator for about ten minutes, and then spoon it into a couple of ice cube trays.
Then freeze it. Once frozen, the cubes get stored in a plastic bag in my freezer. When time comes to make a quesadilla, I put three or four cubes in the microwave for a minute to thaw them and heat them up. I Spread the taco meat on a flour tortilla and cover with grated cheese.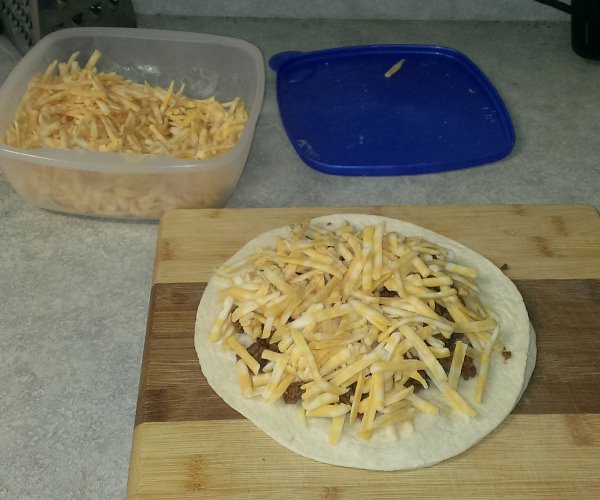 That gets heated on a griddle and covered with another tortilla. Once it's scorched on both sides, I cover it with quacamole.
I eat it with knife and fork to prevent making a mess (like dumping a piece of it on my computer keyboard by accident).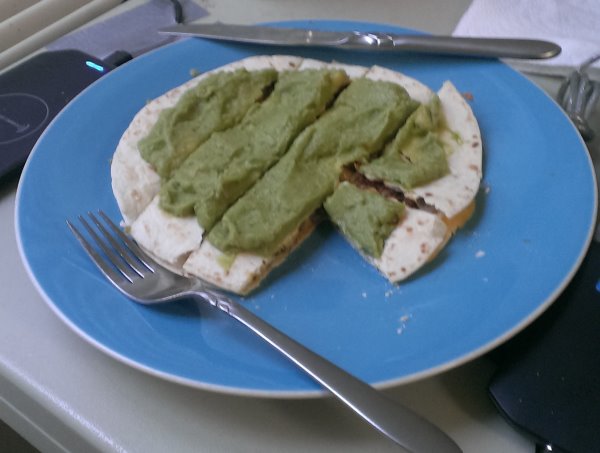 Jack cheese is preferred but I haven't been able to find a brand at Safeway that I like. So I'm using Tillamook Colby-Jack. I buy it in 1 pound chunks. I grate one pound at a time into a box which I keep in my frig, to be used as and when I need it.
Unlike most of the travesties I document here, this was actually pretty good.
Posted by: Steven Den Beste in Daily Life at 05:55 PM | Comments (2) | Add Comment
Post contains 245 words, total size 1 kb.
1
I've tried their pre-fab enchilada sauce pouches. The red was okay. The green was more travesty-ish.
Posted by: Mikeski at July 11, 2015 07:07 PM (/KkcU)
2
Unlike most of the travesties I document here, this was actually pretty good.
Wait...you've been
trolling
us? And here I thought it was my terrible cooking skills. Well played Mr. Den Beste. Well played.
Posted by: The Brickmuppet at July 12, 2015 09:17 AM (ohzj1)
Enclose all spoilers in spoiler tags:
[spoiler]your spoiler here[/spoiler]
Spoilers which are not properly tagged will be ruthlessly deleted on sight.
Also, I hate unsolicited suggestions and advice. (Even when you think you're being funny.)
At Chizumatic, we take pride in being incomplete, incorrect, inconsistent, and unfair. We do all of them deliberately.
How to put links in your comment
Comments are disabled.
6kb generated in CPU 0.01, elapsed 0.0231 seconds.
20 queries taking 0.0159 seconds, 19 records returned.
Powered by Minx 1.1.6c-pink.