September 21, 2007
Dai Mahou Touge: subversion
The download site I have access to doesn't have Potemayo, unfortunately. Those who maintain it tend to prefer things with fan service. (Which is why they're right up-to-date with Umisho.)
Looking through the list of things they do have, I found a 2-ep OVA called Dai Mahou Touge. So just for the hell of it, I'm watching it. Five minutes into the first episode, and it's clear this is a major subversion of the whole mahou shoujo genre. Our heroine, a sweet, cute princess from the magical world named Punie, has to spend a year on Earth in order to qualify to take over as queen of, well, everything including the Earth. Apparently.
So she shows up at a school and charms all the guys, leaving the reigning queen of the school, a gang leader, upset about it all. The gang leader and her six henchgirls are about to beat up Punie.
And she announces these magic words: "Lyrical Tokarev, kill them all!" In English, of course. "Tokarev" is the name of a Russian gun designer. That apparently is the signal for her magical girl transformation deck.
The OP is bouncy music, but the lyrics are odd; they're about death and destruction for her enemies. In the foreground we get typical bouncy girl dancing for the audience, and behind her a sequence of pictures of buildings burning down -- like the Diet. The last one is all of Tokyo in flames.
I'm expecting great things from this. Or a massive trainwreck. It might have been intended to be 2 eps, or it might have been cut short because it was crap, the way Dragonhalf was.
UPDATE: It's actually 4 15-minute episodes. At the end of the first one she kills all the members of the girl gang. I wonder what she'll do for adversaries from now on?
UPDATE: Well, at least the head of the girl gang got better.
This has a pretty good cast, in fact. Anego, the head of the girl gang, is Kawasumi Ayako -- but it sure doesn't sound like any voice of hers I've ever heard.
The second 15-minute episode introduces Punie's cute animal sidekick, a dog with a horn called Paya-tan. Punie left the Magic Land without him, and he's followed her to Earth, leading to a happy reunion:
Punie and Paya-tan then explain to Tetsuko how witches get their mascots. You visit the Waku-waku mascot village and get one. Sounds like fun, don't it? Think again. (Continued below the fold, with disturbing NSFW images.)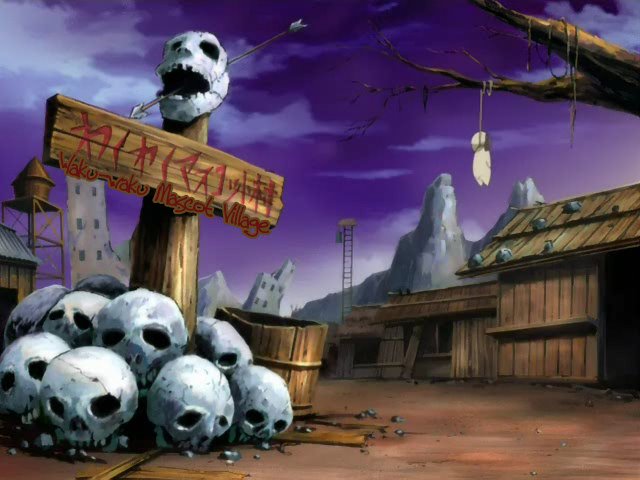 Nice place you got here. Anyone want to be my mascot?
Actually, she doesn't want any of them; they're not good enough for her. She's after the town boss, Paya-tan. But he will only agree to be her mascot if she beats him in combat...
It's all very delicious, and has a nice twist ending. I'm liking this a lot.
Posted by: Steven Den Beste in General Anime at 07:58 PM | No Comments | Add Comment
Post contains 485 words, total size 3 kb.
Enclose all spoilers in spoiler tags:
[spoiler]your spoiler here[/spoiler]
Spoilers which are not properly tagged will be ruthlessly deleted on sight.
Also, I hate unsolicited suggestions and advice. (Even when you think you're being funny.)
At Chizumatic, we take pride in being incomplete, incorrect, inconsistent, and unfair. We do all of them deliberately.
How to put links in your comment
Comments are disabled. Post is locked.
7kb generated in CPU 0.0045, elapsed 0.013 seconds.
19 queries taking 0.0096 seconds, 16 records returned.
Powered by Minx 1.1.6c-pink.