May 09, 2011
Poser Pro 2010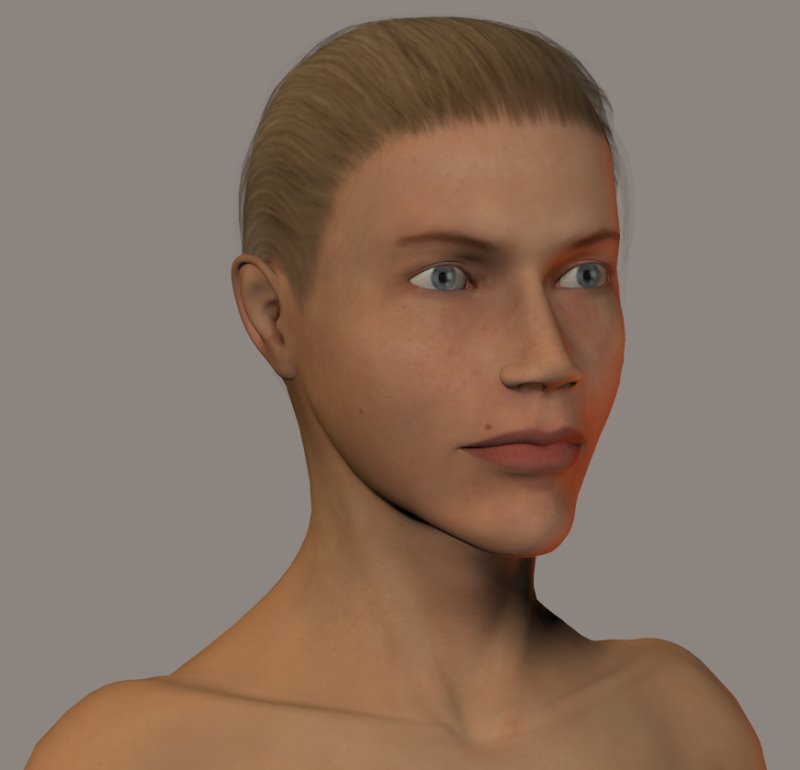 The user interface has been substantially revamped, and I like it much better. This is the same renderer that Poser 7 used, but they seem to have upgraded it. And it does use all four cores. The system CPU usage spikes at 100% during a render.
Which goes blitz fast. It's impressive to watch.
I'm not so thrilled by that mesh. The face seems wrong. It doesn't look like a woman to me. For one thing, the mouth is too big. For another, the chin is much too prominent. And I think the cheeks are too fat.
The face designer has a bazillion controls to allow you to adjust stuff like that, and I only just started messing with that a bit.
But I'll load Miki, the Japanese figure I purchased a couple of years ago, into it later. She looked a lot better.
The delivery guy said that the label last Friday gave the street address for the building but not the apartment number. And there was a new label pasted on the package today.
UPDATE:
The "Miki 2" mesh looks a lot better IMHO. It looks like a girl, for one thing.
UPDATE: So far, the good: you can resize windows from any edge or corner (the windows standard). In Poser 7 you could only resize using the lower right corner (the mac standard).
The middling: when it goes CPU bound, you can actually minimize it.
At least, most of the way. I just tried using the "clothify" function on a high-res square, and right now it's completely locked up. I was able to minimize the main screen, but the "clothify" popup didn't go with it. So I used the "show desktop" function, and the "clothify" popup repainted itself.
Seems like they still don't totally understand this "multitasking" concept.
UPDATE: Whatever that was doing, it wasn't responding to mouse clicks and it wasn't using any CPU, so I gave up and killed it.
Posted by: Steven Den Beste in Computers at 12:22 PM | Comments (4) | Add Comment
Post contains 328 words, total size 2 kb.
Posted by: J Greely at May 09, 2011 12:46 PM (fpXGN)
Posted by: Steven Den Beste at May 09, 2011 01:46 PM (+rSRq)
Posted by: Mikeski at May 09, 2011 07:12 PM (GbSQF)
Posted by: Steven Den Beste at May 09, 2011 07:14 PM (+rSRq)
Enclose all spoilers in spoiler tags:
[spoiler]your spoiler here[/spoiler]
Spoilers which are not properly tagged will be ruthlessly deleted on sight.
Also, I hate unsolicited suggestions and advice. (Even when you think you're being funny.)
At Chizumatic, we take pride in being incomplete, incorrect, inconsistent, and unfair. We do all of them deliberately.
How to put links in your comment
Comments are disabled. Post is locked.
7kb generated in CPU 0.01, elapsed 0.0168 seconds.
20 queries taking 0.0111 seconds, 21 records returned.
Powered by Minx 1.1.6c-pink.