March 12, 2013
IE10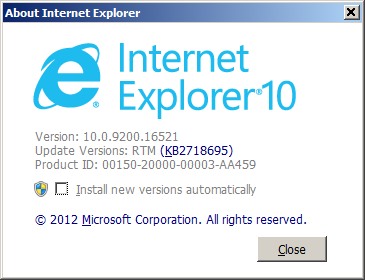 That "update automatically" box defaults to checked, dammit.
And I need to figure out how to tell IE10 not to spell check my entries.
UPDATE: Here's how.
Posted by: Steven Den Beste in Computers at 12:41 PM | Comments (1) | Add Comment
Post contains 28 words, total size 1 kb.
1
Microsoft keeps adding features to successive versions of Windows and their other tools that I don't want, and every time I upgrade (voluntarily or involuntarily) I have to spend a bunch of time figuring out how to turn the damned things off again.
It is fortunate that they realize a lot of people don't want all the eye candy and annoying help features, and include a way to turn them off again. Their problem is that if they don't add stuff, what is the compelling reason for anyone to upgrade?
Posted by: Steven Den Beste at March 12, 2013 01:55 PM (+rSRq)
Enclose all spoilers in spoiler tags:
[spoiler]your spoiler here[/spoiler]
Spoilers which are not properly tagged will be ruthlessly deleted on sight.
Also, I hate unsolicited suggestions and advice. (Even when you think you're being funny.)
At Chizumatic, we take pride in being incomplete, incorrect, inconsistent, and unfair. We do all of them deliberately.
How to put links in your comment
Comments are disabled. Post is locked.
5kb generated in CPU 0.01, elapsed 0.0159 seconds.
20 queries taking 0.0117 seconds, 18 records returned.
Powered by Minx 1.1.6c-pink.