December 30, 2015
Super Sonico says, Let's play tennis!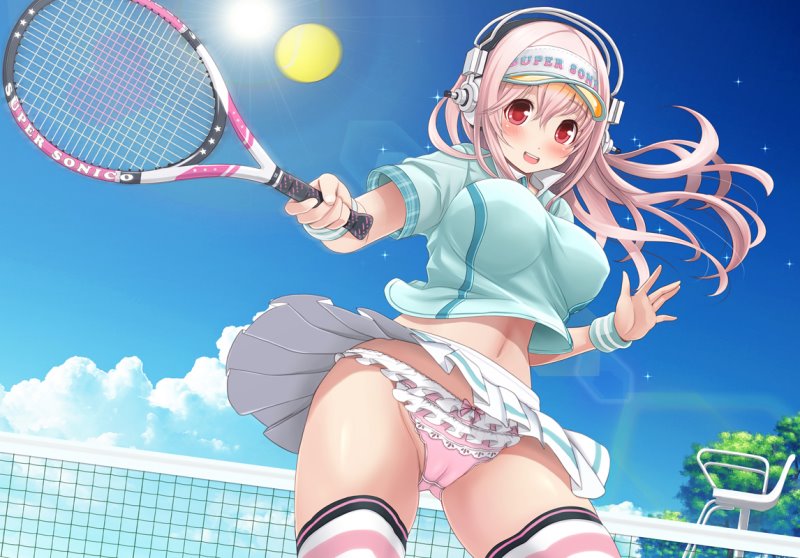 But I thought you were supposed to hit the ball towards the net.
Posted by: Steven Den Beste in Cheesecake at 07:58 AM | Comments (3) | Add Comment
Post contains 20 words, total size 1 kb.
1
Elementary, my dear Watson.
Super Sonico is five-foot-two. A tennis net is three feet high. Given the ankle-high camera position, she must be very close to the net for the entire net to be visible in her... um... "A-frame"... when she's bending at the knees like that.
So she must be playing the net in a doubles match. Her hapless partner just returned a shot inaccurately, right at the back of Sonico's head. Her partner yelled "abunai!" causing Sonico to spin, sidestep, and duck slightly, flaring her skirt out and whipping her hair around.
Sonico is not hitting the ball; she's avoiding being hit by it.
Posted by: Mikeski at December 30, 2015 09:45 AM (hAtXl)
2
Actually, I think it's easier to explain by saying she was trying a backhand and she missed.
Posted by: Steven Den Beste at December 30, 2015 12:23 PM (+rSRq)
3
Hm. Her racket arm is in a strange position for that.
I'm trying to recall if she was clumsy enough to pull that off (spin 180 on a missed backhand, and swing early enough to complete the spin just as the ball arrives). I guess I'll have to watch the anime again. Darn.
Posted by: Mikeski at December 30, 2015 03:07 PM (hAtXl)
Enclose all spoilers in spoiler tags:
[spoiler]your spoiler here[/spoiler]
Spoilers which are not properly tagged will be ruthlessly deleted on sight.
Also, I hate unsolicited suggestions and advice. (Even when you think you're being funny.)
At Chizumatic, we take pride in being incomplete, incorrect, inconsistent, and unfair. We do all of them deliberately.
How to put links in your comment
Comments are disabled.
6kb generated in CPU 0.0, elapsed 0.0154 seconds.
20 queries taking 0.0107 seconds, 20 records returned.
Powered by Minx 1.1.6c-pink.