March 29, 2015
Senran Kagura OVA
It seems to be happening long after the TV series, because there are a lot of schools involved. Five girls from each school, and when they meet they seem to view one another as rivals but not as blood enemies. Which suits me fine; I don't want to see girls getting sliced up.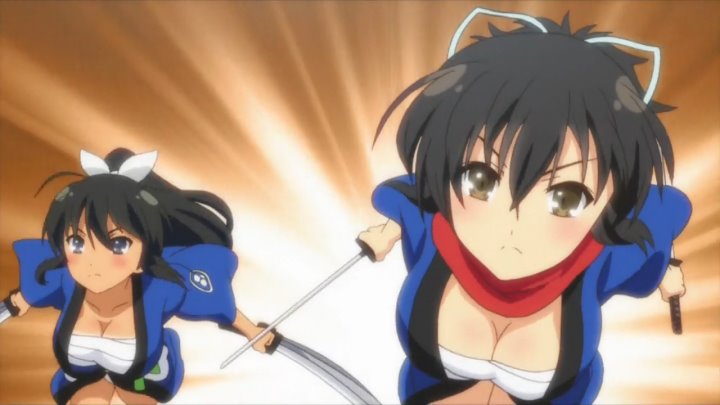 Girls from four schools all receive an invitation for an all-expenses-paid visit to a particular indoor water park on the same day at the same time. NSFW below the fold.
---
First, though, we visit one of the other schools where we're going to have a "Whose are bigger?" contest.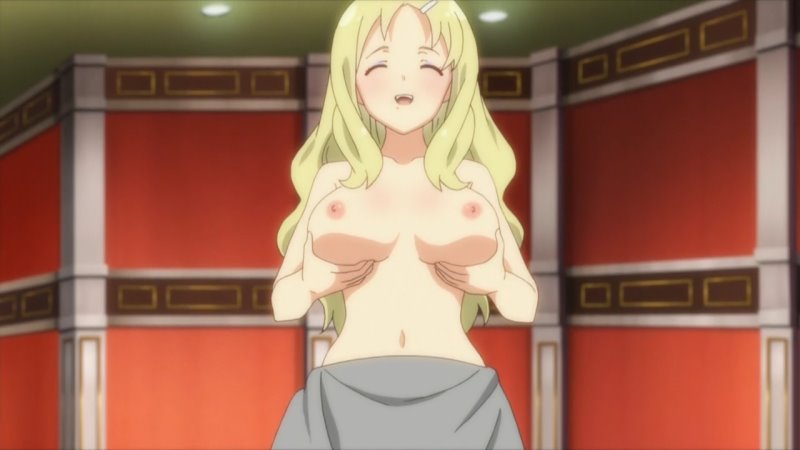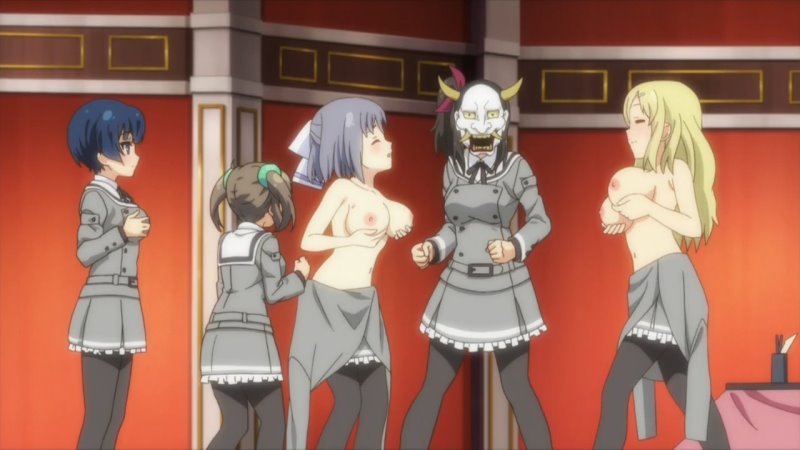 And the loser is suitably abashed. Sheesh.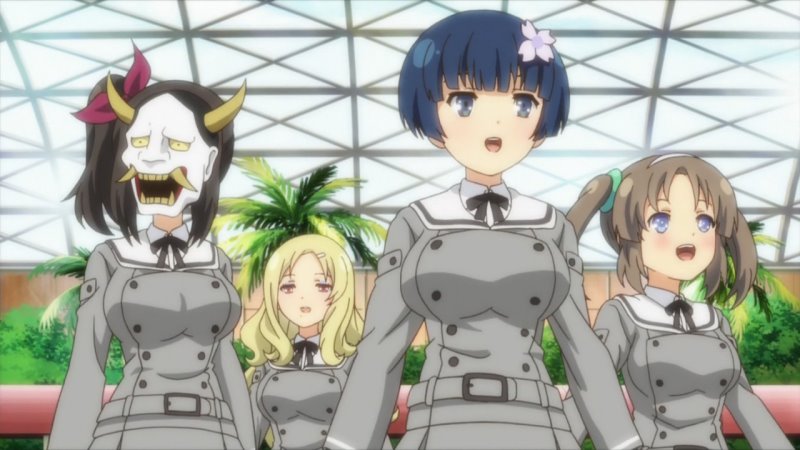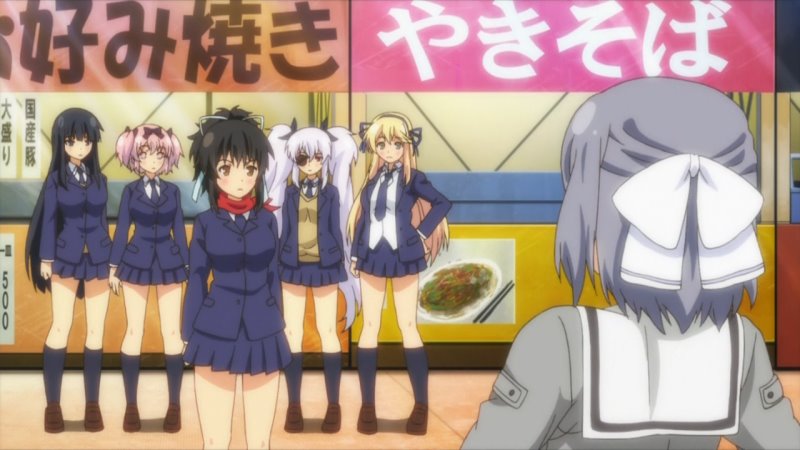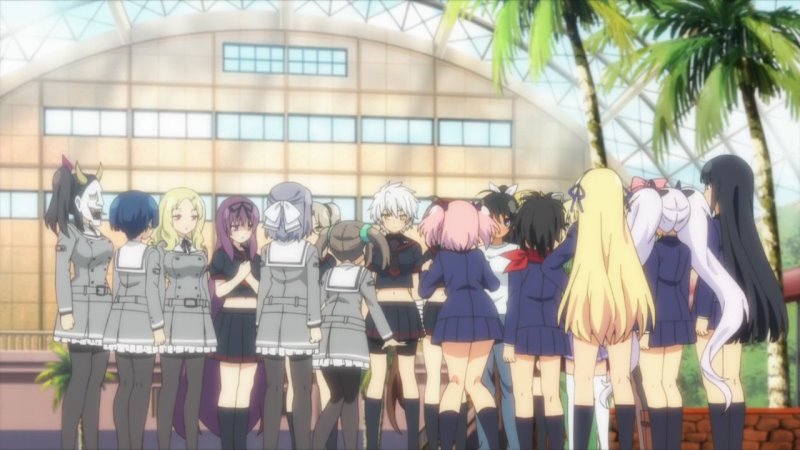 No blood yet, thank goodness...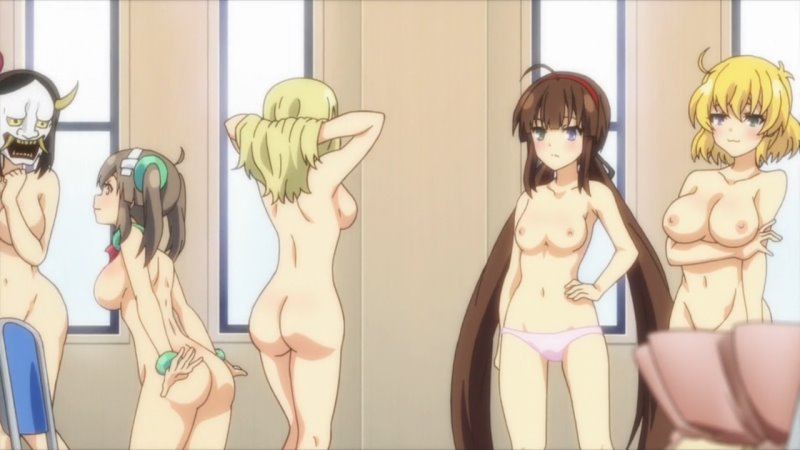 But all is not honey and roses. We have a difference of opinion.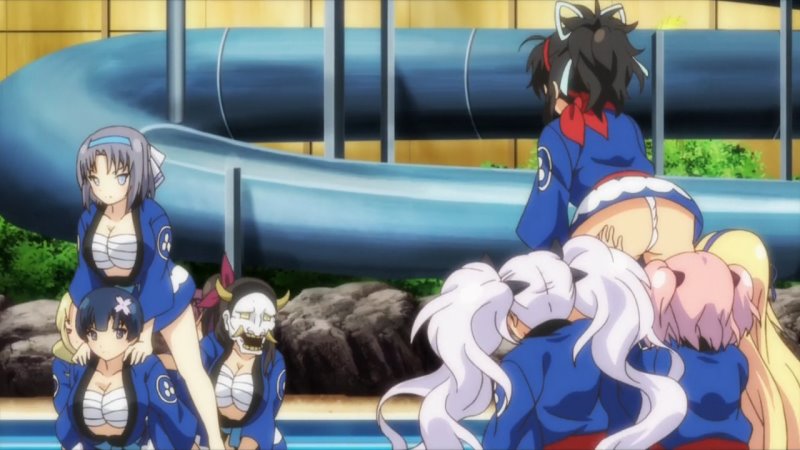 And this is how we're going to settle it!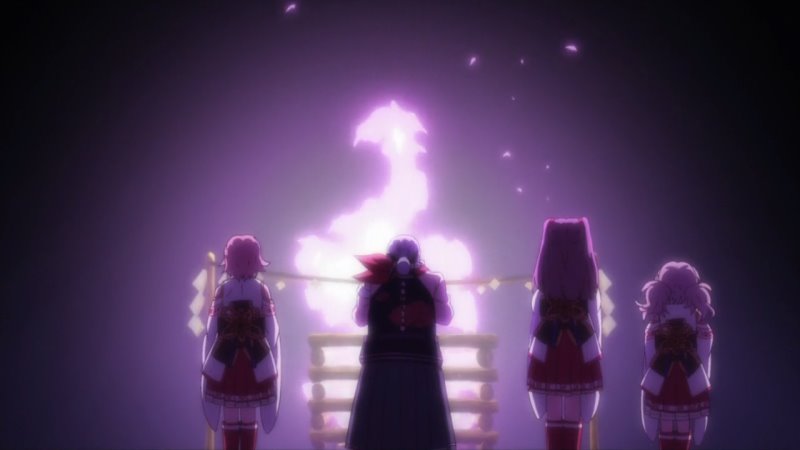 You knew this was coming: it's a trap. The people who set this all up are doing magic...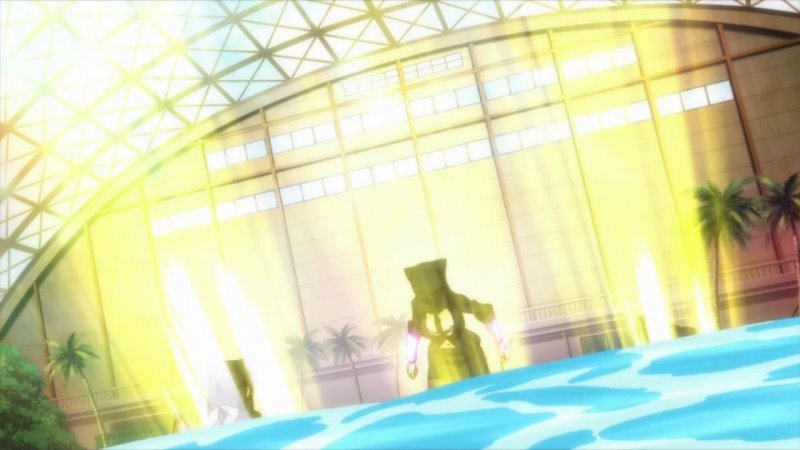 And unknown (and presumably hostile) ninjas teleport in. Time to arm up!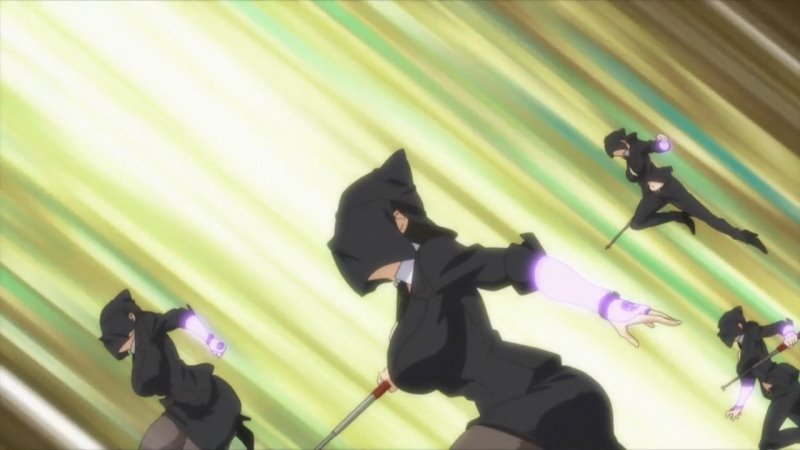 The problem is that there are just too many of them.
In the anime, one of the fighting styles was to shred your clothing and fight in your underwear. Doing this increased speed and power. (And fan service.) Well, it seems there's an advanced version of this:
You shred everything and fight stark naked. (I can't read that kanji; anyone care to help me out?) And most of the girls now do that. I imagine that against male opponents this would gain you a particular advantage through distraction, but in this case they're all women.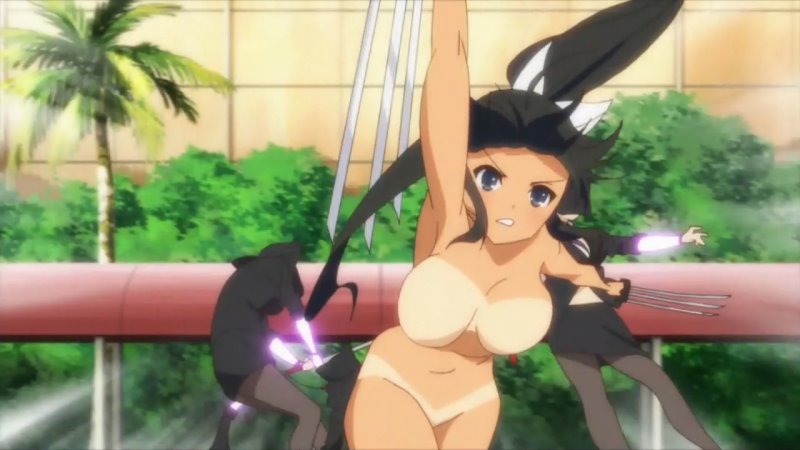 One of the girls from another school kind of got left out of all the fighting. She rustles around in a bag left behind by one of the girls from Snake, and finds a bottle. Assuming it's refreshing, she drinks it -- and transforms into a giant.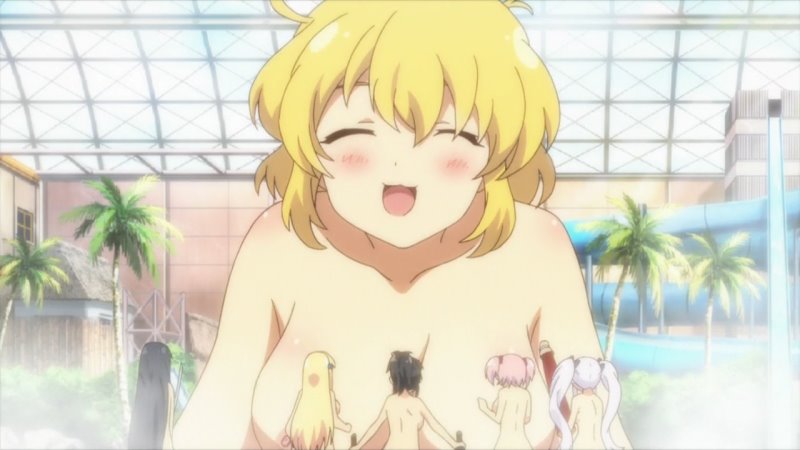 Someone's having an attack of the inadequates... (This is a running gag in the series. Every other girl in the series has at least large breasts, if not huge. This particular girl is the only pettanko, and it bothers her.)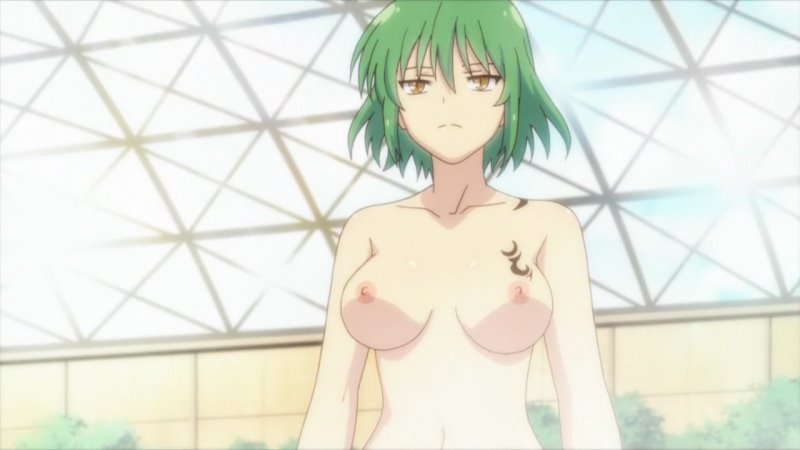 And I think we have definitively answered the question, "Whose are biggest?" (at least until the potion wears off)
Somehow everything got straightened out and everyone went home, none the worse for the experience. Don't expect me to explain it, though.
Posted by: Steven Den Beste in Cheesecake at 02:47 PM | Comments (7) | Add Comment
Post contains 392 words, total size 3 kb.
1
But, if they're fighting naked, how do they keep from being knocked off balance by their, uh, knockers wobbling and bouncing arou--hey, wait a minute!
Posted by: refugee at March 29, 2015 04:42 PM (ayoGu)
Posted by: Steven Den Beste at March 29, 2015 05:26 PM (+rSRq)
3
They
shout
their clothes off, wield six swords at once, fly, and turn into fifty-foot giants... and your question is "how does the Gainaxing not get in the way?" 0_o
...that's a question only a real anime fan could ask.

Posted by: Mikeski at March 29, 2015 06:36 PM (aLP9q)
4
The real question, given the content of the show, is...
How did one of them manage to get tan lines?
Steven has pre-answered it, of course, in comment #2.
Posted by: Mikeski at March 29, 2015 06:39 PM (aLP9q)
5
Kanji question:
Their "swimsuit mode" fighting stance is "meiku", 命駆 . (There are "meiku version" figures of SK characters; link nsfw.)
This nude version is apparently "super-meiku", 超命駆 .

Posted by: Mikeski at March 29, 2015 07:34 PM (aLP9q)
Posted by: Steven Den Beste at March 29, 2015 09:09 PM (+rSRq)
7
Fapservice finally got to this one. Their coverage is far more comprehensive than mine, and includes animated GIF files of some of the more amazing parts.
This was the ATX broadcast. It's going to show up on BD in like May or June IIRC, as a bonus in a manga collection at that time. What I wonder is if they're going to remove more of the steam and include more nipples? I guess only time will tell.
Posted by: Steven Den Beste at March 29, 2015 11:05 PM (+rSRq)
Enclose all spoilers in spoiler tags:
[spoiler]your spoiler here[/spoiler]
Spoilers which are not properly tagged will be ruthlessly deleted on sight.
Also, I hate unsolicited suggestions and advice. (Even when you think you're being funny.)
At Chizumatic, we take pride in being incomplete, incorrect, inconsistent, and unfair. We do all of them deliberately.
How to put links in your comment
Comments are disabled.
11kb generated in CPU 0.02, elapsed 0.0238 seconds.
20 queries taking 0.0134 seconds, 24 records returned.
Powered by Minx 1.1.6c-pink.