March 28, 2011
Rio Rainbow Gate -- censorship speculation
So I'm going through the first two episodes of Rio: Rainbow Gate looking for cheesecake for the top rotation. And I saw some things which suggested "Buy the DVD!" to me.
It's increasingly common in fan service shows for them to include nudity in the DVD release and to be unsubtle about censoring it in the broadcast. The deliberate unsubtlety is so that people know the DVDs will be better and will purchase them.
So for instance, in Saki, there were bathing sequences which were obscured by fog, which wasn't present on the DVD.
The question is whether Rio will be like that. I think it will, and I have some candidate shots below the fold. Even censored they're NSFW, by the way.
---
In the first episode there's a fantasy sequence with Rio walking through a deck of cards to pick the ones she wants for a hand of 5-card-draw poker. (Never mind why; the point is that it's fan service.) She's nude, but they've hugely overbrightened her so that you can only just barely see her. How much you want to bet that on the DVD it won't be brightened up this way?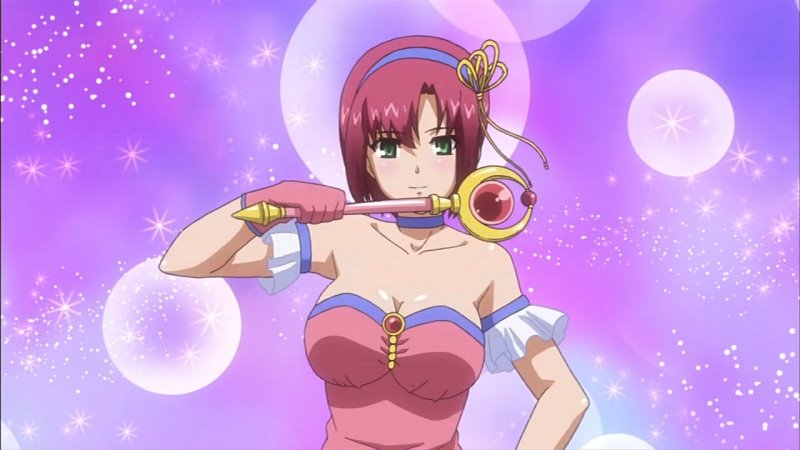 At the beginning of the second episode there's a video running on the announcement monitors featuring Rio. She starts dressed in a mahou shoujo costume, which shreds. And as the clothing disappears, a huge white flare comes up from below and obscures the scene. Think that'll be there for the DVDs? I don't.
I'm "watching" the show with the sound turned off and the subtitles disabled, because I value my sanity. I'm just looking for pictures. So I can't explain to you why that girl's clothes disappeared, leaving her shrouded in colored numbers. What I'm wondering is whether she'll be quite as "shrouded" on the DVD.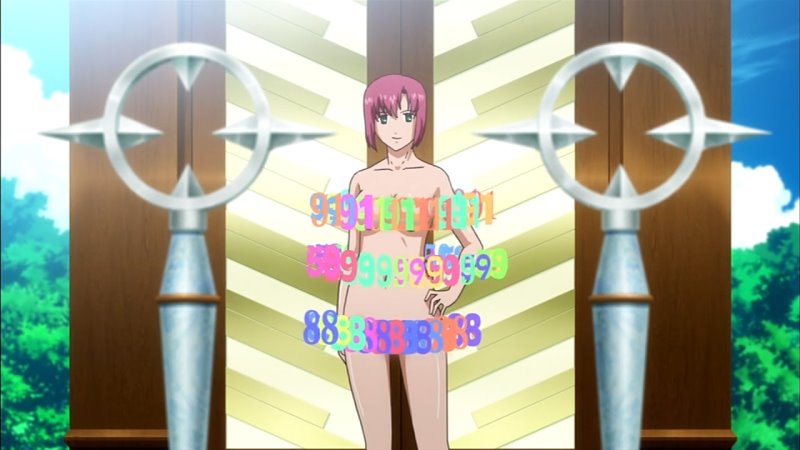 And Rio, too, for that matter.
Maybe I'm wrong, but these scenes all scream "Buy the DVDs" to me. More to the point, these seem like scenes such that if they are not more ecchi on the DVDs, that a lot of buyers will get mad and stop buying after the first one or two of them. Why include scenes like this if you're not going to "improve" them in the DVD release?
My guess is that those numbers will still be there, but there will be fewer and they'll be transparent.
Posted by: Steven Den Beste in Cheesecake at 07:38 PM | Comments (2) | Add Comment
Post contains 398 words, total size 3 kb.
1
Episode 04
, when Rio and Rina get reacquainted after a long time apart, has quite a few moments that could potentially be uncensored, but it's
Episode 07
that takes the (cheese)cake as far as that sort of thing goes.
Posted by: Wonderduck at March 28, 2011 09:18 PM (W8Men)
2
Boy, I'm slow. I just realized that the numbers are their measurements in centimeters. Ania is 82-61-85 and Rio is 91-59-88.
In inches, 32-24-33 and 36-23-35.
Posted by: Steven Den Beste at March 29, 2011 01:49 PM (+rSRq)
Enclose all spoilers in spoiler tags:
[spoiler]your spoiler here[/spoiler]
Spoilers which are not properly tagged will be ruthlessly deleted on sight.
Also, I hate unsolicited suggestions and advice. (Even when you think you're being funny.)
At Chizumatic, we take pride in being incomplete, incorrect, inconsistent, and unfair. We do all of them deliberately.
How to put links in your comment
Comments are disabled. Post is locked.
8kb generated in CPU 0.0039, elapsed 0.0162 seconds.
20 queries taking 0.0137 seconds, 19 records returned.
Powered by Minx 1.1.6c-pink.