July 05, 2012
Binbougami-ga -- episode 1
Binbougami-ga? I don't think it really works. There's a bit of mood whiplash, and it isn't very subtle.
---
The early part of the episode was very broad comedy, approaching slapstick. And there were a couple of visual call-outs: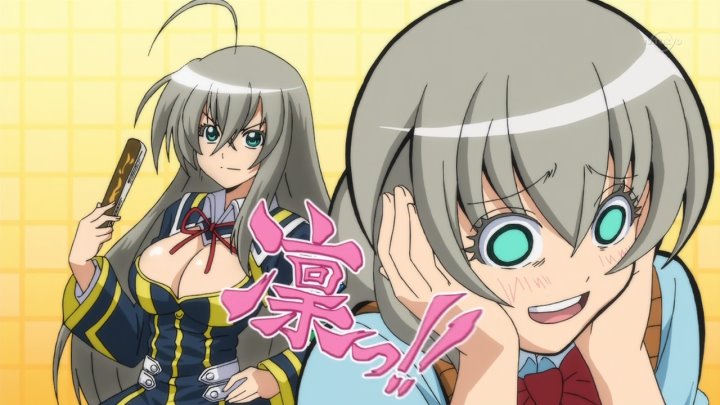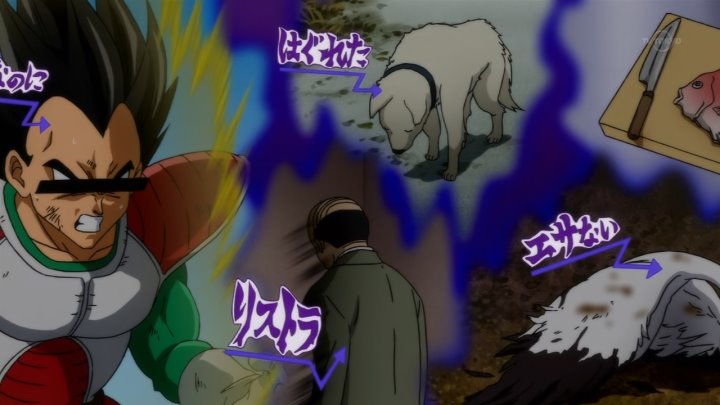 Plus the obligatory "Buy the BDs" shot:
Plus the... shape... of things to come.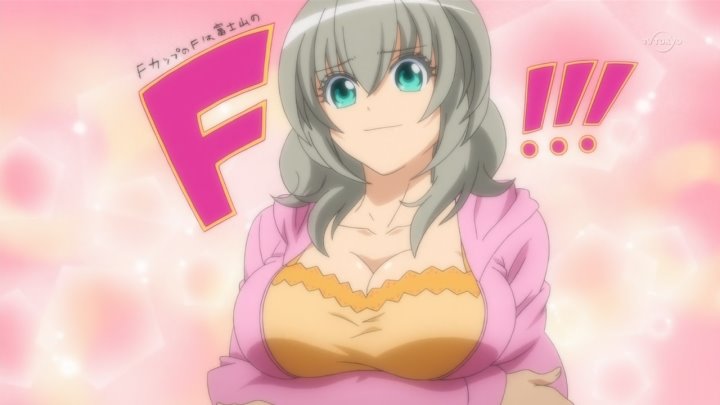 Ichika is very, very lucky. She's rich. She's beautiful. She's stacked; biggest boobs in the school. She's the school idol. All the guys want her. All the girls hate her.
Momiji, the eponymous binbougami (god of misfortune), is flat chested, and Ichika insults her about that. I'm sure that's going to come up again.
Thing is, Momiji is the real thing, and she does really bring misfortune to Ichika. And it gets really sad for a while in there.
It was too sudden. The switch from slapstick to tragedy, and then back again, was too quick. I couldn't adjust. (In fact, it switched to tragedy again, and then back to slapstick.)
I can't really see that there's a cour of story to tell about this. But I could be wrong. There are several ways this could turn out. For instance, Ichika and Momiji could end up friends. Or they might end up teaming together to deal with some titanic problem. A different possibility is that we might end up with an exploration of, and eventual explanation of, Ichika's tremendous good fortune. Momiji speculated that Ichika was a reincarnation of a god of fortune; could be?
But that kind of serious story telling doesn't fit with the basic slapstick which seems to be the normal mood -- except when the show gets really tragic. I can't figure out what the writers think they're doing, and I wonder if even they really know.
I'll watch another episode of this, but I think the chance of my watching this show all the way to the end is nil.
Posted by: Steven Den Beste in General Anime at 08:05 AM | Comments (4) | Add Comment
Post contains 322 words, total size 2 kb.
1
This is a series right up "gg"'s alley. I think that means you'll probably drop out, hehe. But it'll be good top-rotation material for later, given the nature of the ED and what I imagine are scenes to follow.
On ep 1:
Posted by: sqa at July 05, 2012 02:14 PM (5/dUV)
2
gg certainly was rather frank, not to say outright obscene, with some of their translation.
Posted by: Steven Den Beste at July 05, 2012 02:38 PM (+rSRq)
3
There is no doubt that this is fodder for the top rotation, eventually.
Posted by: Steven Den Beste at July 05, 2012 02:39 PM (+rSRq)
4
This has the feel of
Haiyore! Nyaruko-san
with much more of the mood whip-saw. Like you, I'm going to give it a shot, but yeah, if there are too many drastic mood swings I'm not going to bother.
Posted by: wahsatchmo at July 05, 2012 08:41 PM (m89tF)
Enclose all spoilers in spoiler tags:
[spoiler]your spoiler here[/spoiler]
Spoilers which are not properly tagged will be ruthlessly deleted on sight.
Also, I hate unsolicited suggestions and advice. (Even when you think you're being funny.)
At Chizumatic, we take pride in being incomplete, incorrect, inconsistent, and unfair. We do all of them deliberately.
How to put links in your comment
11kb generated in 0.0196 seconds; 23 queries returned 23 records.
Powered by Minx 1.1.4-pink.