February 20, 2015
Barakamon -- ep 2
I started watching Barakamon from last year, just for the heck of it. It's surprising. The main character is the straight man, around whom all the insanity flows, except that it's not that simple. He's angry and closed in, and it's clear that the story is going to be how the small town melts his heart and helps him find happiness inside, which will manifest in his art. (He's a calligrapher.)
The core of the show is Naru, the bratty 6 year old who won't leave him alone. By the end of the second episode she's already beginning to affect him, and by that I mean in a good way. I was impressed by her voice performance so I looked up the seiyuu. Info is sparse; and this is her only role. It's virtually unknown for a new seiyuu to be picked for a lead role their first time out, so I'm coming to the conclusion that she's a kid. If so, she's really amazing, because it's a voice performance worthy of a pro.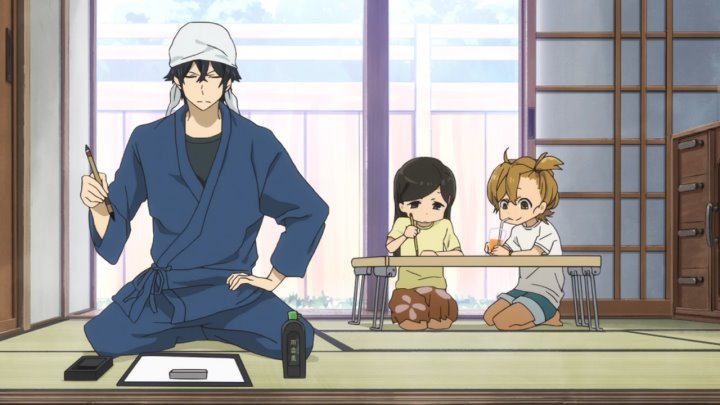 Naru the character is unique; I don't think I've ever run into anyone like her before. There isn't really any single word that easily describes her (besides "brat"); she's not insensitive, for instance. She's a bit of a tomboy. There isn't any hint of lolicon in the show, which is a relief. Her best friend is Hina, who is a crybaby. She's very shy. She cries when she's afraid. She cries when she's happy. She spends a lot of time crying. I have no idea how else her voice sounds because in the first two episodes she doesn't say anything.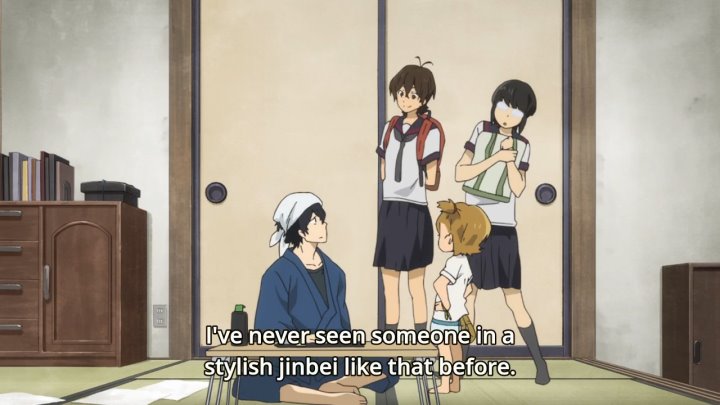 I knew that the core of the show was Naru and her relationship with Our Hero. I didn't know that there were a couple of middle school girls, too. This isn't a harem show, and Our Hero is in his 20s, but it's obviously a tease.
The house OH moves into had been vacant for a long time, and Naru and the two jailbaits had been using it as a clubhouse, sort of. They had posters up on the wall and had a ghetto blaster and some CDs there, plus cushions and cards and other stuff.
The basic story is obvious: the tight-laced city boy is going to learn what life is really about from the island hicks; it's been told a thousand times. But if it's done well, it's still a good story, and so far it seems pretty good. I don't think I'll drop it yet.
UPDATE: Hina's seiyuu is 9 years old, so I'm certain now that Naru's seiyuu is a kid, too.
UPDATE: I think every one of the kids (and I've seen 8 so far) has a real child for a seiyuu. That's a really interesting choice by the director; it must have been a real headache in production. But it changes the feel of the show; a woman pretending to be a child just doesn't sound the same.
Posted by: Steven Den Beste in General Anime at 03:35 PM | Comments (5) | Add Comment
Post contains 502 words, total size 3 kb.
1
Barakamon
had a
good run
at Ani-nouto, but I never got around to blogging it properly. But it is quite good. I do not have any problem with straight stories, I liked
Moribito
. My personal favourite part was the first rival arc
Posted by: Pete Zaitcev at February 20, 2015 05:01 PM (RqRa5)
2
I liked Barakamon. It's nothing new (except for perhaps the calligraphy angle), but it's got a good heart and some funny scenes. There is never a love interest, though one of the middle school girls does develop some inappropriate BL fantasies about sensei with another male character.
Sensei is definitely the fish out of water, but as he embraces more of the island life his calligraphy takes on a more individualistic style. The show is just a nice change of pace that will keep you occupied for a bit.
Posted by: wahsatchmo at February 20, 2015 05:08 PM (r4uXE)
3
I'm up to episode 9 just now, and I still like it. But I have a feeling that there's a really sad moment coming when we find out the truth about Naru's parents. I'm not looking forward to that.
Posted by: Steven Den Beste at February 20, 2015 05:55 PM (+rSRq)
4
And finished. I recommended it to someone as an example of iyashikei, and then I worried that I was wrong.
Now I know I was right, so that's a relief. And there wasn't any tragic moment in it, either.
It's hard to describe. It comes close to being "day-in-the-life" except that it isn't really. There's something of a series-level plot but it isn't very substantial, and yet it does tie everything together.
I think arguably it's a coming-of-age story, though that's really strange when the protagonist is 23 years old. Anyway, it really is good. I'm impressed.
Posted by: Steven Den Beste at February 20, 2015 09:36 PM (+rSRq)
5
It's a coming of age for Sei because as his father said to his mother, the fact he didn't have a normal childhood (the burden of being the son of a famous calligrapher who's expected to do the same) is their fault. In order to grow up, he actually need to experience some semblance of childhood first.
Posted by: BigFire at February 21, 2015 07:30 AM (02QJq)
Enclose all spoilers in spoiler tags:
[spoiler]your spoiler here[/spoiler]
Spoilers which are not properly tagged will be ruthlessly deleted on sight.
Also, I hate unsolicited suggestions and advice. (Even when you think you're being funny.)
At Chizumatic, we take pride in being incomplete, incorrect, inconsistent, and unfair. We do all of them deliberately.
How to put links in your comment
Comments are disabled.
10kb generated in CPU 0.01, elapsed 0.018 seconds.
21 queries taking 0.0117 seconds, 22 records returned.
Powered by Minx 1.1.6c-pink.