May 23, 2012
Asura Cryin' -- ep 2
Another show I started scanning through in hopes of finding candidates for the top rotation. After two episodes, I haven't taken any.
But I am getting interested in the show. I originally skipped it because it was a mecha show, and you all know how I feel about those. But so far it's telling an interesting story, about a pretty admirable character. And despite the collection of cute girls (five so far, plus a couple of minor characters) it doesn't seem to be heading into harem territory.
Misao, Tomo's red haired companion, is the most interesting thing in the show so far IMHO because the story behind her looks to be key to what's going on. They're hinting at it already.
UPDATE: The first plot arc ends with ep 3, and unfortunately it looks like they're not going to sustain the parts I liked the most so far.
And I did get one nice cheesecake shot out of it: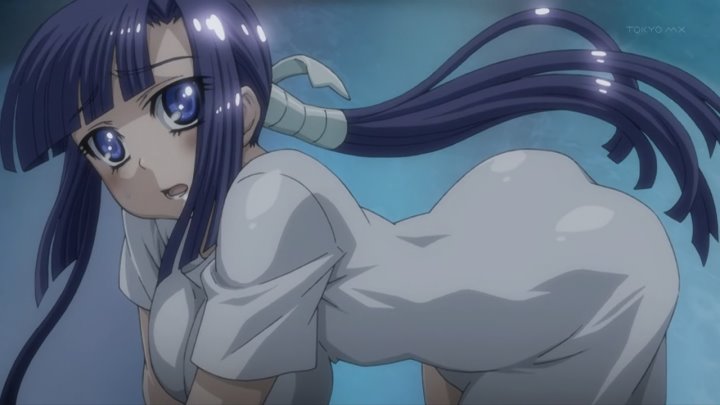 UPDATE: OK, Ep 4 wasn't bad. I'm willing to keep going for a bit longer.
UPDATE: End of ep 5, and it feels like the show is in a rut. Like so many shows based on a series of light novels, it feels episodic. And I think I don't care any longer.
Posted by: Steven Den Beste in General Anime at 08:47 PM | Comments (2) | Add Comment
Post contains 217 words, total size 1 kb.
1
Daniel (IKnight) said that it offers "brief moments of fanservice" and "an incipient harem (seasoned, naturally, with a pinch of moe) and the inevitable school", among other things. I never saw any mecha that I remember, but then I dropped it after 1 episode, in large part thanks to the rubber bullets.
Posted by: Pete Zaitcev at May 23, 2012 09:07 PM (5OBKC)
2
The bad guy's mech shows up in ep 2. The good guy's mech shows up in ep 3. And as to what makes them work? A mixture of phlebotinum and magic, with a touch of human sacrifice.
The chick whose picture I posted is the girl with the biggest breasts in the school. She's shy. She's very rich. She isn't actually human; it turns out she's an akuma but she doesn't seem to be evil. She's actually rather nice. She's the moe one.
But as of the end of ep 3 she just got given a key to Tomo's home. Plus the bad-girl sempai has one. And thus it is that we see the beginnings of a harem.
Oh, and the ghost is still around. That makes three.
Posted by: Steven Den Beste at May 23, 2012 09:16 PM (+rSRq)
Enclose all spoilers in spoiler tags:
[spoiler]your spoiler here[/spoiler]
Spoilers which are not properly tagged will be ruthlessly deleted on sight.
Also, I hate unsolicited suggestions and advice. (Even when you think you're being funny.)
At Chizumatic, we take pride in being incomplete, incorrect, inconsistent, and unfair. We do all of them deliberately.
How to put links in your comment
9kb generated in 0.0655 seconds; 23 queries returned 21 records.
Powered by Minx 1.1.4-pink.