September 15, 2014
Arpeggio of Blue Steel -- finished
And I'll give them credit: they kept surprising me. I never knew what was going to come next, but I always like what it turned out to be. This was excellent story telling from start to finish.
I think my favorite character was Hyuga; she's a kick. And another way they surprised me: I kept expecting the loli to pull a rabbit out of her hat at a critical moment, but she never did. And that was good; using her to save the day would have been a deus ex machine.
Now the bad: We never got any hint as to what the Fog are, or where they came from, or why or how they ended up on Earth. Not the slightest clue.
So obviously they were hoping to do a sequel, and maybe explore some of that in greater depth. I-401's trip back to Japan will be much less hectic because I-401 has already destroyed most of the west Pacific Fog Fleet, and Kongou obliterated most of the east Pacific Fog Fleet. The Pacific Ocean is a lot less dangerous place now.
Another complaint: We never got any explanation for the two Illuminati in Japan, or any indication of what happened to them.
I rather like the fact that Kirishima continues in the teddy bear body. The Americans had an adequate supply of nanomaterials to replenish I-401's stocks, and Takao's body got restored. Kirishima could have done something similar but chose not to. I assume that Kimie, Haruna, and Kirishima will stay in America. Kimie, after all, designed that bomb and will be consulting on the manufacturing process of arming up. Presumably Hyuga and Takao will stay on I-401.
UPDATE: Iori didn't get enough screen time.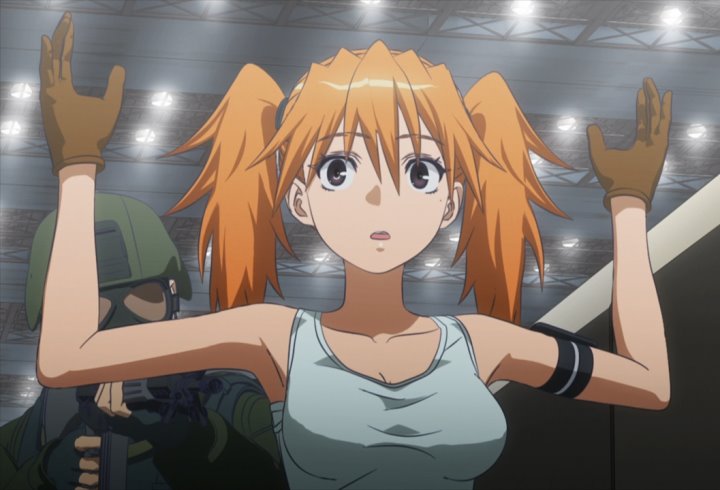 I ended up with 39 frame grabs, but most of them are ship avatars.
Posted by: Steven Den Beste in General Anime at 11:51 AM | Comments (6) | Add Comment
Post contains 81 words, total size 2 kb.
1
Anime production started about a year into the Manga, so it diverges pretty wildly, so a few plot holes did show up.
There might be a sequel, though, as it did pretty well.
I also appreciated actually combat tactics. Until, well... Deathstar mode.
Posted by: sqa at September 15, 2014 03:01 PM (gWcVa)
2
I just took a look at the Wikipedia article about the series and manga, and yeah, it seems like they're only distantly related. Takao's story, in particular, is entirely different.
Posted by: Steven Den Beste at September 15, 2014 03:25 PM (+rSRq)
3
For what it's worth, they've already announced that they're doing both re-cap and new-content movies for Arpeggio.
Posted by: DiGiKerot at September 16, 2014 11:03 AM (iNA6E)
4
Anyone know what rendering package they used for this series?
Posted by: Steven Den Beste at September 16, 2014 12:49 PM (+rSRq)
5
Production was from Sanzigen, which did the 3D CG for animes like Girls und Panzer & Dog Days.
They do something different with their cell shading than others, but I don't know if it's a custom rendering set or package, or just custom scripting. All I know, is their animation & rendering has looked a whole lot better than all but the movie-level work.
Posted by: sqa at September 16, 2014 07:47 PM (gWcVa)
6
I was curious what software they used. Any idea?
Posted by: Steven Den Beste at September 17, 2014 04:30 AM (+rSRq)
Enclose all spoilers in spoiler tags:
[spoiler]your spoiler here[/spoiler]
Spoilers which are not properly tagged will be ruthlessly deleted on sight.
Also, I hate unsolicited suggestions and advice. (Even when you think you're being funny.)
At Chizumatic, we take pride in being incomplete, incorrect, inconsistent, and unfair. We do all of them deliberately.
How to put links in your comment
Comments are disabled.
9kb generated in CPU 0.0, elapsed 0.0197 seconds.
21 queries taking 0.0126 seconds, 23 records returned.
Powered by Minx 1.1.6c-pink.