October 25, 2007
Ai Yori Aoshi: voices of fairies
Well, I said I'd give the show a chance until Tina showed up and moved into the mansion, and that happens at the end of ep 5.
Tina is annoying as hell, but of course she's supposed to be. I suspect that she'll be reduced to a tolerable annoyance after we add in the rest of the harem, simply by dilution. Two more, I think. Also, that'll give her more victims, so she won't molest Aoi as much.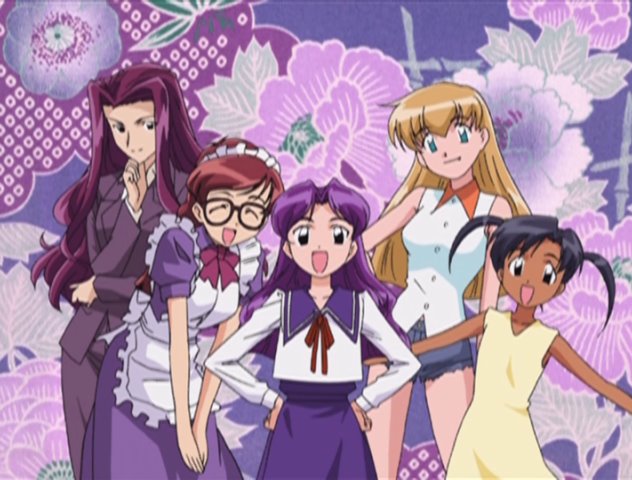 Minazuki's voice gave me a start. It's very familiar, but only from one role. She was Wind Fairy Pepper in Sugar, a Little Snow Fairy. I thought that was the best performance in that series, among many sterling performances.
It's a bit peculiar hearing Pepper's voice coming out of a bouncy girl like Minazuki. On the other hand, if she's the kind of flake it seems like she is, then that voice is perfect.
Rule #1 for harem comedies: the show is worth watching in direct proportion to te extent that the guy in the middle gets a grip. So what I'll be watching for is whether Kaoru starts standing up to Tina and refuses to let her dominate him -- and signs are good. He's already doing it, at least somewhat.
As of the end of Ep 5, Minazuki hasn't moved in yet, and we haven't yet met the remaining two haremettes, both of whom seem to be lolis. I know one of them is Minazuki's younger sister, and that she's got the same voice as Mii in Popotan.
Tina is supposed to be annoying, but that doesn't mean she won't ruin the series anyway. But if she has more victims, and if Kaoru gets a grip, and if Aoi doesn't get angsty, then I think it'll be OK.
I'm not ready to give up on Ai Yori Aoshi yet.
Posted by: Steven Den Beste in General Anime at 07:48 PM | Comments (3) | Add Comment
Post contains 315 words, total size 2 kb.
1
I find Taeko's voice actress has a very distinct voice.
Ai Yori Aoshi
was the first thing I heard her in, but recognized her immediately in
Sugar
. Although her parts are smaller in
Kaleido Star
and
Kiddy Grade,
I could still pick her out as soon as she spoke. She has a much larger part in the second season of
Kaleido Star
, and plays a much different sort of role as well.
Posted by: Mob at October 26, 2007 06:48 AM (f+cPk)
2
No "harem competition" angst from Aoi, so don't worry about that. However, one could say she spends much of the series in a state of angst over whether or not she and Kaoru can stay together. I'm not sure how much that will wear on you.
Kaoru tends to be a bit weak around Tina, because she's the one who broke him out of his shell, but it's handled pretty well.
I remain uncomfortable about the episode where Kaoru nearly ends up bedding Tina. It was set up well, but I could never buy Kaoru being able to break his connection to Aoi to that degree. It's not clear, but my suspiction is that Tina realizes that it would be a Bad Idea Doomed to Disaster, and fakes sleeping when he comes back from his shower. Poor Tina! By the end of the series, a sympathetic viewer can easily hope for all the girls to find good partners (even Mayu, especially after the piano episode), but Tina really needs and deserves someone special.
Posted by: Toren at October 26, 2007 12:31 PM (6CGiQ)
3
Thinking about it, I wish I could take AiAo and Enishi and reorder the episodes for Steven to watch. I could
definitely
improve the flow of the series, especially with regard to character development.
Posted by: Toren at October 26, 2007 01:08 PM (6CGiQ)
Enclose all spoilers in spoiler tags:
[spoiler]your spoiler here[/spoiler]
Spoilers which are not properly tagged will be ruthlessly deleted on sight.
Also, I hate unsolicited suggestions and advice. (Even when you think you're being funny.)
At Chizumatic, we take pride in being incomplete, incorrect, inconsistent, and unfair. We do all of them deliberately.
How to put links in your comment
Comments are disabled. Post is locked.
8kb generated in CPU 0.01, elapsed 0.0231 seconds.
21 queries taking 0.0159 seconds, 20 records returned.
Powered by Minx 1.1.6c-pink.