November 12, 2007
Ah! My Goddess: Ah, my headache
There's got to be some episode here worth watching. I skipped ep 4 entirely, because I don't want to see Beldandy drunk, loose, and hot. Again. (That happened in the first series, too.)
So, ep 5, on the second DVD, and it's about my least favorite character in the entire series: Otaki. skipskipskipskip.
Well, Otaki is tied with Tamiya for the bottom, I guess I should say. I wonder if the sixth episode will be about him.
UPDATE: No, from the preview, ep 6 is about Beldandy angst. Marvie. I'll watch just enough to see if Mara, or someone like her, is behind it.
UPDATE: No, no demonic influence, but there was some fireworks. Gad, though, I'm tired of seeing and hearing Beldandy get angsty.
Fortunately, Shiho isn't going to become a recurring character.
UPDATE: Ep 7, Peorth. Will it be fun, or a trainwreck?
UPDATE: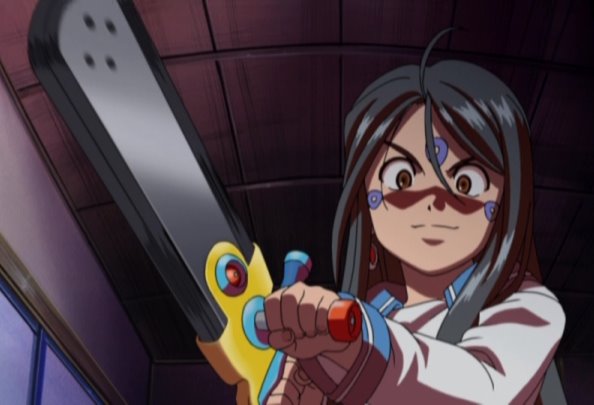 UPDATE: That seems to have been comic relief, despite the fact that Skuld named this particular one of her inventions "Texas Murder".
Peorth sure isn't anything like she was in the movie. How in hell does a ditz like that become a Goddess First Class?
UPDATE: You know, it really says something about how much of a loser Keiichi is that he is being granted a second wish, when the usual allocation for utter losers is one.
UPDATE: End of ep 7. Yikes!
I understand why Urd is the way she is; she's half demon. But I think Peorth comes across as even more demonic than Urd, and she doesn't have any excuse.
As odd as she can become, sometimes I think Urd is the only adult in this show.
UPDATE: Final joke of ep 8: Peorth ends up "in love" with a tanuki statue. The only thing I can think is that Urd has cursed her.
Sheesh, Peorth is obnoxious. Also, I did not need to see Megumi get caught in that spell. Ick ick ick ick...
Posted by: Steven Den Beste in Ah! My Goddess! at 08:05 PM | No Comments | Add Comment
Post contains 289 words, total size 2 kb.
Enclose all spoilers in spoiler tags:
[spoiler]your spoiler here[/spoiler]
Spoilers which are not properly tagged will be ruthlessly deleted on sight.
Also, I hate unsolicited suggestions and advice. (Even when you think you're being funny.)
At Chizumatic, we take pride in being incomplete, incorrect, inconsistent, and unfair. We do all of them deliberately.
How to put links in your comment
Post is locked.
6kb generated in 0.0088 seconds; 18 queries returned 16 records.
Powered by Minx 1.1.4-pink.