December 19, 2009
Tenchi Muyo GXP -- it is a mystery
So I decided to rewatch Tenchi Muyo GXP, and I'm three episodes in so far. It still works for me, though the early part of the series isn't as much fun as the later part. The last time I rewatched, I began with the episode that introduced Neige, but I'm going to watch it all this time.
One thing about this series that is a bit surprising is how many one-hit wonders there are in the cast. This is the only important role by the guy who did Seina, and quite frankly it isn't that good a performance. It's good enough so that it doesn't ruin the show, but he really doesn't make everything of the part that a better actor could have. So it makes sense that he isn't in the industry any more.
On the other hand, I thought that Seto's voice performer really was fantastic, but Seto is her only major anime part.
She was in two live-action Transformers movies according to ANN, so I wonder if she might have found other live acting work that isn't anime-related and wouldn't be on her ANN CV.
There have been other seiyuu I've encountered doing what I thought was outstanding work, who somehow didn't really score in the industry. It makes me wonder why. Sometimes I know, but a lot of them are utter mysteries.
Maybe they didn't like the pay and working conditions, and decided to look for other, better opportunities. I know that was what happened with the girl who did the voice of Yume in Someday's Dreamers. She started making movies.
Maybe they have a hard time delivering lines. Maybe the performances are good but they take an unacceptably large number of retakes to get them right. I've sometimes wondered if that was the case with Maria Yamamoto, who did the voices of CBD May and Yucie (in Petite Princess Yucie). Yucie, in particular, is an amazing performance.
As Neige says at one point, "It is a mystery."
Posted by: Steven Den Beste in Tenchi Muyo GXP at 04:13 PM | Comments (3) | Add Comment
Post contains 340 words, total size 2 kb.
December 13, 2009
Tenchi Muyo GXP -- sound track
I think it's amazing just how good some of the composers are that do music for anime. Just like everything else, Sturgeon's Law applies. But amongst the residual 10% that isn't crap, there's some damned fine work going on.
I'm a big fan of Tenchi Muyo GXP. It stands alone nicely as a series, and Nabeshin is just enough out of control to make it fun while being restrained enough to make it all work as a story and to make the characters engaging.
Once someone offered me a copy of the OST, but I refused it. (Thanks anyway, though.) Since, I've wondered whether I made a mistake. So what's a nice, self-respecting otaku to do? Easy: steal it.
I'm going to hell, aren't I?
I just downloaded it. I don't listen to music very often any more, but I rather enjoyed going through all these. They brought back a lot of memories. Maybe I should watch the series again.
There are two which I consider real favorites. 03 is labeled "teiwa no gogo". If that means anything at all, it means "Afternoon of the Teiwa era" which I doubt. I'm beginning to understand why folks don't like romaji; it's tough to work things out. Especially when they botch up word boundaries. I'm guessing that's tei wa and that it's 弟 "pupil". So it would be "The pupil's afternoon."
My other favorite is 22, "tandemu doraibu" e.g. Tandem Drive.
One game I like to play when listening to the anime soundtrack music is to try to decide what genre and form I'd categorize a particular song, just because it's fun to try to figure out what kinds of musical genres the composers have studied. Kanno Yoko is justly famous for her jazz; it sounds like it's right out of Mississippi.
There are three pieces in TM:GXP that I think I would categorize as tangos. 07 is labeled "ichizu na kanjou". It's another case where I wish I could see the kanji. ichizu means "wholeheartedly. kanjou means "feelings" but I wonder if it's really supposed to be kanojo. Regardless, I can't figure it out because of na. That could be "seven" or "reputation" or "I" or "you", and none of 'em make any sense. And I don't believe that it's an emphasis particle. Anyway, the time meter is 3:3:3:3:2:2 and that's right out of tango territory. And I can't really remember for sure, but I think this might be Kiriko's theme.
12 is labeled "granceful pirate", clearly a typo of Graceful Pirate. It's definitely Ryoko's theme. The meter is 3:3:2.
15 is labeled "Amane the Prompter", so it's obviously Amane's theme. That one is also 3:3:2.
Given how sensuous the tango is, plus the popular wisdom that it takes (exactly) two to tango, I rather like the idea of all three of them having tangos as their themes. It can't be accidental, and that's the main reason I think 07 is Kiriko's theme. But I'll have to check the series to make sure.
Moving right along, 11 is definitely not a tango. To anyone who's seen the series it's instantly recognizable as Seto's theme. It plays in the second episode when Seto's ship shows up for the first time. It sounds to me like it's supposed to be music from India. The nominal title is ju kaminari no onihime.
onihime means "demon princess" and Seto is known in the series as jurai no onihime "The demon princess of Jurai". It looks like 呪 ju means "curse". 雷 kaminari is "thunder". So I'm going to take a wild stab and say it means "The thunderous curse of the demon princess".
There were other influences I heard, too. I also kind of wonder about the labeling. Track 35 is labeled otome which means "virgin", but when I heard it I thought it was Fuku's theme.
A different game I play is to try to figure out whether they're doing everything on a synth, or whether some of the voices are real instruments. Of course, given the kind of budgets they usually have to work with, most of the music if not all will be done on a synth. But sometimes solo instruments will be live.
Track 05 is a good example. There's a lot of guitar music going on in this, but not even Segovia could play parts of that on a real guitar; clearly it's someone using a keyboard. On the other hand, no synth can do that fiddle playing. That's a real instrument.
There's quite a lot of fiddle playing on this album, and it makes me wonder if the composer himself is the fiddle player. That's not uncommon. He's done a lot of other sound tracks, but not really any others I've paid much attention to, so I can't really know for sure.
Anyway, just to be complete, track 05 is labeled sasai no uragiri "the perfidy of the trivial" and I don't remember when it's used. Is that Seiryo's theme?
Posted by: Steven Den Beste in Tenchi Muyo GXP at 06:40 PM | Comments (5) | Add Comment
Post contains 837 words, total size 5 kb.
January 25, 2009
Tenchi Muyo GXP -- The Lorelei and the Diplomat
Ubu and I have been having a conversation in
his comments here
about the ending of
Tenchi Muyo: GXP.
In one of my comments I touched on something I'd thought of before, and wanted to expand on it here. It's all spoilers, so it's below the fold.
more...
Posted by: Steven Den Beste in Tenchi Muyo GXP at 08:29 PM | Comments (20) | Add Comment
Post contains 1434 words, total size 8 kb.
November 25, 2008
Too many words about Tenchi Muyo: GXP
I dunno if anyone cares, but I just wrote a TMW about Tench Muyo: GXP. SPOILERS
Some of it is adapted from a post I made here; a lot of it is new.
Posted by: Steven Den Beste in Tenchi Muyo GXP at 12:43 PM | No Comments | Add Comment
Post contains 40 words, total size 1 kb.
August 17, 2008
Tenchi Muyo GXP -- families
At the end of the second-to-last episode of
Tenchi Muyo GXP
there's an interesting collection of characters all in one place. Seeing it, and talking about it, are serious spoilers about the series ending so it goes below the fold.
more...
Posted by: Steven Den Beste in Tenchi Muyo GXP at 09:26 PM | Comments (1) | Add Comment
Post contains 816 words, total size 5 kb.
May 16, 2008
Tenchi Muyo GXP: Good Luck charms
Later in the series, after Seina has seriously hurt the DaRuma pirate guild, the pirates decide to try fighting fire with fire. If Seina is so effective as a pirate hunter because of his jinx, his legendary "bad luck", then the pirates will try to counter that with good luck.
They create what they call the "Good Luck Fleet". It consists of pirate ships which are packed to the gills with good luck charms of various kinds. I wish I understood what they all are; it looks like Nabeshin was using it as a way of having a laugh at the expense of Japanese superstitions.
Some of them I do know about. There's the pawing cat, for instance. And there's tea with a stem floating vertically in it. They also seem to be plastering this kanji:
寿
all over everything. It means "congratulations!" or "long life!"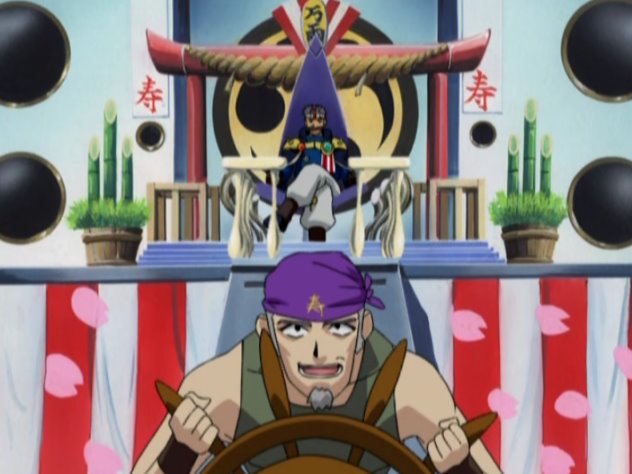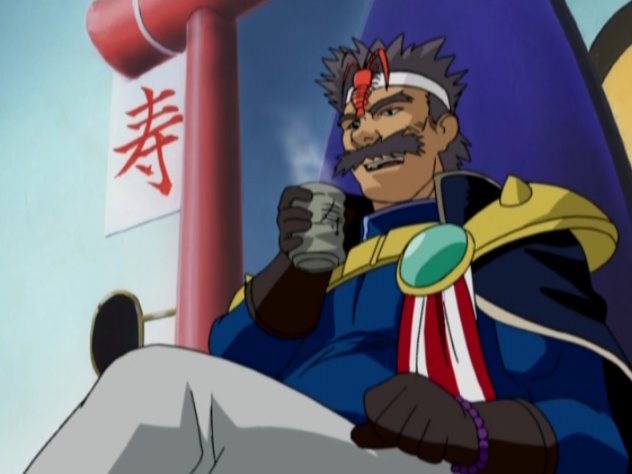 So here's a couple of frame grabs of the bridge of one of the pirate "Good Luck" ships. How many traditional Japanese good luck charms can you identify and name?
For instance, what's the deal with the crayfish? Or those weird pieces of bamboo?
Posted by: Steven Den Beste in Tenchi Muyo GXP at 07:37 PM | Comments (1) | Add Comment
Post contains 196 words, total size 1 kb.
April 11, 2008
Dono
Honorifics and pronoun usage in Japanese is a really big deal in anime. It's subtle but can express lots of stuff, and it's damned near impossible to translate. I just stumbled on a couple of articles on the Tropes page: honorifics pronouns
You ask the linguists, they'll tell you that Japanese doesn't have pronouns. Yet anywhere you look you'll find really long lists of them. I finally figured out what's going on: those words in Japanese are actually terms which have come to be used as place holders. It's like addressing someone as "turkey" or "babe" or "jerk" or "bastard" or "sweetie" or "dude". You can use those kinds of words in English in place of "you" (often with minor grammatical reconstruction of the sentence) and we commonly do, but those words are not pronouns. And neither are all the Japanese words we're talking about. But since Japanese doesn't have real pronouns, it's usual among everyone who isn't anal to use the term to refer to this long list of such words which are sort of used that way but which aren't real pronouns.
That's why Japanese "pronouns" are so expressive of attitude: nearly all of them were originally either insults or compliments. (Though it's often the case that the original meaning has been subverted, probably through sarcasam.)
In the honorifics list it says that -dono rates slightly higher than -sama. Is that really true?
Originally "Lord," in the feudal sense. A step higher than -sama, and conferring the highest possible respect. Unlike -sama, however, it doesn't necessarily imply lower status on the part of the speaker, and is a face-saving way for high-ranking jidai geki characters to address others of high rank.
I've come to think of "dono" as translating pretty well as "your excellency", with "sama" translating as "milord" or "milady". But maybe I'm wrong about that, because in traditional usage "your excellency" would rank lower than "milord". Ambassadors would be addressed as "your excellency", for example, even if they were not nobility.
The third episode of Tenchi Muyo: GXP has a critical scene between Seina and Seto. Seto is the Jurai no oni hime (the "demon princess of Jurai"), a big-time political operator, and power behind the throne. Real big-time person, and everyone always refers to her as -sama. (Except, if I recall correctly, Mikami sometimes, who is also nearly the only person in the Tenchiverse to not be even slightly intimidated by Seto. But then, Mikami is effectively the head of the Kuramitsu clan, so at the very least she's looking across level at Seto, if not somewhat down. Anyway, they're friends.)
Seto invariably uses -dono to refer to Seina, and so do all her subordinates. (Well, except in some of the ero-roleplaying situations, but that's a subversion.) I suspect that's the first time in his life that anyone has used dono with Seina, and I really expected him to be embarrassed by it, especially when coming from someone like Seto. But that doesn't happen, and I don't quite understand why. I guess it means I'm still not really up on the fine points.
Since it shows up so early in the series, and is so key to the overall story, it isn't really a spoiler: the point of that interview is that Seto wants to make sure that Seina really wants to join the GP. The nominal problem is that there's a law against taking people from planets too primitive to have developed starflight into space, let alone letting them enter the GP. It is possible to grant a waiver to that law, and Seto eventually offers to use her influence to get such a waiver granted. But she tries to impress on Seina just what it means for him: entering the GP will be dangerous for him.
He thinks about it before answering. It's a very genuine scene. Kanemitsu (one of Seto's aides) is there and thinks that Seto is putting one over on Seina, but he's wrong. Seina really, genuinely, thinks about it, and makes a decision. And he never regrets having made it and never reconsiders it for the entire rest of the series. (That's one of the reasons that Seina comes off as an admirable character, and part of why the series works.)
Seto puts it to him, perhaps a bit harshly. What do you want to do?
He responds, "I want to stay here" -- and he uses ore. Virtually always in the series he uses boku. Under the circumstances (speaking with someone as distinguished as Seto) I would think that would be considered grossly rude. But I think the implication was supposed to be that it was an indication that the boy had become a man in that instant.
I like the fact that translators are starting to bring the honorifics through in the subtitles, by the way. But there's no real way for them to bring the subtleties of pronoun use through to the same extent, so a lot of flavor gets lost if you don't listen closely and pick up the usage. That use of ore instead of boku doesn't come through at all; there's no way it could without a big footnote.
Posted by: Steven Den Beste in Tenchi Muyo GXP at 05:28 PM | Comments (9) | Add Comment
Post contains 867 words, total size 5 kb.
April 07, 2008
Tenchi Muyo GXP: Rewatching
It really amazes me just how well Tenchi Muyo: GXP stands up to rewatching. As a series, it's grown on me over time. When I first watched it and finished it, I thought that the characters weren't very deep, and the story not very engaging, and the main point was fan service and jokes. But as time has gone on it has seized my imagination in ways I never expected. And the characters have become more interesting to me.
I looked at Chris Beveridge's review of the series. When he originally reviewed it in 2004, he gave it a moderately positive score. But when the thinpak came out, and he rewatched it, and re-reviewed it (SPOILERS), he said this:
Directed by Shinichi Watanabe, Tenchi Muyo Galaxy Police Transporter is a twenty six episode series that has actually become my favorite Tenchi show out of all of them. Surpassing my love and nostalgia for the original six episode OVA series, the GXP series simply gets it right from start to finish by having a whole lot of fun, managing all the characters quite well and really playing up the sexy fanservice in a way that just clicks perfectly. The original release by FUNimation was awkward if only because of its release schedule across eight discs but seeing it in the space of three days in this Viridian Collection edition has truly solidified its position in my show rankings of the Tenchiverse.
That was last December, and Chris had seen everything else in the "Tenchiverse", including Tenchi in Tokyo, Magical Project S, Magical Girl Pretty Sammy, and of course all three Tenchi Muyo: Ryo Ohki OVAs, not to mention sundry movies.
I haven't seen anything besides GXP and the original Ryo Ohki OVAs, but I agree that GXP is my favorite of the series. And like Chris, I find that it gets better as time passes and as I rewatch it. There are a lot of series for which the first viewing is the best, and if they're even worth rewatching at all, subsequent rewatches are a pale experience by comparison. I'm not sure I can think of a series where the series improves so much with subsequent rewatches the way this one does.
A couple of days ago I increased my rating of the series from 3 stars to 3.5. And I confess that I was tempted to bring it all the way up to 4, but I couldn't justify it to myself. (There are some flaws in the series, enough so that it really doesn't quite rate a full 4.)
That said, in terms of simple enjoyment, it's done a lot better for me than some series I did give 4 stars to.
I'm also strongly tempted to put it in my "top 5 recommended list", replacing Angelic Layer, but I just can't bring myself to do so. That's because harem shows by their nature don't tend to appeal to broad audiences, and that list is supposed to be "things I'd recommend to almost anyone".
Ubu recently sent me a link to this post I made about the series just after I finished watching it the first time. And now I disagree with it in a lot of ways.
Tenchi Muyo GXP is a pleasant show, a comfortable show to watch, and really quite an entertaining show. But it doesn't really engage you. It doesn't seize your imagination. It doesn't pull you in. Nabeshin wants to make you laugh, but he doesn't want to make you cry, or be frightened, or be concerned, or to worry. If you get too involved in the story or the characters, those things start happening, and I've come to believe he was consciously trying to prevent that. I think he could have made the characters more engaging, and deliberately didn't, because that's not the kind of series he decided to make.
And now it does engage me. Now it does pull me in. Now the characters are more real to me. Now it does seize my imagination. And now I no longer believe Nabeshin was trying to prevent that.
I think that in the end I wanted to care more about the characters than Nabeshin wanted me to. That's why I found the ending disappointing. I wanted resolution of character development arcs. Nabeshin wanted to tell jokes.
And now I don't find the ending disappointing, but that's because I understand it better. It is a resolution of the character development arcs; it's not just about jokes -- though it is hilarious, especially once you come to understand the characters better.
There came a point, maybe three quarters of the way through the series, when I started getting tired of Seto-sama's machinations. She stopped being a plausible character and started being Nabeshin's way of controlling the story rails.
And this is where I've changed my mind the most, because now I understand what Seto is doing. Fact is, she's one of my favorite characters, and now that I understand her real goal -- and it's a good one -- it's become clear to me that everything she does to Seina, and with Seina, is indeed consistent. She isn't just a personification of deus ex machina, or a way for Nabeshin to control the story.
Once I figured out Seto's real goal, the real game she's playing, and the way Seina fits into her plans, a lot else became clear to me. Now for me the ending is not contrived. It is inevitable. And that's part of why it works better for me now.
I think my first reaction to the ending was that it had the same disconnect with the rest of the story as the ending of Maburaho did. It felt like something stupid tacked on at the end just in order to be humorous. But now I understand that it is in fact exactly where the story was aiming all the way from the first episode.
Nabeshin has blown me away; this is amazingly high quality story telling. He never misses a beat, all the way through the series.
And because of that, he's giving me a headache, and a tummy ache. There's a series which is being released here in R1 under the title "The Wallflower". In Japanese, it was called Yamato Nadeshiko Shichihenge, and it's been on my list of "series I'll never watch" mainly because it features four bishies (bishounen, "pretty boys").
Recently I noticed that Nabeshin directed it. And I read somewhere that part of what he does is to make fun of the bishounen esthetic. The bishies are a target of his comedic ire.
So now I'm finding myself to be simultaneously tempted and revolted. I really hate watching bishies -- but I think I might like watching Nabeshin skewer them. Oh, sigh...
Two DVDs of the series are out now. The third will appear whenever ADV gets its act together, if it does, and assuming ADV doesn't die first. As to the other three (? given that it's a 25-ep series) it's anyone's guess.
Anyone know anything about the series? How awful are the bishies? Is there really 25 episodes worth of story and jokes in this concept?
Posted by: Steven Den Beste in Tenchi Muyo GXP at 02:58 PM | Comments (15) | Add Comment
Post contains 1205 words, total size 7 kb.
April 06, 2008
Kamidake
I've been curious about the name of the Kamidake, a ship which figures pretty highly in the middle section of Tenchi Muyo: GXP. Is that the "kami" we all know and love that means "god"? Does the name really mean anything at all?
Without seeing it written in Japanese, there's no hope of figuring that out. But today I noticed that the title of ep 12 is translated as "Kamidake seriously damaged":

So, ta-da! Here it is: 守蛇怪大破 kamidake taiha
大破 Taiha means "serious damage". The rest of it, 守蛇怪, is the ship name, and no, 神 kami meaning "god" isn't part of it.
守 kami means "guard, protect, defend, obey"
蛇 da means "snake"
怪 ke means "suspicious, mystery, apparition"
The Kamidake is a "decoy ship", a purpose-built warship which is designed to look like a cargo carrier. Its mission is to go out and wander around in hopes of enticing pirate attack. That's because it's much armed and defended than pirate ships are, and in a fight even against a group of them it has every expectation of winning.
So its mission is fundamentally sneaky. I wonder if that's the implication of the name? "Mysterious snake who protects." Maybe.
Or maybe they created it the way they create a lot of names, by stringing together obscure readings of relatively obscure kanji used phonetically just to be confusing.
Posted by: Steven Den Beste in Tenchi Muyo GXP at 06:08 PM | No Comments | Add Comment
Post contains 230 words, total size 2 kb.
March 24, 2008
Tenchi Muyo GXP: Welcome, not!
In the 17th episode of Tenchi Muyo: GXP, Amane, Kiriko, and Ryoko spend a day working in a grocery store, for reasons not worth going into. They also stand in front of the store at one point and greet customers. Suddenly I jerked awake and thought, what in hell are they saying? Sounded to me like irasshai masen. Which would mean, "I'm trying to be polite here, but you ain't welcome." Curious thing to say to a potential customer.
A quick bit of dipping into the dictionary cleared me up. They're saying irasshaimase which is a stock phrase used at stores, and it's a stylized way of saying "Welcome". It doesn't mean "welcome, NOT!"
Posted by: Steven Den Beste in Tenchi Muyo GXP at 08:24 PM | Comments (1) | Add Comment
Post contains 119 words, total size 1 kb.
88kb generated in 0.1141 seconds; 58 queries returned 156 records.
Powered by Minx 1.1.4-pink.