July 30, 2007
omake
A couple of days ago I was talking about good and bad omake included with DVDs. "Omake" means "extra" or "bonus". I compared the "Shana-tan" omake (which I didn't like) to the omake from the Stratos 4 OVA.
It just now occurred to me that there's yet another example of an omake I know of. It's the so-called "Ikki Tousen Dragon Destiny OVA". I don't have the slightest idea how many of them there are, but the second one just showed up on the download site I sometimes visit. It doesn't have any subtitles, but it scarcely needs them.
These also favorably compare to the Shana-tan omake, on balance. Of course, where the Stratos 4 omake was an attempt to be funny, the Ikki Tousen omake is an attempt to sneak hentai past on a nominally-non-hentai DVD. Or something that's close enough to being hentai as to not make any difference.
Plot? You want plot, you say? There's no plot. There's just all the main girls from the series, stark nekkid, at an onsen. And everyone except the loli is nice and perky. (Two perkies each.)
The first omake was about the school that includes Kan'u. On the second one, Hakufu and the one from her school with the eyepatch show up and join them in the water, and Hakufu does some things to Eyepatch that I thought was going to start a fight, but... well... seems that Eyepatch liked it. (Oh, dear.)
I swear; it really was like something out of a hentai title. Or it was the kind of thing you'd expect in a bad doujinshi. Except that in a doujinshi the next step would have been a general lesbian orgy involving everyone present.
...not that there's anything wrong with lesbian orgies, mind. (yum!) Maybe in the third omake, whenever it comes along, if there actually is a third one.
What I want to know is whether MediaBlasters is going to include these in their R1 release of Ikki Tousen: Dragon Destiny.
They're 100-proof pandering, served neat in a shotglass. But I'll give points to someone who sets out to accomplish something, and does. If your goal is to deliver perkies, and you do, and if you think that's what your audience wants, then even if it's sleazy you still win. Problem with the Shana-tan omake was that once I finished watching it, I still didn't know what they were trying to do, other than the fact that someone-or-other had originally produced concept art of Shana as about 6 inches tall, and they decided to use it.
And I don't think they ever figured out what they wanted to do, either. Which is why about half way through they decided to start pandering, too -- only they didn't do it as well. Not a perky to be seen.
(I should know better than to write at 0430 after only getting two hours of sleep. The id comes out full force.)
UPDATE: Actually, a fight would have been good, too! Nekkid kung fu in the women's side of an onsen. (Mroow!)
I have really got to get my id under control...
Posted by: Steven Den Beste in Shana at 03:30 AM | Comments (6) | Add Comment
Post contains 523 words, total size 3 kb.
July 28, 2007
Shakugan no Shana 4: Shana-tan
So Shakugan no Shana-tan turns out not to be very good. Several of the seiyuu are permitted to break character, most particularly Kawasumi Ayako. But though I wasn't expecting miracles I did think it would be a bit more witty.
A couple of frame grabs below the fold.
Actually, it's annoying in all the ways I found the main series annoying, only even more so. Which is interesting; it suggests that the writers know what is annoying about the regular series and deliberately parodied it in this omake.
I wonder if this means that they found those things annoying too. After all, they inherited that stuff from the books and couldn't do anything about it. Maybe this is their way of venting their own frustration.
But no matter what they were thinking, the result is actually pretty lame.
What was I hoping for? In my collection there's one other example of something like this. It's an omake on the Stratos 4 OVA called "Code:XXX Dutch Roll" and in every way it's vastly superior.
Like the Shana-tan omake, the Dutch Roll omake makes fun of the series. But rather than just being a sequence of virtually pointless blackouts, Dutch Roll includes quite a lot of new footage, and it tells a story. The punch line for it is firmly grounded in the series. (It makes fun of one particular character's pretensions.)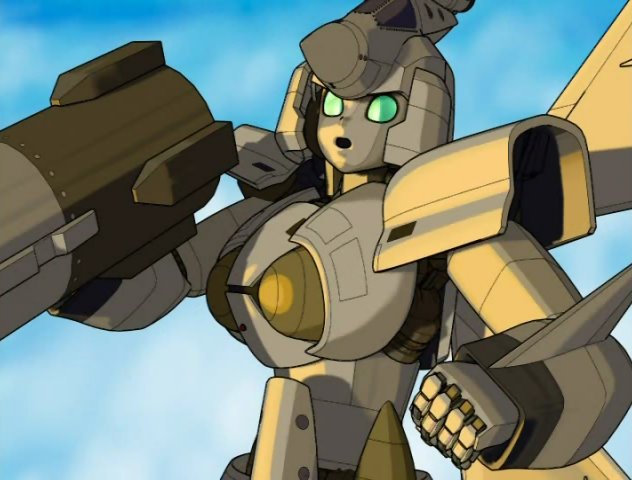 And it also makes fun of the entire giant robot genre.
The Shana-tan omake could have done something like that. It's a shame they didn't.
UPDATE: I think that what happened was that someone came up with the idea of making Shana a -tan for a joke omake, and everyone else agreed.
Then they realized they didn't know what to do with it. So we got extended sequences of Kazumi banging her tits together alternating with closeups of Yuji's crotch. This is supposed to be funny?
Giving Kawasumi Ayako the chance to break character was OK, I guess, but in the end there really wasn't anything to this. None of them really knew what to do with it.
And then they decided to redouble the vacuousness by making a second one, which wasn't any better.
more...
Posted by: Steven Den Beste in Shana at 11:22 PM | Comments (7) | Add Comment
Post contains 370 words, total size 2 kb.
Shakugan no Shana 3: Kawaiiiiiiiiiii!
While following links on ANN, I ran into this one: Shakugan no Shana-tan
And I said, "I gotta find that." And then I was looking at the extras on DVD 6, and both eps are there! I'll be watching them later.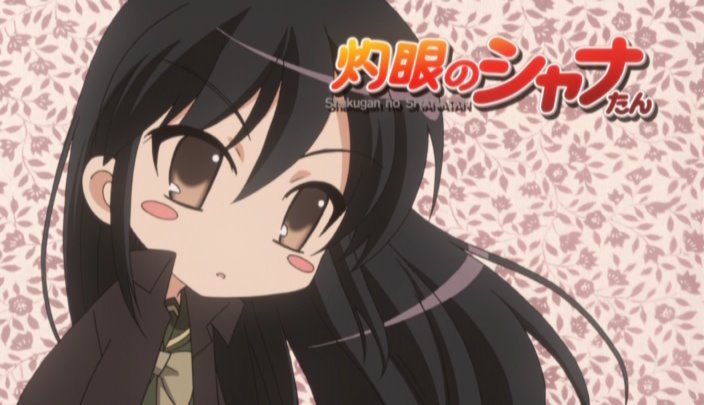 I'm going to have to look through the extras on the other DVDs to see if "Itadaki no Hecatetan" and "Banjō no Carmel-san" are on them. I'm not sure if the structure of the universe can tolerate the existence of Wilhelmina-tan, though.
And a slightly NSFW image below the fold.
UPDATE: Seems the structure of the universe is safe. The one about Wilhelmina isn't a -tan.
more...
Posted by: Steven Den Beste in Shana at 10:41 AM | Comments (1) | Add Comment
Post contains 130 words, total size 1 kb.
Shakugan no Shana 2: Fuzetsu
Shakugan no Shana really badly fails the refrigerator test. For instance:
Inside a fuzetsu time is stopped. So how can it become midnight, the moment when the reiji maigo does its legendary thing? Either it is midnight when the fuzetsu is created, or it isn't, but time doesn't change.
When I watched it before, I brought up a different problem with the fuzetsu: if it's a bubble in time, and if time is stopped inside and outside of it, then how can anyone outside, even with magical power, enter it? For those not inside of it, it only exists for the briefest instant no matter how much time passes inside of it for those who have the ability to not be frozen when inside.
But that isn't what really annoys me most about this. It's too angsty, damn it! For crying out loud!
It will be interesting to see whether the second season redeems the series, or plunges it deeper into the angst swamp. I'm afraid I expect the latter, not the former.
Posted by: Steven Den Beste in Shana at 12:20 AM | No Comments | Add Comment
Post contains 178 words, total size 1 kb.
July 27, 2007
Shakugan no Shana 1: Geezers
A couple of months ago, after I finished watching DVDs 3 and 4, I got impatient and downloaded the fansubs for the final 8 episodes of the series. Now I've got official DVDs 5 and 6 and I'm watching them tonight.
One thing I noticed when I watched the fansubs was a significant difference in the tone of the translations. And now that I'm watching the same eps again, it's certain.
For instance, when Margery Daw sees Khamsin and Behemoth for the first time, she refers to them as jijii. That means "grandfather, old man" but she's using it in a distinctly rude way. The fansub translated it as "geezers". The DVD translates it as "old men" -- which doesn't have the same flavor.
Another really big difference is that the fansub doesn't translate words which were created for this series. It uses "fuzetsu" where the DVD uses "seal". It uses "haridan" where the DVD uses "crystal altar". It uses "midnight lost child" where the DVD uses "reiji maigo". It uses "hougu" where the DVD uses "treasure". I think I prefer the Japanese when it comes to special terms.
There are a few which even the DVD lets through unchanged. The DVD uses "mystes" and "rinne". But most of the time Geneon's translator seemed to think that conversion to English was essential, even when it made little or no sense. Fact is, a lot of the special names for things in the series are poetic throwaways that have nothing to do with what the things they're connected to. Does "midnight lost child" really communicate anything at all about the magic item which is inside of Yuji? Doesn't to me. It's just gibberish words in a row. So why not call it "reiji maigo" instead, since the name is meaningless and arbitrary?
After watching the fansub, I came away with the impression that I liked their translation much more. The use of the real words was a lot of it, but I also really did come away feeling that the fansub translator was better than Geneon's pro. I really do prefer "geezer" to "old men" in context.
And that's a hell of a note, ain't it?
UPDATE: Here's some examples:
Fansub translation of OP beginning: Infinite time stopped beating its heart, and humans burnt away without making any noise. Not one person notices as the world becomes dislocated and is covered in the flames of Guze.
DVD: A heartbeat that lasts for eternity, lives consumed in soundless balls of fire. No one can tell when the world is displaced and the flames of the Crimson World sweep over all.
Fansub, when Khamsin and Marjory Daw meet:
Khamsin: Oh, so the one that was fighting was the Interpreter of Condolence?
Behemoth: Yes, that does explain the rough presence.
Marjory Daw: What's this? It's the geezers. How unexpected and unmotivating.
Marcosias: So no relation with the screwed up Professor.
DVD:
Khamsin: Ah yes, so it was you, Chanter of Elegies, who was fighting from a little while back.
Behemoth: Mhm. That explains the aggressive presence we sensed.
MD: Oh, it's only you two old men. What a letdown.
Marcosias: I guess they're unrelated to that mad professor.
Fansub, when meeting Yuji:
Khamsin: Looks like a Mistes.
MD: That's a wrong answer, as well. It's got nothing to do with him.
Marcosias: But man, look at his scary face.
Yuji, holding the monocle: This is yours, isn't it?
Khamsin: Oh, so that makes you the Sakai Yuji-kun.
Behemoth: Who would have guessed it to be a Mistes. We have done a horrible thing to that little Missy.
DVD:
Khamsin: It seems to be a Mystes.
MD: He has nothing to do with it, either.
Marcosias: But he's looking awfully angry for some reason.
Yuji: This belongs to you, right?!
Khamsin: Ah, yes. Then you must be Yuji Sakai.
Behemoth: Hm. Who would've expected that you would be a Mystes? I feel bad for what that young lady ended up having to go through.
In some ways the fansub translation comes off as a bit less smooth, but it also has more flavor. As to which is a closer translation, that's beyond my ability to determine.
UPDATE: I'll give Geneon's translator points for something. The problem of translating Wilhelmina's dialog is mammoth. What do you do about the way she ends every sentence with "de arimasu"? In the fansub, they just put "de arimasu" after the translation, but that's a bit lame. Geneon's translator is using "indeed" at the end of her sentences -- and though that's far from being a translation, it at least is English and does properly represent the fundamentally clumsy structure of her sentences.
Posted by: Steven Den Beste in Shana at 10:51 PM | Comments (6) | Add Comment
Post contains 788 words, total size 5 kb.
June 02, 2007
Interpreter of elegies
Everyone in Shakugan no Shana seems to have a name and a title. I've noticed that the fansubbers translated some of them differently than Geneon did.
Marjory Daw is called the "Chanter of Elegies" by Geneon, but the fasubbers call her "Interpreter of Condolence". It makes me wonder whether, given how stylized those titles are, it's even worth trying to translate them. Maybe that's why the fansubbers didn't even try to translate reiji maigo. "Midnight lost child" (Geneon's name for it) really doesn't tell you anything, does it?
UPDATE: Courtesy of Wikipedia, Marjory Daw's real title is 弔詞の詠み手 choushi no yomite. "Yomite" means "writer (of a poem)"; "choushi" means "message of condolence". ("no" is the possessive particle.) I think I have to give the translation edge here to Geneon, though neither of them are really quite on the money. As I sit here thinking about it, I can't really come up with anything better, though; "poet of bereavement" is just too stilted. "Author of demise" is strange.
[Note: Adam's comment came before my update but I didn't notice it until after.]
Posted by: Steven Den Beste in Shana at 11:20 AM | Comments (9) | Add Comment
Post contains 170 words, total size 1 kb.
40kb generated in 0.1143 seconds; 56 queries returned 122 records.
Powered by Minx 1.1.4-pink.