October 17, 2009
Samurai Girl Real Bout High School -- Ep 13, end
Well, it wasn't bad. It wasn't great, but I'd put it considerably above average for a Gonzo show -- which is a case of damning it with faint praise.
The ending felt a little rushed, and a bit contrived, but it was satisfying, ultimately.
After the final critical battle, there's a brief "And life gets back to normal" segment, which includes this: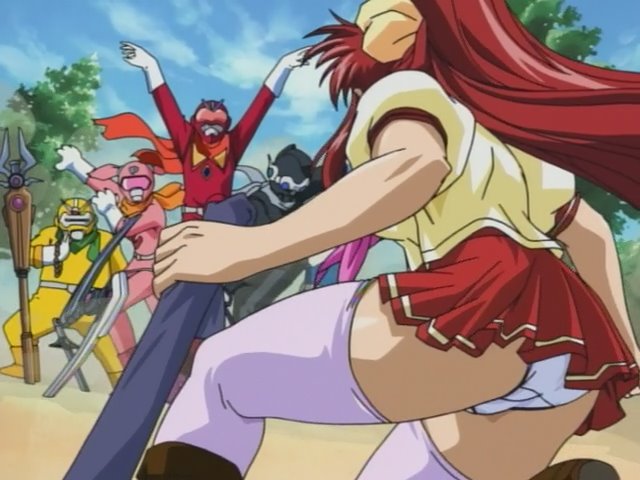 Another cornball group challenges Ryoko in K-Fight, and she's ready to go, and about to wipe them out.

And the committee is there to televise it, as always.
Surprisingly, the fan service was pretty mild. About 90% of it was Ryoko's panchira, but we're not talking full-screen zoom-into-your-face like with Strike Witches. It's about like those last two I just included, and nearly always it's very brief. No shower scenes, no nudity that I remember.
Some of the combat scenes are pretty badly animated, with lots of shortcuts, but several of them are surprisingly good, among the better ones that I've seen. No, they don't measure up to the fights in Jubei-chan, but nothing else does either. That's a pretty high standard. They're better than DBZ, for the most part, so it's pretty good.
The characters are pretty engaging, especially the two leading characters, Ryoko and Shizuma. I think that Shizuma changes more in the eyes of the audience over the course of the series than any other character, but the fan favorite is still going to be Ryoko, just because.
If I was going to rate this, I'd give it 2.5 stars and a thumbs up. It's not a waste of time. Well, most of it isn't a waste of time. A couple of the episodes were really tedious, and it's pretty crummy to have a recap episode in a series which is only 13 eps long.
It was fun, and I'm glad I watched it. I can imagine myself watching parts of it again.
UPDATE: In fact, I think I am going to watch it again, though with some skipping.
Posted by: Steven Den Beste in Mystery Meat at 08:54 PM | No Comments | Add Comment
Post contains 317 words, total size 2 kb.
Enclose all spoilers in spoiler tags:
[spoiler]your spoiler here[/spoiler]
Spoilers which are not properly tagged will be ruthlessly deleted on sight.
Also, I hate unsolicited suggestions and advice. (Even when you think you're being funny.)
At Chizumatic, we take pride in being incomplete, incorrect, inconsistent, and unfair. We do all of them deliberately.
How to put links in your comment
Comments are disabled. Post is locked.
6kb generated in CPU 0.01, elapsed 0.0135 seconds.
18 queries taking 0.0094 seconds, 16 records returned.
Powered by Minx 1.1.6c-pink.