October 14, 2009
Mystery Meat -- Welcome to Pia Carrot 2 DX
Today's Mystery Meat is "Welcome to Pia Carrot 2 DX". Which is probably a fan service show.
UPDATE: It turns out to be a non-H adaptation of a hentai series which was based on an H-game.
Is there anything consistently worse in anime than non-H adaptations of hentai? (Well, I suppose there's yaoi...)
---
I have no idea where this video came from, but it's utterly shitty. Size 480*360 and blurry even at that size. I'll have to check to see if there's another better version of it -- if I decide it's worth watching, which it probably won't be.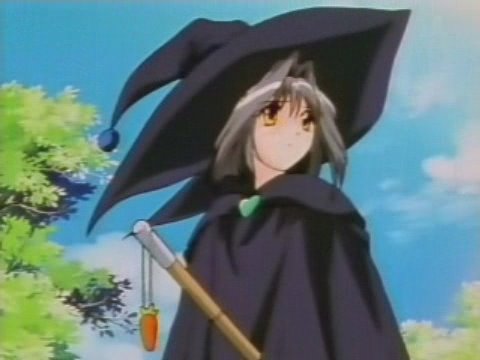 That girl turns out be cosplaying as a witch. She's got a broom with a little carrot hanging from the front.
There's another cute girl running the other direction.
OP: We got a lot of cute girls who are shown wearing costumes while working in a restaurant. And there's one guy, also reasonably cute (for a guy, anyway). Plus we see the girls in bikinis at the beach, and the girls in yukatas at a summer festival.
And Dejiko just showed up -- say WHAT?
Cast shot. "Pia Carrot" seems to be a restaurant. The one with black hair in the back center is a guy.
Picking up the show: We see a high school student. (Not the one in the cast shot.) School just let out for the summer, and he needs a job. He's hanging out with a friend of his talking about it, and the girl in the witch costume shows up. She complains because she's lost. And then she complains because it's too hot.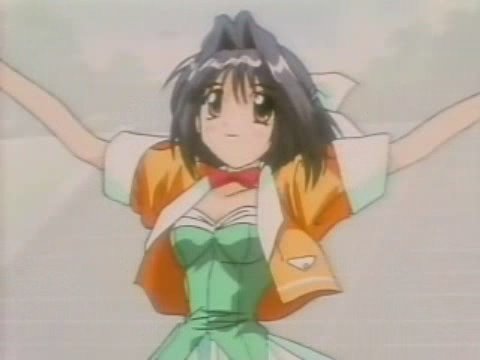 And tears off her witch cloak to reveal a much more flattering costume underneath. Our hero is entranced. Or lusty. Or something.
She's supposed to be delivering a pizza and is having trouble finding the place it's going to. Anyway, she realizes she read the address wrong, and leaves. Our hero continues to be smitten. His buddy tells him that the second costume is from Pia Carrot.
Transition. At the Pia Carrot restaurant later. That girl (who turns out to be named Tsukasa) is in the dressing room trying to work on her witch's costume to make it better. A red head is also there, holding a cleaver, pissed because some guy is late for work. Her name is Miki.
The guy to which Miki was talking about shows up on a scooter and knows he's late. He overhears Miki talking about how she's going to punish him, so he leaves the box of veggies he was bringing and takes off again.
Some goings on in the restaurant, introducing more of the girls. Then outside: that guy we saw is outside, about to apply for a job.
I'm about halfway through the first episode and I've had enough. Sorry, folks, not gonna watch any more.
UPDATE: I did some research. This is based on an H-game. (Imagine my surprise.) It was released in two versions; H and non-H and the one I was just watching was the non-H version. I'm curious now and I'm going to download the other one.
UPDATE: The original "Welcome to Pia Carrot" was hentai, based on an H-game. There was a sequel called "Welcome to Pia Carrot 2", also hentai. Both of those were 3 episodes long.
And then there was "Welcome to Pia Carrot 2 DX", the one I just took a look at, which is not hentai and is six episodes long. Seems like they made the attempt to "reimagine" some sort of story out of the situation that they could tell without nudity and sex.
There also seems to be a "movie" which is 50 minutes long and, apparently, even less racy than the one I was just looking at. Snooze...
I'm downloading the two hentai versions now, just because I'm curious, but I doubt they'll be any good.
The downloads aren't all that large, but they're also going really, really slow, and they'll probably take a day or two to finish.
Posted by: Steven Den Beste in Mystery Meat at 05:26 PM | Comments (1) | Add Comment
Post contains 676 words, total size 4 kb.
1
That looks like it got out from a VHS on a round-screen tv.
Posted by: Jaked at October 14, 2009 07:41 PM (EjkUJ)
Enclose all spoilers in spoiler tags:
[spoiler]your spoiler here[/spoiler]
Spoilers which are not properly tagged will be ruthlessly deleted on sight.
Also, I hate unsolicited suggestions and advice. (Even when you think you're being funny.)
At Chizumatic, we take pride in being incomplete, incorrect, inconsistent, and unfair. We do all of them deliberately.
How to put links in your comment
Comments are disabled. Post is locked.
8kb generated in CPU 0.03, elapsed 0.0682 seconds.
20 queries taking 0.0521 seconds, 18 records returned.
Powered by Minx 1.1.6c-pink.