November 29, 2009
Mystery Meat -- Summer Wars
Today's mystery meat is "Summer Wars". It's a movie that was in Japanese theaters in August. A fansub hit the torrents a few days ago.
ANN ran a review of it (SPOILERS, unfortunately), thereby cementing the fact that they no longer have any commercial ethics at all. (I should talk.) Their reviewer was wildly enthusiastic, and the description of it sounded pretty good, so I decided to hunt around and downloaded it.
And I'm wildly enthusiastic about it, too. It's an amazing ride. The beginning is a bit contrived, but once it starts moving the action never stops.
There's a virtual world called Oz. It's kind of what Second Life wants to be when it grows up. A billion people participate, and a lot of the world's commerce has moved into it. There are online stores, sites for government services, chat rooms, and many kinds of games, and a lot of people spend a lot of time there. It can be played using a computer, or with a phone, or via cable TV.
Player avatars tend to be cute animals, though there's considerable flexibility and some people's avatars are more realistic.
Our hero is Kenji, a math nerd. It's summer vacation and he and his friend have part time jobs doing system maintenance on Oz. They're in the school's computer lab when Natsuki, the prettiest girl in the school, on whom Kenji has a secret crush, sticks her head in and asks if anyone wants a summer job.
Seems she's part of an influential, but not particularly rich, clan and the current matriarch is about to have her 90th birthday. Natsuki has to go back for the celebration and for some reason she seems to need to bring a guy along.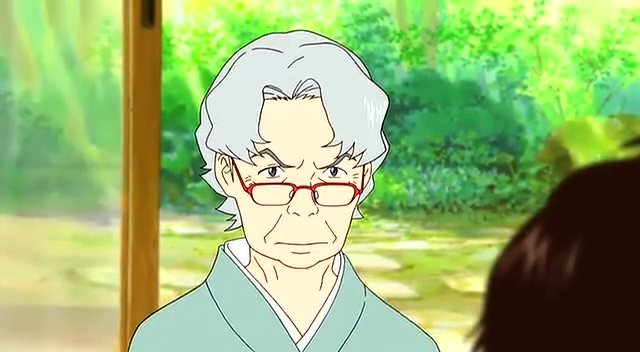 Kenji wins janken against his friend so he gets the pleasure. Later, when Natsuki introduces him to Grandmother, the family matriarch, Natsuki says that he's her fiance. Which tosses Kenji for a loop, but he tries to cope. It's a hectic day, and later when he's in bed he has a hard time trying to sleep. Then his phone rings. It's a text message.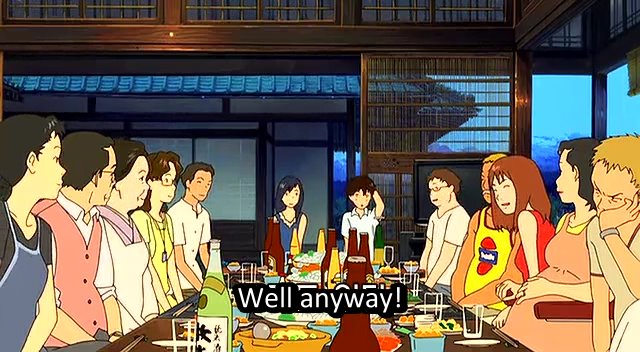 The subject is "Try to solve this". The return address is unfamiliar. The text body is just a long string of digits. Kenji is a math nerd who nearly was chosen to represent Japan in the world math Olympiad, so he can't resist a challenge like this. A few hours later he's cracked it, and responds to the email message. Then he falls asleep.
Next morning he's waked by two of the kids living there jumping on him. They drag him into the living room where he sees a picture of himself on the TV. Seems that someone cracked the Oz system passwords and has taken control of the system, and is using his avatar, so he's been fingered as the culprit.
But from there it doesn't go the way you might think. Actually, I was constantly surprised by what happened. It was an amazing journey and I'm really glad I watched it.
This fansub is strange. It's a widescreen video and the fansub is 640*352. It was originally hardsubbed in Korean, and the fansubbers laid an English hardsub on top of that. It would be interesting to know the provenance of the raw; my bet is that someone used a TV camera in a Korean theater. The Korean subs were on screen.
If there was any title that begged for BD release, this is it. A lot of the activity in the story takes place in Oz, which is all CG, and it's fabulous looking stuff. The conventional animation also gets pretty lush in some parts and it's all really good.
And as to the love story? It's handled beautifully. I won't say anything more.
This is altogether an awesome movie. ANN's reviewer gave it a rating of "A" and I fully agree with that.
Posted by: Steven Den Beste in Mystery Meat at 04:38 PM | Comments (10) | Add Comment
Post contains 656 words, total size 4 kb.
Posted by: Civilis at November 29, 2009 06:11 PM (37lIY)
Posted by: Steven Den Beste at November 29, 2009 06:40 PM (+rSRq)
Posted by: Steven Den Beste at November 29, 2009 07:08 PM (+rSRq)
Posted by: Pete Zaitcev at November 29, 2009 08:20 PM (/ppBw)
Posted by: Wonderduck at November 29, 2009 08:27 PM (C32SO)
Posted by: Wonderduck at November 29, 2009 08:28 PM (C32SO)
Posted by: Steven Den Beste at November 29, 2009 08:31 PM (+rSRq)
Posted by: Siergen at November 30, 2009 04:13 PM (x+gjU)
Posted by: Steven Den Beste at November 30, 2009 06:22 PM (+rSRq)
Posted by: Steven Den Beste at November 30, 2009 09:23 PM (+rSRq)
Enclose all spoilers in spoiler tags:
[spoiler]your spoiler here[/spoiler]
Spoilers which are not properly tagged will be ruthlessly deleted on sight.
Also, I hate unsolicited suggestions and advice. (Even when you think you're being funny.)
At Chizumatic, we take pride in being incomplete, incorrect, inconsistent, and unfair. We do all of them deliberately.
How to put links in your comment
Comments are disabled. Post is locked.
13kb generated in CPU 0.01, elapsed 0.0309 seconds.
20 queries taking 0.0196 seconds, 27 records returned.
Powered by Minx 1.1.6c-pink.