October 24, 2009
Mystery Meat -- Ninja Gaiden
Today's Mystery Meat is "Ninja Gaiden". I know that I downloaded this for bonus points, so it could be anything. Presumably it has ninjas in it, though.
---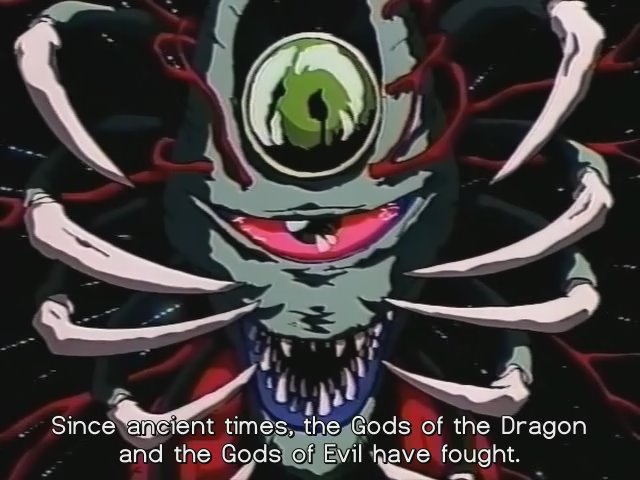 And monsters, apparently. That's the first thing they show us.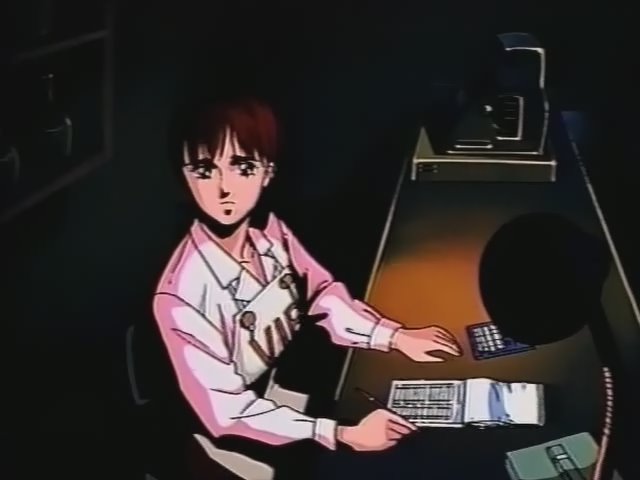 You know, we complain sometimes about modern animation quality and about shortcuts due to low budgets. It's easy to forget just how ugly some of the old stuff was, simply because of the limitations of cel animation. If you wanted high quality with cels, you had to use big cels, which slowed things down and raised expenses.
A low-budget animated feature done digitally still looks a hell of a lot better than a low budget animated feature from 15 years ago done the old fashioned way.
Ah, this makes me sad. It isn't really Manhattan, but it's clearly based on it. And Manhattan doesn't look like that anymore. A couple of those buildings are missing now. (Actually, it looks like it is supposed to be Manhattan. They show an establishing shot of Broadway.)
Anyway, to the story. Our hero is Ryu. He's a master swordsman. We see him attacked by a couple of assassins wearing white masks (naturally) using two blades each and he eventually kills them both.
I think I just heard Wakamoto Norio!
But the animation in this is hideous. Looks like it's a deliberate stylistic choice on the part of the director.
Three sympathetic characters are exploring a dark house. Neighbors have reported screams coming from the place, but once the three are inside it looks abandoned. Dust everywhere, books and rubbish all over the floor. What is the single most stupid thing they can do?
Yup. And that's what they do. Ah, well; it doesn't turn out to be a baka moment, fortunately.
OK, ridicule aside, this is turning out to be pretty good. For one thing, Wakamoto Norio isn't chewing the scenery. When he plays straight he's awesome. (Sometimes he's awesome chewing the scenery, too.) For another thing, the action sequences are being animated pretty well, in terms of how the characters are moving around and so on.
Also, the voice of Jeff is the same seiyuu that did Chichi's father in DBZ, and he's fun too. His character is somewhat comic relief, and he's good at that.
The hero, Ryu, is stoic to the point of seeming a bit of a stuffed shirt. But he's good with his sword.
And Jeff and Robert turn out to be pretty cool. They make a second assault on the bad guy's lair, only they're not relying on a sword. Jeff is using a SMG, and Robert seems to prefer a shotgun. The two weapons compliment each other pretty well, and they make short work of the first lot of bio-monsters they face.
Actually, they're both carrying quite the arsenal. At one point Jeff rigs a claymore while Robert is using an assault rifle in full auto to give him cover.
The final fight between Ryu and the big-bad is pretty disappointing. Compared to what came before it's quite a let-down. But overall this isn't too bad. It's worth 50 minutes to watch.
Posted by: Steven Den Beste in Mystery Meat at 06:49 PM | Comments (2) | Add Comment
Post contains 527 words, total size 3 kb.
1
That looks. . . weird. . . to me. But that might be because my main exposure to Ninja Gaiden is the recent video game remakes, for which the term "insane over the top cinematics" are an understatement. The art style is just completely different.
Posted by: metaphysician at October 24, 2009 08:10 PM (vM63Z)
2
The story feels like a sequel. There is a scene between Ryu and Robert which I took to be a reference to events in the previous story. I was surprised when I looked at ANN to find that there wasn't any previous story, so I wondered about that.
I can believe that this was based on a game, and maybe that was what the dialogue was really about.
Posted by: Steven Den Beste at October 24, 2009 08:20 PM (+rSRq)
Enclose all spoilers in spoiler tags:
[spoiler]your spoiler here[/spoiler]
Spoilers which are not properly tagged will be ruthlessly deleted on sight.
Also, I hate unsolicited suggestions and advice. (Even when you think you're being funny.)
At Chizumatic, we take pride in being incomplete, incorrect, inconsistent, and unfair. We do all of them deliberately.
How to put links in your comment
Comments are disabled. Post is locked.
8kb generated in CPU 0.01, elapsed 0.0191 seconds.
20 queries taking 0.0133 seconds, 19 records returned.
Powered by Minx 1.1.6c-pink.