November 07, 2009
Mystery Meat -- Mai Otome Zwei (OVA)
I'm kind of stretching the category concept with this one because I knew what I was getting, or had a pretty good idea.
I watched part of Mai Otome and gave up about the time that Arika's uniform was stolen and Arika got saddled with an unpayable mountain of debt. Too much "Genki girl screws up" and not enough super-saiyajins.
The sequel OVA is placed in time after Arika becomes a full Otome and forms a contract with Mashiro. And it had what I really wanted from the series: lots of super saiyajins. In fact, it was almost the case that there were too many of them; it got hard to keep track of them all. Apparently the writers thought so too, because they turned several of them into stone in order to get them out of the way.
Arika seems to be the only one who can do Super Saiyajin 2, though, so Arika and Mashiro are the primary characters in the series.
So if I were to summarize this, it'd be: DBZ, except more techno, less ki, and far more pretty girls, with better animation. And that's not a bad thing to be.
I recognized several voices in it, and they were pleasant surprises. Nagi has the voice of Setsuna in the Sakura Wars TV series. He makes a really good villain. (The same seiyuu also did Xellos in Slayers Next, but it isn't really the same voice.)
Natsuki has the voice of Sakamoto in Strike Witches. That seiyuu also did Akina in UFO Princess Valkyrie, but that's her higher more humorous voice. The Sakamoto/Natsuki voice is lower, deeper, and far more serious, and it fits the Natsuki character beautifully.
All the voice acting was really good. And the combat animation was nice. I think I could have done without the fan service insert at the beginning of ep 3, however; it was stupid and gratuitous and I skipped through it. (Imagine that: me skipping bikini shots.)
The first episode sure as hell started well. The first five minutes or so are really gripping, enough so that it took a while for the main story to match it. But the later fights in the main series were just as good.
It's a good time, and you don't really need to have watched the original TV series in order to enjoy it. Definitely recommended.
UPDATE: By the way, the version I watched was 1080p. And it looks gorgeous.
UPDATE: Here are some full-sized frame grabs from the first few minutes to show how good it looks: one two three four five
UPDATE: Who would have believed there were Jawas in this place?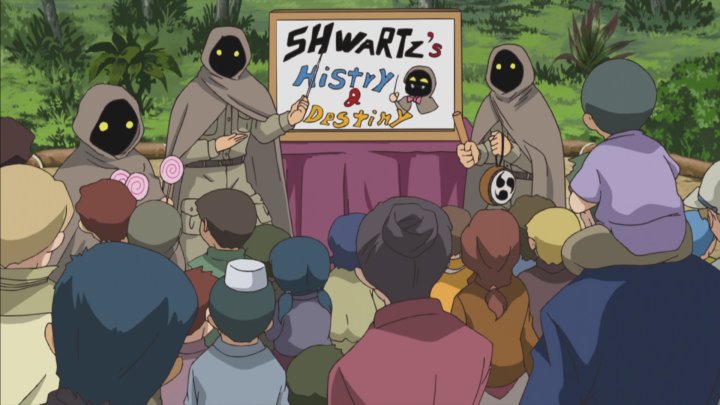 (Oh, and they spelled schwartz wrong.)
Posted by: Steven Den Beste in Mystery Meat at 07:49 PM | Comments (5) | Add Comment
Post contains 456 words, total size 3 kb.
1
They didn't really linger on that "Masses of debt and Genki-girl screws up" thing in the TV show - it was just a mechanism to get Mashiro and Arika in the same place for long enough to contract, really. As with most of these shows, the entire show changes dynamic at the series midpoint anyway.
Still, if you liked Zwei, you should probably go out and watch S.ifr. The first and third episodes of that are downright
spectacular.
There should be a 1080p version of that floating around as well, since it was released on BR a couple of months ago.
Posted by: DiGiKerot at November 08, 2009 12:03 AM (AB7vs)
2
Holy guacamole, the magical military! I think the only thing better would be a magical crew-fired weapon (that flies).
Re. Mr. Kerot's take, indeed I still remember how very exciting S.ifr was, but I stand by my evaluation of it.
Thanks for the reminder to watch Sorakake.
Posted by: Pete Zaitcev at November 08, 2009 09:24 AM (/ppBw)
3
I just watched it again. The music in it is particularly effective during the action sequences, and it reminded me of the music from
Noir.
So I checked the credits, and it's the same composer.
Posted by: Steven Den Beste at November 08, 2009 11:55 AM (+rSRq)
4
Yeah, Yuki Kajiura did all the music for the *HiME franchise shows, with the exception of S.ifr. Zwei was a little cheap in this regard, though, in so much as they didn't have any new music for the show - it's all recycled from the regular ZHiME soundtrack.
Kajiura's also the composer which made the director of .hack//SIGN mix the music louder than the dialogue for the first few episodes of the show, as he considered it to be more interesting than what the characters were saying. Can't say I blame him...
I forgot to mention it before, but you pick them up on the incorrect spelling of Schwarz, but not History?
Posted by: DiGiKerot at November 08, 2009 12:08 PM (AB7vs)
5
I noticed that but didn't feel like pounding it into the ground.
Posted by: Steven Den Beste at November 08, 2009 02:05 PM (+rSRq)
Enclose all spoilers in spoiler tags:
[spoiler]your spoiler here[/spoiler]
Spoilers which are not properly tagged will be ruthlessly deleted on sight.
Also, I hate unsolicited suggestions and advice. (Even when you think you're being funny.)
At Chizumatic, we take pride in being incomplete, incorrect, inconsistent, and unfair. We do all of them deliberately.
How to put links in your comment
Comments are disabled. Post is locked.
10kb generated in CPU 0.01, elapsed 0.0188 seconds.
20 queries taking 0.0123 seconds, 22 records returned.
Powered by Minx 1.1.6c-pink.