March 01, 2013
Mondaijitachi -- ep 8
OK! Things are starting to move!
First off, the best line in this episode is "Don't look at them. You'll just catch their stupidity."
---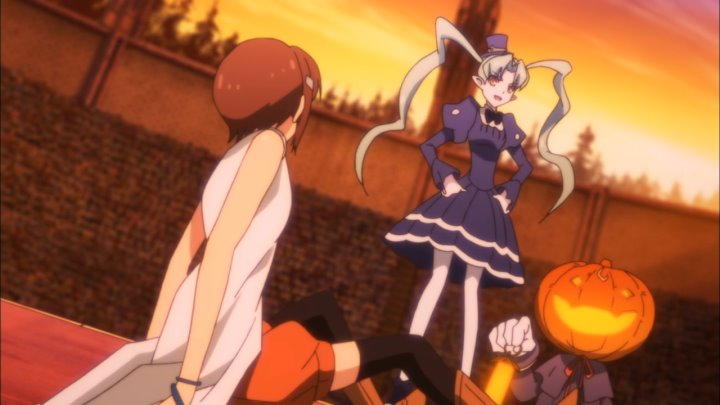 First, we watched Kasukabe's battle, and it doesn't come out well. However, her opponents aren't evil, and may even end up as friends. They help out later, for instance. They're from community Will-o-the-wisp.
But just after her battle, suddenly thousands of pieces of paper start falling from the sky, all over the stadium and the city. KuroUsagi identifies them as "black geass rolls". (just a note here: "geass" is pronounced "gesh", not "gay-ahss". It's derived from a word in Gaelic. grumble)
Izayoi reads one of them. "The players are all the communities in this area. The host appointed will be the Game Master Shiroyasha. For the host master to win, all players mst be pushed to submission or massacred. For the players to win, they must shatter the false legend, and make the true legend known."
There are three attackers, or four depending on how you count.
The man is named "Weser". The woman is named "Ratten" and she has the flute. Izayoi seems to have done his homework, and identifies "Weser" as the avatar of the Weser River. (Note: This is all about the legend of the Pied Piper. There is a real town name Hameln, once "Hamelin" and it is on the Weser River.) Izayoi engages the man, thinking he's a demon lord. (He doesn't turn out to be.)
Izayoi has figured out that the traditional legend of the Piper is false, and the object of the gift game is to figure out what really happened and to publicize it.
The big white thing is called "Strom" and it's a "natural disaster demon". It's being operated by the leader of the enemy, and Leticia takes them on. She's about to get taken over when a fireball comes in an interrupts the fun. It's Sandra, and it seems she really is powerful enough to justify being a floor master. Her fireball dissipates Strom entirely. The leader of the attack identifies herself as the "Demon Lord of the Black Death, Black Percher". She says she isn't the boss of Rattenfaenger.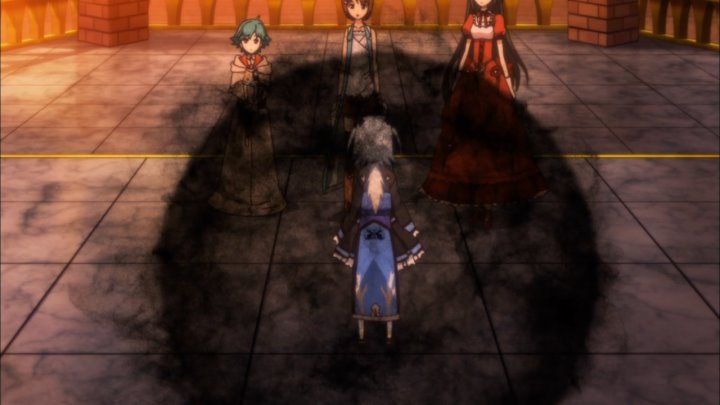 Shiroyasha has been trapped in some sort of black magical field, and by the rules of the game she apparently can't participate. Which is a significant problem, because she's the strongest player among the good guys. Ratten shows up. Her flute gives her the ability to control rats and people. She takes over a bunch of the guards and orders them to attack, but Kasukabe blows them backward. (Somehow she has the ability to create serious gusts of wind.) So Ratten tries to control Asuka, Kasukabe, and Jin. Asuka commands Jin to take Kasukabe away, and is able to stop Ratten herself and the guards for long enough to permit an escape. But then Ratten knocks her down and steps on her hand.
This is a continuation of Asuka's story: her problem is that her power of command is weak, compared to Kasukabe and Izayoi, and not very versatile. There's the other side of her power, to control gifts, which could be better but it's undeveloped.
However... it's gonna appear next episode. There are hints about what it's going to be: There was a giant suit of armor on display in the craft show. It appears in the OP. And in the trailer which isn't really a next-ep teaser, nonetheless it's there and Asuka is ordering it around.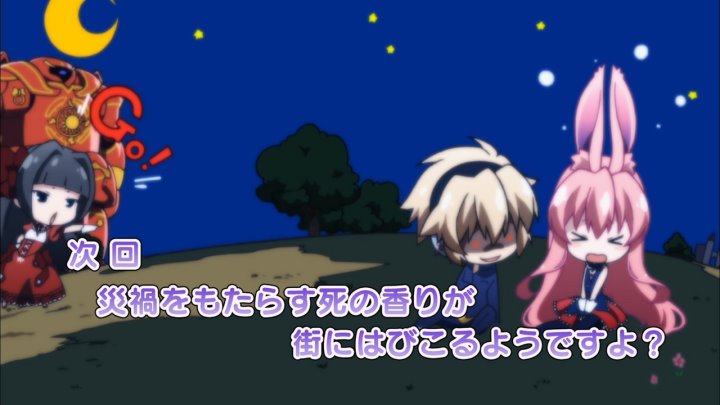 Another possibility is that the fairy is inside it, acting as pilot. But I don't believe it. Asuka is going to store it in her card, and as she works with it she'll figure out new ways to make it stronger, and that's how she's going to make up the ground in power and versatility.
It doesn't belong to her, right now. Initially she'll use it during the emergency, and my guess is that once the excitement is over, Sandra will buy it and give it to Asuka out of gratitude.
Posted by: Steven Den Beste in General Anime at 01:02 PM | Comments (6) | Add Comment
Post contains 677 words, total size 4 kb.
Posted by: Steven Den Beste at March 01, 2013 01:10 PM (+rSRq)
Posted by: sqa at March 01, 2013 06:38 PM (dvTNf)
Posted by: sqa at March 01, 2013 06:42 PM (dvTNf)
Posted by: Steven Den Beste at March 01, 2013 09:21 PM (+rSRq)
Posted by: Steven Den Beste at March 01, 2013 09:22 PM (+rSRq)
Posted by: sqa at March 01, 2013 10:31 PM (dvTNf)
Enclose all spoilers in spoiler tags:
[spoiler]your spoiler here[/spoiler]
Spoilers which are not properly tagged will be ruthlessly deleted on sight.
Also, I hate unsolicited suggestions and advice. (Even when you think you're being funny.)
At Chizumatic, we take pride in being incomplete, incorrect, inconsistent, and unfair. We do all of them deliberately.
How to put links in your comment
Comments are disabled. Post is locked.
12kb generated in CPU 0.02, elapsed 0.053 seconds.
21 queries taking 0.035 seconds, 23 records returned.
Powered by Minx 1.1.6c-pink.