July 13, 2012
Koi to Senkyou to Chocolate -- ep 2
I dunno. The magic is gone. It's like they threw a switch and turned off all the stuff I liked in the first episode.
I know what it was: Oojima, the male lead, is now sunk in self-pity.
I'm just shy of half way through the episode and all I'm getting is Oojima whining, combined with a series of meet-cutes. I had hoped that the show wasn't going to be a harem, but it's evident now that it will be.
I think I'm going to quit this one.
UPDATE: I think I should probably explain a bit more. Here's how the second episode begins:
Our Hero (Oojima) is having a dream, remembering something along time ago. It's about the chick with the red hair, the "childhood friend", when both of them were maybe six years old. In his sleep he reaches out with his right hand...
And then he wakes up, to this: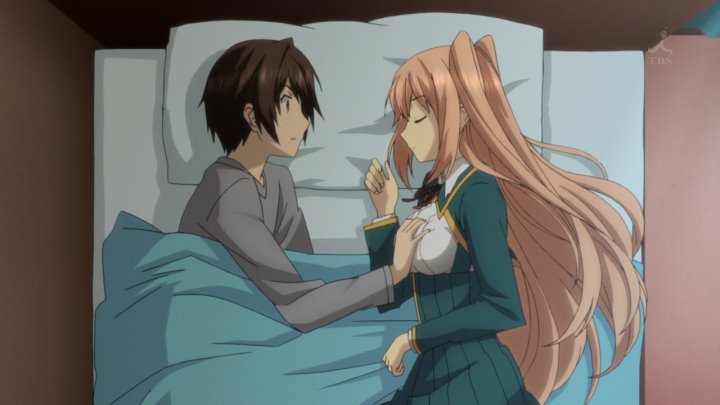 This babe is in the habit of sneaking into his bedroom in the morning and getting onto his bed with him. It happened in the first episode, too.
So Our Hero wakes with a handful of wonderfulness. The redhead doesn't seem too concerned about it. She doesn't scream; she doesn't pull his hand away. She grins at him. Our Hero gives the wonderfulness a couple of good squeezes and then freaks out and pulls his hand away.
I understand that any kind of fiction involves a certain willingness to suspend disbelief. So I'll believe in FTL drives and space pirates. I'll believe in a world where everyone has animal ears and tails. I'll believe in a scenario where space aliens show up and they're all gorgeous catgirls. I can even believe in the MCSA. I can accept those things in the service of a good story.
But I won't believe this. No girl would act that way. This redhead isn't a plausible character. She's an Otaku Dream Girl, and Otaku Dream Girls don't exist.
And the other girls involved in the various meet-cutes in this episode all give evidence of being Otaku Dream Girls too, albeit in slightly different ways.
And that's not story telling. That's pandering.
Posted by: Steven Den Beste in General Anime at 10:43 AM | Comments (10) | Add Comment
Post contains 369 words, total size 2 kb.
1
What I find just as unbelievable is that so many healthy, teenage males are
horrified
at the prospect of having sex with beautiful, willing young women. That's not the universe I grew up in.
Posted by: Dave Young at July 13, 2012 05:29 PM (ZAk0Z)
2
When I was that age, that idea would have terrified me.
Not that I was in any danger of it happening, mind.
Posted by: Steven Den Beste at July 13, 2012 05:37 PM (+rSRq)
3
The series is based off an eroge, so it's a harem series through and through.
As for that type of scene, they do happen in real life, but, generally, the girl isn't taking much of "no" for an answer when it comes to getting sex.
Posted by: sqa at July 13, 2012 06:05 PM (5/dUV)
4
Maybe I'm just in the wrong mood. I have been known to enjoy harem shows, after all. But just having a harem isn't enough. There needs to be more to it.
Posted by: Steven Den Beste at July 13, 2012 07:33 PM (+rSRq)
5
I don't think you're in the wrong mood. Something was just off in the first episode. While there were things I liked, that made it seem like it could rise above type, something just seemed a bit off. Having watched all of Guilty Crown, I've gotten a better understanding that when I feel "something seems off with how this is going", it's more than just thinking a series isn't working for you. (That's a different feeling)
Oddly enough, I kind of have the opposite feeling with "Kono Naka ni Hitori, Imoto ga Iru!". The series isn't going to be "good", by any stretch, but it's not actually bad and there's this feeling of a genre shift that might happen. (I'm really hoping it's a really cynical take on the Harem genre, and they've already hinted that the girls are all gold diggers) But I could easily be wrong. When reading Tea Leaves, you get stuff wrong.
It probably doesn't help that the presumptive next Student Council President happens to be a future member of the harem. So it's really hard to square her riding around on her bike, by herself, with the altercation in the hallway with the current president. Those scenes feel like they're from a different series.
Posted by: sqa at July 13, 2012 07:43 PM (5/dUV)
6
Oh, and I asked this in another place, but since I've seen this a few times lately, I'm really curious: is being in a school on scholarship looked down upon in Japanese society? This might be a really American point, but the times I've seen it in anime, it's passed off as a bad thing.
Now, I get the Japanese class structure is very different from what I'm used to dealing with (and that's likely the issue), but I wore my academic scholarship like a badge of honor (hey, I worked hard for that). So, I'm just curious if that's a standard view over there, or just something that pops up in anime. I doubt anyone here knows, but I figured I'd mention it, since we're talking about this series.
Posted by: sqa at July 13, 2012 07:47 PM (5/dUV)
7
I don't know. I can only think of one other series right off which has that kind of division, Ladies vs. Butlers. And the scholarship kids have to wait on the ones paying full fare.
But I have no idea whether this is a real cultural attitude in Japan.
Posted by: Steven Den Beste at July 13, 2012 08:02 PM (+rSRq)
8
I dunno about the school, but college is different, or was in the heidy 80s. In Dai-Guard, there's a scene when character A tries to lick some mass-mailing envelopes or something menial like that. Character B comes to help, and asks: "how comes you're so bad at this, didn't you have any part-time jobs in college?" (they are all adults in the series). A replies: "no, I had a stipend". At that, B and everyone else assumes inferiority, since full stipends are given to best of the best. So it's the opposite.
Posted by: Pete Zaitcev at July 13, 2012 09:04 PM (5OBKC)
9
It shows up in
Hana yori Dango
and
Ouran Host Club
.
Posted by: muon at July 19, 2012 05:29 AM (JXm2R)
10
If I'm reading it right, it's a need-based scholarship, and the embarassing thing is not the scholarship per se, but being poor enough to get it.
It reminds me of how I was too proud to apply for the reduced-price school lunches as a kid. (It's an American program; back in the 80s, full price for lunch was 75 cents, but if you showed that your parents' income was low enough, you only had to pay 35 or even nothing.)
I suspect that the trope is a callback to a bygone era, that today is only found in fiction -- like cruel, all-powerful mothers-in-law.
Posted by: jcm3 at July 19, 2012 04:22 PM (OU30d)
Enclose all spoilers in spoiler tags:
[spoiler]your spoiler here[/spoiler]
Spoilers which are not properly tagged will be ruthlessly deleted on sight.
Also, I hate unsolicited suggestions and advice. (Even when you think you're being funny.)
At Chizumatic, we take pride in being incomplete, incorrect, inconsistent, and unfair. We do all of them deliberately.
How to put links in your comment
15kb generated in 0.08 seconds; 23 queries returned 29 records.
Powered by Minx 1.1.4-pink.