May 22, 2013
A terrible attack
This is a horrible thing. Obviously it was intended to be horrible. (UPDATE: Two black guys in the UK captured a British soldier and beheaded him in public, then waited around for the police to show up, exchanged fire with them, and both were hit. Of course, they were yelling "Allahu Akbar". No word on whether either of them died.)
When I was reading it, there were two sentences that stood out for me and hit me in the head:
1: "They took 20 minutes to arrive, the police – the armed response."
2: "There were people passing by who were screaming and running away."
This was in the UK somewhere. What struck me when I read those things was, Here in Cowboy USA that's not what would have happened. At least some people who observed the situation would have gotten involved. If there had been someone with a concealed-carry they'd have stopped it.
And a 20-minute police response time to something like this is totally scandalous. If you disarm your citizenry, you should protect them better than that.
This is the result of draconian gun control. The bad guys have guns, the civilians are helpless, and when seconds count the police are about half an hour away.
Tell me again why, exactly, the British approach to this is better than ours?
UPDATE: "2 UK govt officials: London attack appears to be motivated by radical Islam"
No kidding! I wonder how they figured that out?
Posted by: Steven Den Beste in Weird World at 10:13 AM | Comments (5) | Add Comment
Post contains 248 words, total size 2 kb.
May 21, 2013
The Chinese Attack!
That thing where some site in China tries to access all kinds of paths looking for somewhere to log in? Starting a few days ago that went into high gear on my home server, and now it's happening several times per day.
Strangely, sometimes it's been the same IP giving it several tries. You'd think that if it fails once they'd mark me off and give up, wouldn't you?
Posted by: Steven Den Beste in Site Stuff at 08:00 PM | No Comments | Add Comment
Post contains 72 words, total size 1 kb.
May 20, 2013
Welcome to my neighborhood
I just went out for a walk and spotted this in a street gutter, right in front of the school next door:
Posted by: Steven Den Beste in Daily Life at 01:05 PM | Comments (12) | Add Comment
Post contains 26 words, total size 1 kb.
May 19, 2013
Suisei no Gargantia -- ep 7
So it turns out that a "whale squid" is genetically identical to a "Hideauze", and Ledo's war has come to the Earth. Maybe.
What in hell is a combat mech doing with genetic analysis equipment, anyway? And the comfortable feeling I had with this series just got tossed in a basket. Maybe it'll be back, maybe not.
Posted by: Steven Den Beste in General Anime at 10:37 AM | Comments (9) | Add Comment
Post contains 63 words, total size 1 kb.
May 17, 2013
Railgun S -- ep 6, Welcome to hell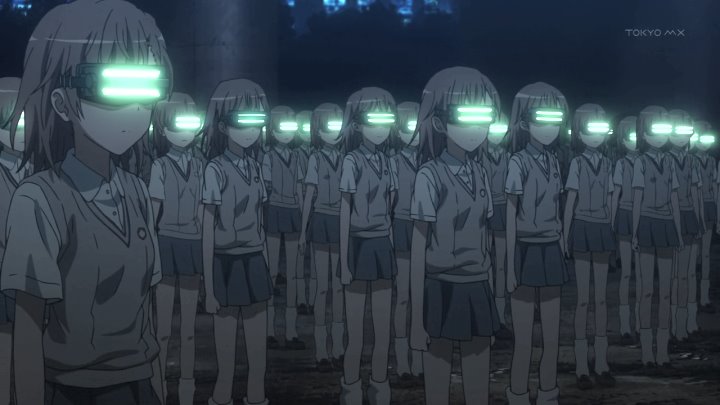 Mostly plot exposition this time. And as with the other episodes, I have no urge to rewatch it. (On the other hand, I've rewatched Gargantia about five times. Is it Monday yet?)
Posted by: Steven Den Beste in General Anime at 08:16 PM | Comments (3) | Add Comment
Post contains 40 words, total size 1 kb.
Mouretsu Pirates -- Hair color
I suddenly realized something last night: Chiaki is the only character in the entire series whose hair is pitch black.
Even in crowd shots, there are other people with very dark hair, but it never goes below a dark gray or a dark brown. None of them are ever as dark as hers.
I wonder why they did that?
Posted by: Steven Den Beste in General Anime at 08:31 AM | Comments (4) | Add Comment
Post contains 64 words, total size 1 kb.
May 16, 2013
Mecha series -- a heuristic?
Generally I don't care for mecha series, which is why Suisei no Gargantia was a pleasant surprise. There have been mecha series I liked, but in general it's not a genre I go for.
It just now occurred to me that there may be a simple heuristic for sorting the good from the bad: If the name of the mecha appears in the title of the series, then it probably sucks.
My issue is that in the generic crap mecha series, it's the mecha which is the star, the focus, of the story telling. The series is probably wish-fulfilment for young guys who think it would be awesome to be the pilot of a giant war machine. And thus it's likely to dispense with things like "telling a good story about interesting and complex characters".
And if the series title includes the name of the mecha, then that's what they're telling the story about. Myself, I find mechas as such to be silly and boring. I don't mind if they're around, though, as long as they don't get in the way.
UPDATE: As a heuristic it isn't perfect: I did enjoy Vandread. But then, as the old joke goes, if a heuristic was never wrong it would be an algorithm.
Posted by: Steven Den Beste in General Entertainment at 03:43 PM | Comments (6) | Add Comment
Post contains 215 words, total size 1 kb.
May 15, 2013
Suisei no Gargantia -- you can't go wrong with dancing girls
I got curious about this one, so I just now downloaded the first six episodes. I wanted to see if its reputation for fan service was deserved, so I went through ep 6 (in which the above dancing girls can be found).
And, surprisingly enough, I got sucked into the story. So I just watched episode 1, and now I really am interested.
It has a mecha, but it isn't a mecha story. By which I mean, the mecha isn't the star of the story. Chamber is a character, not a gizmo, but it isn't the predominate character of the series. And Ledo, the castaway pilot, is surprisingly interesting.
...and Amy is a sweetie. (She's the one in the middle.)
The battle in the first half of the first episode was surprisingly long, but in narrative terms it was necessary in order to establish the characters of Ledo and Chamber so that we can truly understand how they could be so confused about where they finally end up.
There are a lot of good looking women, most (if not all) of whom are not bimbos, and that too is a pleasant surprise. And there are some men in the show who are not bastards. From ep 6 I see that Ledo is trying to fit in, and the people there understand that he's having a hard time and are willing to cut him some slack. So there's apparently a lot of love, too. And that's nice.
It's obvious that in the end there's going to be some tremendous danger, and Ledo and Chambers will cope with it and be heroes. Will they find their way home again? Unlikely. Prospects are that "home" no longer exists after what happened in episode 1.
UPDATE: End of ep 3, and so far it's great. I should mention that in general the art is very high quality. It's been a while since I've watched a show that looks so good.
UPDATE: Hard to go wrong with bikinis, too!
It's the same three girls.
Posted by: Steven Den Beste in General Anime at 06:09 PM | Comments (6) | Add Comment
Post contains 350 words, total size 2 kb.
54kb generated in 0.095 seconds; 61 queries returned 158 records.
Powered by Minx 1.1.4-pink.