February 06, 2016
Week 5
Things are still going, but slowly mostly, in the series I'm watching. We got 3 girl-of-the-week stories this time.
Luck and Logic ep 5 was about Mana, the sniper. If I didn't know better I'd think this series was based on a dating game, or maybe even an H-game. So she has a troubled past and in this episode she somewhat came to terms with it. yawn..
Musaigen no Phantom World was two girl-of-the-week stories sort of mixed together. One is Minase, the loner whose power is her voice singing. The other is Kurumi, the loli with the teddy bear. Minase has a troubled past (is there an echo in here?) and is starting to come to terms with it (Yodoladyhooo!). Kurumi is more interesting. She's a grade schooler at that school so ordinarily she wouldn't get involved in an anti-phantom team. But for whatever reason she thinks our team is pretty cool and is willing to cooperate. Her power?
Her teddy bear is named Albrecht and she can animate it, making it giant size, and it will fight for her. And it's pretty impressive. It's also a bit surprising that her power has developed so early. Usually people with power begin to manifest it at puberty, and she's only in 4th grade.
Anyway, as to who precisely is the one she thinks is cool, it's probably Mai. This is looking like a harem show, only it's Mai's harem.
Which brings us to Gate. This wasn't dull and boring; they took on the fire dragon. And killed it with a big dose of C4. And then the JSDF killed the two child dragons with a combination of air-to-air missiles (Sidewinder), artillery, and anti-armor missiles (TOW). The highlight of the episode was Lelei's attack. This is the first time we've ever seen her really use her full power, and it was both cool and really terrifying. The motto of the Marines ("No better friend, no worse enemy") applies to her and I'm glad she's on our side.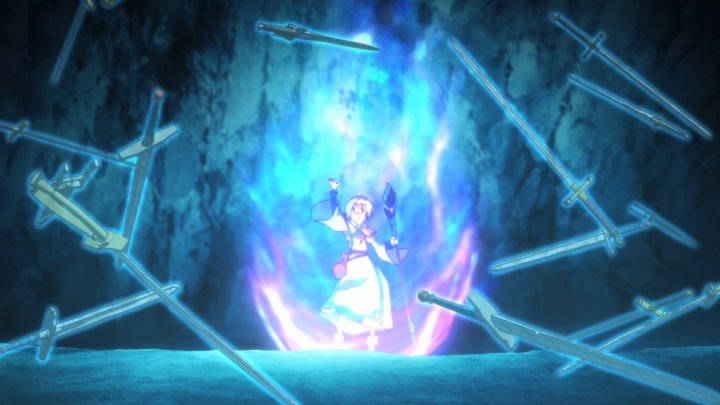 The next ep teaser says that they're going to the city of Rondel next episode. If so, it sounds like they're going to skip the entire Zombie/Minotaur story line, which would really be a pity. It also means that they've caught up with the manga and will leave it behind very soon, because the most recent manga chapter is them arriving at Rondel.
They continue making occasional changes in the character art. Giselle wasn't at all what I was expecting: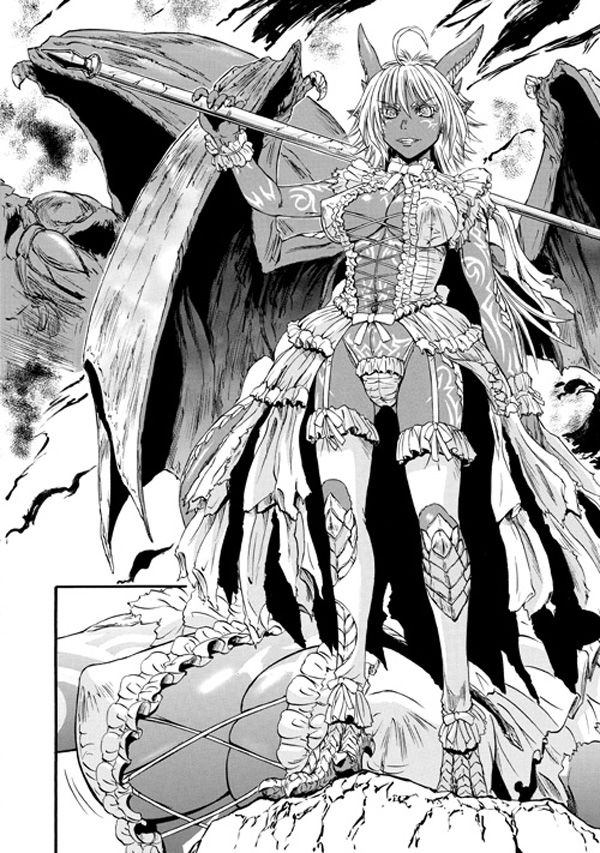 The Gods seem to have a thing for fetish clothing.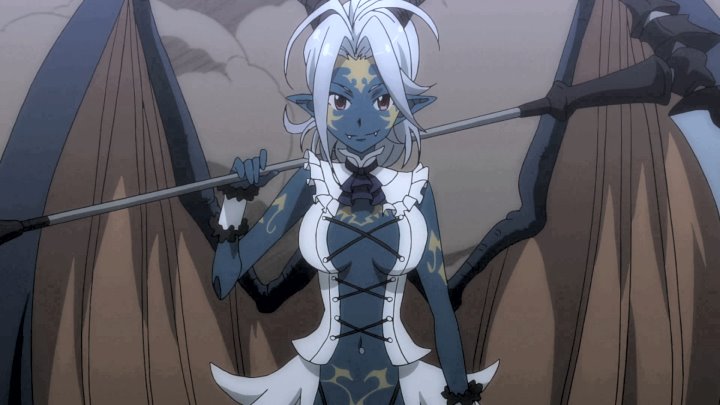 I can't say this really bothers me much because Giselle isn't a very important character. My guess is that she's Chekhov's Henchman. She's the apostle of Hardy, the god of the underground. Rory says it was Hardy who opened the gate, for reasons unknown, and the gate will eventually close again, likewise for reasons unknown. I bet Giselle shows up to warn the JSDF that it's closing so that they have time to evacuate. And the reason she shows up briefly now is to establish the character.
I should mention that Tuka's lightning bolt was pretty awesome, too. I bet that place reeked of ozone when she was done.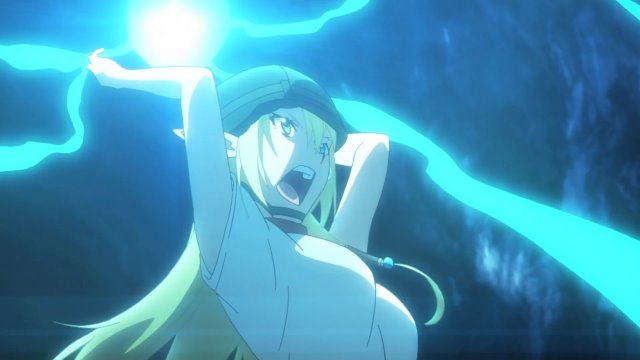 Posted by: Steven Den Beste in General Anime at 12:15 PM | Comments (1) | Add Comment
Post contains 280 words, total size 3 kb.
1
They shortchanged
Still, if I had not read the manga, I would be quite happy with the series, over all.
Posted by: topmaker at February 07, 2016 08:17 AM (6stZH)
Enclose all spoilers in spoiler tags:
[spoiler]your spoiler here[/spoiler]
Spoilers which are not properly tagged will be ruthlessly deleted on sight.
Also, I hate unsolicited suggestions and advice. (Even when you think you're being funny.)
At Chizumatic, we take pride in being incomplete, incorrect, inconsistent, and unfair. We do all of them deliberately.
How to put links in your comment
Comments are disabled.
8kb generated in CPU 0.0, elapsed 0.0149 seconds.
20 queries taking 0.0104 seconds, 18 records returned.
Powered by Minx 1.1.6c-pink.