February 10, 2016
Musaigen no Phantom World -- ep 6
This was excellent. This series may have real potential.
One thing that's kind of fun is that every episode begins with a 4th-wall-break. Haruhiko and Ruru give a sort of mini-lecture to the audience which includes information vital to the upcoming episode. It's a nice way to avoid lots of obnoxious exposition during the actual story (though there still has been some of that).
---
Kurumi is conflicted. She really likes Team Mai (she calls them "oneechantachi") and on one level wants to work with them stopping the phantoms, but on another level she's really afraid of doing so. So we join her walking to school. She wants to go to school, because her friends and lots of fun things, but she also doesn't want to, because phantoms. She's afraid to fight, quite understandably. Haruhiko and Ruru see her when she's crossing a street, and she loses her balance and falls backwards -- into a magical hole that appears under her. Haruhiko and Ruru fall into it, too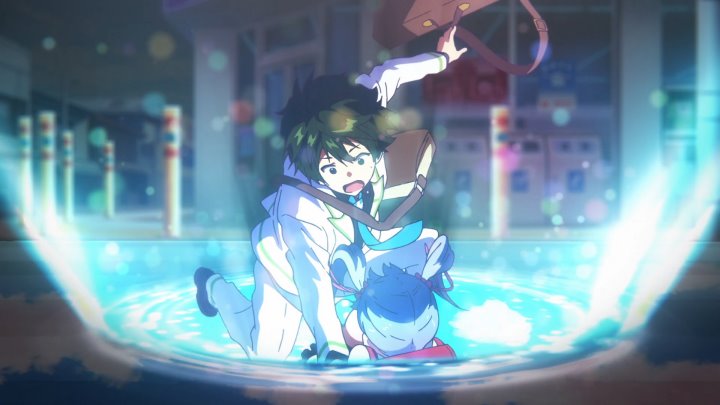 And they land in Kurumi Wonderland, the kingdom of stuffed bears, where everyone addresses her as Princess Kurumi. She is last surviving member of the royal family who ruled the forest for generations, until there was an invasion that took over. Albrecht is the best remaining fighter among her family's retainers. He gives her a magic looks-like-a-rake.
The bad guy wants to capture Kurumi so he can marry her and legitimize his line, or something. And he has a mech, and figures out where Kurumi is hiding, and attacks with it.
Ever the nerd, Haruhiko tries to figure out what's going on, and mostly does. This is all inside Kurumi's head; it's a manifestation of a deep conflict in her thoughts.
She decides to fight the mech. The magical-rake then brings about a transformation and she becomes...
Magical Princess Kurumi!!! (Cue heroic music)
Anyway, eventually the dream world vanishes and they find themselves back on the street. But Kurumi is changed; she isn't afraid to fight and willingly joins the team.
This worked really, really well.
Posted by: Steven Den Beste in General Anime at 02:57 PM | Comments (4) | Add Comment
Post contains 350 words, total size 2 kb.
Posted by: Steven Den Beste at February 10, 2016 10:39 PM (+rSRq)
Posted by: wahsatchmo at February 11, 2016 09:30 AM (VFkGH)
Posted by: The Brickmuppet at February 12, 2016 11:21 PM (AaBUm)
Posted by: Steven Den Beste at February 12, 2016 11:26 PM (+rSRq)
Enclose all spoilers in spoiler tags:
[spoiler]your spoiler here[/spoiler]
Spoilers which are not properly tagged will be ruthlessly deleted on sight.
Also, I hate unsolicited suggestions and advice. (Even when you think you're being funny.)
At Chizumatic, we take pride in being incomplete, incorrect, inconsistent, and unfair. We do all of them deliberately.
How to put links in your comment
Comments are disabled.
8kb generated in CPU 0.02, elapsed 0.0541 seconds.
20 queries taking 0.0365 seconds, 21 records returned.
Powered by Minx 1.1.6c-pink.