September 20, 2007
Ah! My Goddess! second season
It was shorter than the first season, alas, and I suspect we aren't going to get any more. But we do have another 24 episodes of mayhem and happiness to watch.
I just started the first DVD, and I'm watching the OP. The first season OP music was Celtic music, and I really like it. The second season OP music begins with a bagpipe, and imagery of Beldandy playing one in heaven before coming to earth. It's interesting.
The visuals so far have shown us someone mysterious standing on a phone pole, plus full-screen images of Peorth and Hild. Both of which I was hoping for. My only experience with Peorth is from the movie, and Hild has never appeared in anime at all before this series.
For those not familiar with the canon, Urd is only a half-sister to Beldandy and Skuld. The reason her angel is half white, half black, is that Urd is a god/demon cross breed. Her father is the same as that of Beldandy and Skuld. Her mother is Hild, who is the top demon. Hild is the bad guy counterpart of Kami-sama.
In other words, she's Mara's boss. Mara is a clown, and her plots and plans are so silly that even the Coyote would reject them. But from what I've read, Hild is not a clown. She has an extremely devious mind, and eventually she's going to show up to visit her daughter, and to take over the Morisato case and work to chase those three goddesses back to heaven again. I really look forward to it.
Peorth, too. She's a goddess first class with no restrictions, just like Beldandy. Beldandy's magic is primarily of air. Skuld's magic is water. Urd's magic is fire and electricity, which is why she fights with lightning bolts and fireballs. But Peorth's magic is earth. Her angel, Gorgeous Rose, is wreathed in rose vines, complete with thorns. From what I've read, Peorth is not really friends with Beldandy, so there's some friction there. I'm not sure why she's going to be coming to Earth, though my guess is that she's mad about having Skuld and Urd being gone, leaving Peorth with more work to do running the celestial computer system. Regardless, it will be interesting to see what she's like.
And the best image of all: Noble Scarlett also shows up in the credits. That's Skuld's angel. (More below the fold)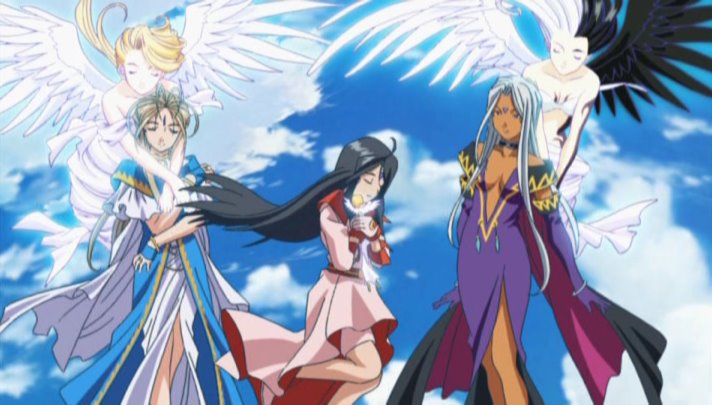 She sure is itty bitty, isn't she? Compared to Holy Bell and World of Elegance. Noble Scarlett is the size of a Barbie doll. (Yes, I know why. Please, no spoilers in comments.)
So this series is going to give me the three things I most wanted from it: Hild, Peorth, and Noble Scarlet.
Posted by: Steven Den Beste in Ah! My Goddess! at 04:42 PM | Comments (2) | Add Comment
Post contains 463 words, total size 3 kb.
Posted by: pflorian at September 21, 2007 03:17 AM (lI2L7)
2
I followed the first few episodes back when it came out on fansub. Knew that OP music would grab your attention -- bagpipes are guaranteed to speak to the Scot in all of us. (Obviously from their inclusion in a Japanese TV show, that's true regardless of whether we actually have any Irish blood or not. Scrapped Princess' OP also used bagpipes, IIRC.)
Without going into spoilers, you're going to have to wait a while to see Noble Scarlett, although Peorth shows up sooner. Hubba hubba hubba! However, Belldandy starts acting a bit too angsty again, and the SEP field around the goddesses reaches adamantium strength. That was finally a bit too much for me.
FYI, they still seem to be following (but rearranging) the manga, from what I saw on that site with all the summaries.
Posted by: ubu at September 21, 2007 06:51 AM (dhRpo)
Enclose all spoilers in spoiler tags:
[spoiler]your spoiler here[/spoiler]
Spoilers which are not properly tagged will be ruthlessly deleted on sight.
Also, I hate unsolicited suggestions and advice. (Even when you think you're being funny.)
At Chizumatic, we take pride in being incomplete, incorrect, inconsistent, and unfair. We do all of them deliberately.
How to put links in your comment
Post is locked.
8kb generated in 0.0163 seconds; 20 queries returned 19 records.
Powered by Minx 1.1.4-pink.